The Missing White Dress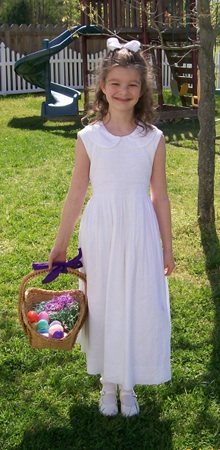 It was last year this time when I felt impressed to take a few dresses that our daughter, Gillian, had grown out of to my friend Alyson. There were several pretty dresses, but one in particular that I knew would be a special blessing to Alyson and her daughters. It was a white smocked, heirloom-quality dress from Strausburg that my mother-in-law had given Gillian. I made sure that Gillian didn't mind parting with it, since she was no longer able to wear it and she agreed that her friends would hopefully be able to enjoy it.

It was the day before Easter when I called Alyson and asked if it would be okay if we dropped the dresses by. I felt hesitant to interrupt her holiday preparations and felt certain that she would have the wardrobe already planned for her six daughters and one son. But, I couldn't shake the urgency I felt to get the dresses to her before Easter. I was busy planning our meal, Easter baskets and other things for our own family, but asked if my husband could drop them by on his way out doing a few errands. This was an agreeable plan and I felt relieved when I knew that it had been accomplished.

We did not realize at that time what a surprise blessing it was to Alyson and especially her second daughter, Sophia, who is a year younger than Gillian. The next day, Easter Sunday, they called in the afternoon to let us know that not only did they appreciate the dresses, but something very unusual had happened. It turned out that Alyson's sister, as is her custom, had bought all the girls matching Easter dresses—beautiful white smocked heirloom dresses from Strausburg—but somehow had miscounted and was missing one! All the sisters had matching white dresses—except Sophia! There was no dress for her. One of the beautiful white dresses was missing!

When they realized that the dress that our daughter Gillian had shared was perfect for Sophia—they were elated! They were thankful that their daughter didn't feel forgotten or overlooked. Sophia realized that God always watches out for His children! He goes out of His way for us. She realized that God moves on the hearts of people to be His messengers and He makes personal deliveries! It was an amazing story of God's grace and attentiveness to even the smallest of our needs! It was a lesson for us as well, to make sure we never ignore the divine nudges we get, and never be too busy or too selfish to listen to God to meet the needs of others in very special ways!
Copyright © 2008-2015 Debbie Reynolds Harper
Read more about the writer: Debbie Reynolds Harper
---
Post Your Comment...
---