What Did You Say?!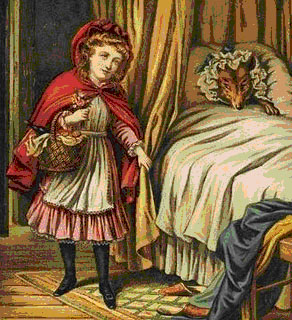 "All the better to hear you with, my dear," the wolf replied.
In the summer of 2006, over the course of three days, I mysteriously lost almost all of my hearing. The ENT initially diagnosed it as SSNHL, "Sudden Sensorineural Hearing Loss." Relatively clever name, aye?
The doctor was optimistic. In over 70% of cases, the hearing usually returns after a refractory period of about 4 weeks. The cause is hypothesized to be viral, traumatic or auto-immune. Or anything in between. I was given a few different medications to "cover bases" and evaluate the response of said pharmaceuticals. The CAT scan and MRI/MRA revealed a "terminally devastated left labyrinth." The ONLY known cure for this is brain surgery and the implementation of cochlear implants. UberConservative talk-show host, Rush Limbaugh, suffers from the same condition, and has gotten pretty good results with his implants.


I was SO sick when the Mystery Deafness made its debut, that I barely had time to consider the visceral realities of being "hearing-impaired." As part of SSNHL, I also suffered from a blaring tinnitus (ringing in the ears) in my left ear, and severe vertigo. I could not move my baby blues without getting nauseated and feeling as if I was hurling through space. And, when I say, a "blaring" tinnitus, I mean a chronic 60+ decibel tinnitus. Tinnitus is a fairly difficult condition to treat, with hardly anyone reporting complete relief.
One desperate approach in treating unremitting tinnitus that accompanies SSNHL, actually involves the ablation of the inner ear and its components. Burned at the stake like some kooky vestibular Joan of Arc. Another treatment option includes being exposed to a lengthy cycle of various chemotherapeutic regimes that, when administered, are tragically and notoriously ototoxic. The inner ear and it's respective components "no 'likey-likey' chemo." Certain medications can cause a neurological and devastating physiologic deafness through both metabolic and toxic processes. I am not a fan of brain surgery or toxic processes of any kind. While I know it may be necessary, I think I'll wait.
After a couple of weeks, some of the hearing came back in my right ear. The tinnitus remained in the left, but sound waves being picked up by my ear drum were transmitted as harsh, buzzing, speech-dependent echoes (recruitment). It is annoying and nerve-shredding. The only time I could experience genuine QUIET and freedom from the grating recruitment was when I was sleeping. And, oddly enough, when I got into bed every night and lay down, the buzzing morphed into a chirping cricket-type sound. Weird. My ENT doctor said that patients report "all kinds of bizarre sounds."


Anyway, almost four years later, hear I am: an odd combination of comedic timing and old lady-ness. The left-ear deafness and tinnitus remain, and I cannot change position in two planes simultaneously without losing my altimeter for a few seconds. I have had to adapt to a lot of things concerning sound amplification. For example, to hear music better, I can strategically position myself to pick up vibrations. I stare at teeth. The sound quality is dependent upon where I plant myself. I am my very own 5'6", size-8 shoe human antenna. I can read lips from across the room. I am-- a super-hero.
I digress. One of the most beautiful moments I have experienced with this Nouveau Deafness is through my then seven-year-old daughter, Sophie. When I was panicking in the initial stages of this new disease...abo tiny_mce/themes/advanced/langs/en.js" type="text/javascript"> ut "not being able to hear my kids' voices," etc...she said to me, "But, Mama...you don't need your ears to hear God. Right?" Can someone just smack me? "No, Baby," I assured her, "I do not need ears to hear my God. Ever." And...I do not. Until then, Jehovah Rophe will provide me ways in which to "all the better hear you with."


Lord. Please forgive me. I know, that through You, I am complete and whole. You are faithful, God; I know this. Without doubt. You will compensate my imperfections. You are my ears. You do and will meet all of my needs. Always. You complete me, Father. ONLY You, King of Zion, only You.
Copyright © 2008-2015 Jodi Crago
Read more about the writer: Jodi Crago
---
Post Your Comment...
---