Grace-Filled Motherhood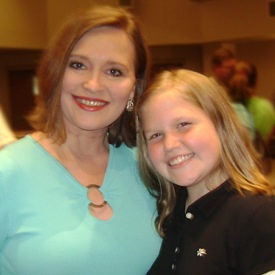 In my earlier days of parenting, I believed my children to be a reflection of me and my parenting skills. I took their disobedience or poor behavior personally. I was convinced that others saw this as a poor reflection on my inadequate mothering skills. When my children would misbehave, I blamed myself or blamed them for making me look bad.

As I sought God for divine solutions, I realized that our children are born with both a freewill and a sinful nature—not a good combination for any of us. What naturally comes of those two things can't be good without the grace of God. I realized that I could not control my children's behavior any more than I could control my husband's or my neighbor's behavior. I began to realize my limits. What I could do was influence and guide. The other thing I could do was to establish consequences for poor behavior and blessings for positive behavior. But still, I could not control. To attempt to do so would prove frantic and futile.

I now truly enjoy the opportunity I've been given to nurture, value and love. The unconditional love itself is what shapes and teaches from the inside out. I cherish the children that God has placed in my care. I celebrate the privilege it is to guardian our children and watch over their lives, as God looks over ours.

Recently I enjoyed a special luncheon with my only daughter to celebrate her 12th birthday. With six brothers in the family, girl-time is always special for the two of us. We enjoyed happy conversation, eating ice cream and strolling through the shops pointing out all the pretty things. What we had in common was celebrating our love and appreciation for each other. I encourage you to find your children worth celebrating and ask God how to truly love with His eyes of Grace!
Copyright © 2008-2015 Debbie Reynolds Harper
Read more about the writer: Debbie Reynolds Harper
---
Post Your Comment...
---