Charm Potential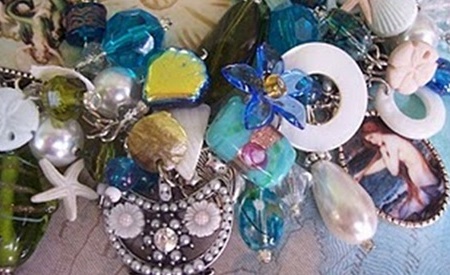 "For we know, that in all things, God works for the good of those who love Him and are called according to His purpose." (Romans 8:28, NIV)

In the spring of 2006, our eleven-year-old daughter had a health crisis that nearly claimed her life. No kidding. Months went by as her health slowly declined & no one could figure out why this normally robust child was withering away. After multiple frustrating doctor's visits & trips to the ER, the cause was identified. She endured three surgeries, and began an equally long rehabilitation. Her appendix had ruptured and formed a discreet abscess in her pelvis, that twice, evaded the eyes and expertise of Radiologists. It was a one-in-a-million occurrence, and we all barely made it out of that situation. But she recovered and is now well. Praise God! 

During the nearly three months that she spent at home, I was charged with maintaining her central line, (an intravenous line with direct access into the right atrium of her heart), for intense antibiotic therapy. I had worked as a Registered Nurse, so I was no stranger to IV therapy. Can I have another, "Praise God!" and an "Amen!" or two?
As a mother, I hawked over this child, and we spent every second together. We had a lot of time in front of us, and, as our default position is set on "Create," we dug into some never-tried-before eclectic forms of art.
Step One...


One of the things we did during her convalescence was jewelry-making. At first, it was standard stuff: simple beaded earrings and necklaces as we perfected our collective techniques. It grew into something we still all share together today. It is even something that we share with friends who come over and want to "try something artsy."

Our house is a virtual craft and art supply store, and we dabble in dozens of different things. My husband and I are wildly blessed and enjoy indulging our children in their artistic pursuits. Some parents support their athletic children by encouraging their progress and ensuring they are always outfitted properly. We love buying them art supplies. The jewelry-making is a highly personal and special thing to me. I remember so vividly where I was emotionally and in my spirit when our little business lifted its shaky paper wings off of the ground. It is also a spiritual connection that I share with those friends who sit down and "create" with me. To this very day. I don't think I have ever told anyone that.


We started learning to make "collage" jewelry. I already had a fairly successful Mixed Media Art business, so the transition into yet another medium was no big deal.
I fully credit my incredibly gifted mother for teaching me how to do…well, everything! There isn't one artistic thing that my mother still can't do. She's amazing. Our collage bracelets evolved out of an attempt to "consolidate and contain collections," as well as art projects. I am a multi-tasker, and need to keep my focus. I can be a bit of a neat-freak at times, and I adore clean, open spaces and uncluttered living. I had numerous pieces of jewelry that had broken, but for one reason or another, I couldn't get rid of the remaining components. I could see something useful and beautiful in the tackiest of things.

 One man's trash…

Enter: "collage bracelets." My daughter and I cleaned up all of the pieces, converted them into charms, and attached them onto linked bracelets. Soon, we started adding other things to them: beads, pendants, shoe charms, hardware, little glass jars, whistles, kaleidoscopes, small toys, pictures, itty-bitty photographs and numerous other things. We joke, even now, that we evaluate almost every object on its "charm potential."
Nearly anything can have a hook or loop of wire connected to it, and put onto a bracelet. A seemingly meaningless, discarded, broken or cheap trinket suddenly becomes treasure.

 Over the past few years, we have made and sold hundreds of these unique bracelets and necklaces. We have gradually expanded our business into using more and more techniques, and blending them all together. We hand-paint various items and incorporate Variazione collage work onto wooden cases, box purses, jewelry boxes and more. "Variazione" is a type of mixed media that blends many methods into one, and the word itself is actually Italian for "variation; change." In concert, our Variazione pieces are whimsical, beautiful, unique, and fun. We are often approached with requests to create custom work, and we have such an awesome time doing it as well. Bonus! The sky is the limit. Well, maybe not. I think the stars and planets would look stunning on a charm bracelet.

Beauty for ashes

Isn't it funny...something that awakened during adversity became something we all derive satisfaction from. It also has become a way for us to socialize, teach, fellowship, give to and love others.

I am perpetually amazed how God uses even our darkest circumstances to infuse our lives with joys we can barely contain.

"For we know, that in all things, God works for the good of those who love Him and are called according to His purpose." (Romans 8:28, NIV)
Copyright © 2008-2015 Jodi Crago
Read more about the writer: Jodi Crago
---
Reader Comments...
2010-05-05 11:25:30
"I can hardly wait to see what we look like as charm bracelets to Dad...know what i mean??? love u! :)"
- Kathy
2010-05-04 08:23:40
"Beautiful article! I consider myself to be creatively challenged, but your article resonated with me! I plan to pull out the old jewelry that I have also held onto for YEARS, and invite my grown daughter over to create something spectacular! Jodi, your writing is a reflection of your beautiful spirit and I hope to see you again someday and enjoy fellowship together as we have in the past!!"
- Dawn
---
Post Your Comment...
---