< Back to Strength for Your Spirit
Our Barefoot God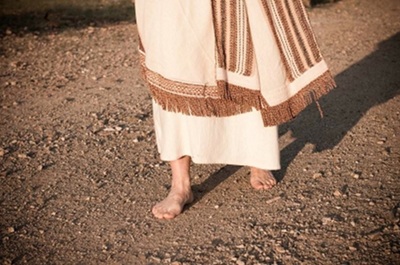 This month, I feel as if I have to hold my breath perpetually, like something could go wrong at any moment. As soon as one crisis ends, I'm anxious about the next one.
I pray for God's help, for deliverance, and for blessing, and I feel frustrated, angry, and even betrayed when the help doesn't come. If anything, I feel imprisoned by fear of the next bad thing.

I think of how Job must have felt when he received one piece of tragic news after another---
All of your cattle are destroyed along with the servants that tended them.
All of your sheep are destroyed along with the servants that tended them.
All of your camels were stolen and the servants with them were killed.
All of your sons and daughters were killed when the house they were in collapsed on them.

The Bible tells us that "while he (one servant) was speaking," the next servant rushed in to deliver another terrible report of destruction and ruin (Job 1:16, 17, 18, NIV).

Most of us have experienced times like this---when crisis follows crisis. When you pray for sun and wake to a downpour; pray for health and receive a cancer diagnosis; pray for a baby and take another negative pregnancy test; pray for financial help and the car breaks down. We ask, "What next, Lord? Can you even hear me?" It feels like "waiting for the other shoe to drop," like God is choosing to ignore my prayers and even tossing troubles at me from heaven, maybe arbitrarily, maybe with cruel intentionality.

Someone once told me years ago, though, that God isn't wearing any shoes. When everything seems to be going wrong and my prayers seem unanswered or even ignored, I sometimes picture God with bare feet. I remind myself that God isn't throwing shoes at me from heaven. Not only that, but He also hasn't abandoned me to life's struggles and become a passive observer of my pain.

Of course, it's hard to maintain hope when prayers remain unanswered and bad news just keeps coming. Proverbs 13:12 says, "Hope deferred makes the heart sick" (NIV). I can attest to that! I feel sick at heart waiting for deliverance or an answer to my heart's cry. So often though, we put all of our hope and trust in a situation or another person to save us, and we forget to look to God as our only hope.

In Psalm 62:5, David tells us where our hope should be placed. He writes, "My soul, wait in silence for God only, for my hope is from him." Our trust should be in God alone to save us. We can't look to the new medication to cure us or the promotion to fix our finances. We can't trust our future because of the size of our 401K or because of our budget plan.


Don't wait on good news from your doctor, wait on God who holds you in his hands.
Don't wait on a marriage proposal, wait on God, the lover of your soul.
Don't trust in your budget, trust in God your provider.

As David said in Psalm 20, "Some trust in chariots and some in horses, but we trust in the name of the Lord our God"(Psalm 20:7, (NIV). Even when things are going well for you--when your marriage is happy, your health is good, your kids are well, your 401K is growing, your house is comfy--if you place your trust in any of those "things," you'll lose your footing when your foundation crumbles.

My daughter has been singing a song about the foolish man who built his house on the sand and the wise man who built his house on the rock. The song describes Jesus' parable in Matthew 7: Therefore everyone who hears these words of mine and puts them into practice is like a wise man who built his house on the rock. The rain came down, the streams rose, and the winds blew and beat against that house; yet it did not fall, because it had its foundation on the rock. But everyone who hears these words of mine and does not put them into practice is like a foolish man who built his house on sand. The rain came down, the streams rose, and the winds blew and beat against that house, and it fell with a great crash, Matthew 7:24-27, (NIV).

As my daughter's song says, "You better build your house upon the rock, And put a sure foundation on the solid spot, And though the storms may come and go, the Peace of God you will know."

Still, trusting in God and placing our hope in Him isn't easy when circumstances look bleak or when those storms in our life arise. In those times, as much as I try to look to Him as my source of hope and salvation, I sometimes wonder: Why isn't He rescuing me? Has He abandoned me here? Why, instead of saving me, is He just allowing more bad stuff to happen?

These are honest cries of hurt and confusion. The disciples may have felt similar fear when they were caught in a terrible storm. Mark writes, "A furious squall came up, and the waves broke over the boat, so that it was nearly swamped" Mark 4:37, (NIV). In the midst of the storm, of the fear, and of all the confusion, "Jesus was in the stern, sleeping on a cushion. The disciples woke him and said to him, 'Teacher, don't you care if we drown?'" Mark 4:38, (NIV). I can hear myself echoing their accusatory question at times---"God, don't You care if I drown?"

Yet, I take comfort that "The Lord is near to the brokenhearted and saves those who are crushed in spirit" Psalm 34:18, (NIV).

When you are at your most hurt, press in. He hasn't abandoned you or turned His back on you. He hasn't covered His eyes while the world beats at you with a club nor is He passively observing your pain without concern for you. No, the Lord is near and He will save you. He is in your boat with you when the storms rage, just as He was with the disciples---and He can calm the seas.

You don't have to live in fear that God's "other shoe is going to fall" or wake up each day waiting for the next bit of bad news. God isn't wearing any shoes. In fact, the scars on Jesus' bare feet show how much He desperately loves you and the lengths to which He is willing to go to rescue you from certain death.

In Psalm 20, David writes a prayer of blessing, which I pray for you in the midst of whatever circumstance you face:

"May the Lord answer you when you are in distress.
May the name of the God of Jacob protect you.
May He send you help from the sanctuary
And grant you support from Zion.
May He remember all your sacrifices
And accept your burnt offerings.
May He give you the desire of your heart
And make all your plans succeed.
We will shout for joy when you are victorious
And will lift up our banners in the name of our God
May the Lord grant all your requests" Psalm 20:1-6, (NIV).

~Amen~
Copyright © 2008-2015 Heather King
Read more about the writer: Heather King
---
Post Your Comment...
---