The Art of Arranging Art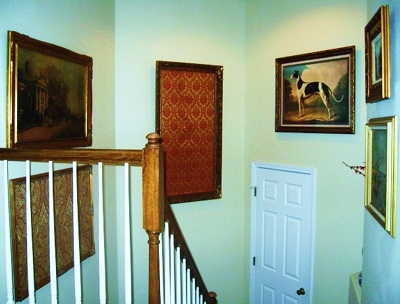 Often when it comes to hanging art in a room, it receives the least attention. Mostly due to lack of knowledge and good instincts, the outcome is, well, predictable with a single piece over a sofa and, if you're really brave, a pair over a chest or table!

As a collector of art, I am frequently 'falling in love' with a new favorite piece! I love it all! Photography in black and white, pen or brush and ink, oil on canvas, and watercolor. My delight ranges from contemporary to antique reproduction.

Framing of course plays its part, and it too ranges from simple black frames to large gold gilded baroque frames. So, when you have numerous pieces of art in mixed media, how do you arrange them into a cohesive collection?

When you have chosen the wall for display, determine the width and height of the space and center your group within it. Hang your pictures at eye level for the average height person and, when in doubt, hang on the high side. When hanging grouped art above a piece of furniture, visually it will act as a single piece. Keeping this in mind will be helpful in determining size and placement of the art.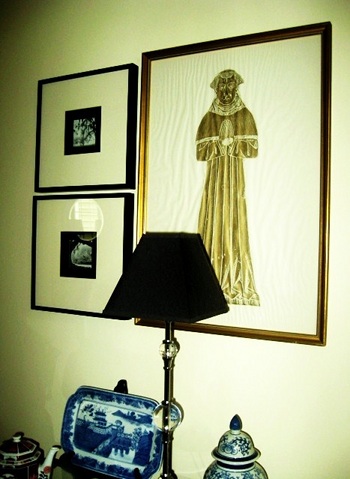 Lay out your pictures on the floor and arrange them how they will be hung. Begin with the larger piece in the center as a focal point and work out and up, then down to compliment one another. Align pictures on the center of one another. Shuffle them around until you know it feels right, while considering these elements of design: Harmony, balance, symmetry, visual weight and continuity. The continuity of a grouping could be the media type, the subject matter, color, or even framing.

For smaller pieces, allow 2 - 2 1/2" of margin. Larger pieces require a greater margin, about 4".

Hanging pictures that are a part of a series are generally best framed identically and work best hung in a grid pattern. Consider framing textiles as art; it is budget friendly, unexpected, an d mixes well in a gallery style arrangement. Just keep in mind, always frame your art for the piece it is, not the room it is in. The right art in the right frame will work in any room.

Arranging art in groups will allow you the joy of acquiring more great finds and actually displaying them where you thought you had no more space.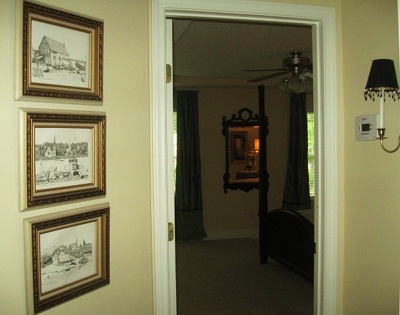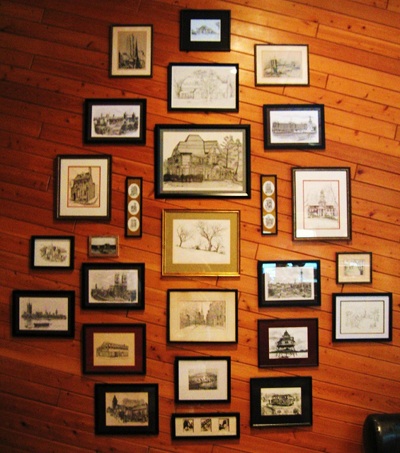 Copyright © 2008-2015 Kristy Beelendorf
Read more about the writer: Kristy Beelendorf
---
Post Your Comment...
---