The "Happy Wife, Happy Life" Syndrome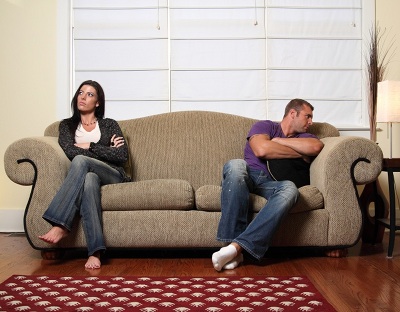 Last night, my daughter saw a new toy at church and announced, "If I had that, it would make me so happy!" After a quick lecture on how our happiness shouldn't depend on material things and a simplified definition of being content, we changed the subject and headed home---and she was perfectly happy without that oh-so-necessary toy.

You might think, "Well, that was only a child." However, ladies, what are we doing?
When we give our husbands the silent treatment when they don't do things our way . . .
When we nag at our husbands to plan their schedules around our needs . . .
When we stomp around our house, banging pots on the stove and wearing a determined frown because our husbands don't make the financial decisions we want . . .

Then, aren't we behaving as if our husbands exist to make us happy? We're making happiness our goal, just like my 5-year-old daughter thought her happiness was dependent on getting a new toy. If we can't have our way, do we sometimes make others pay for our unhappiness! It's something we joke about in our culture all the time:

"If Momma ain't happy, ain't nobody happy."
"Happy wife, happy life."

Our Husbands and Our Happiness

I don't know about you, but nowhere in my wedding vows did my husband promise to make me happy. He loves me, and he showers me with affection and kindnesses as an expression of his love, but if he had to decide between obeying God or pleasing me, I hope my husband would choose to obey God.

When he stands before God some day and answers for how he led our family as a husband and father, I don't want him pointing at me and saying, "Yes, God, I knew you wanted me to teach Sunday School, but my wife didn't want me to and 'Happy wife, happy life!'" Or "Well, God, I knew I should have given more money to help those in need, but my wife wanted a bigger house and 'She's the boss!'"

I know that some of you don't have husbands who are choosing between obeying God and pleasing you. Maybe your husband is choosing to please himself and to live selfishly instead of considering your needs. For some of you, it may be even more extreme. I am not here to lecture you about submitting. There is an appropriate, Godly way to confront sinful behavior, such as infidelity and abuse, and those are not situations where you need to submit.

At the same time, many of us throw tantrums (Honestly, isn't that what they are?) when we don't get our way about almost anything, and we can't truthfully say that we are upset because our husbands are sinning. Generally, we're upset because we feel like OUR needs aren't met, that we aren't getting OUR way, that they didn't take OUR advice or that they put others before US. In short, mostly we are angry because we can't control and force them to do what will make us happy.
Scripture describes the "Happy Wife, Happy Life Syndrome" perfectly:
"A quarrelsome wife is like a constant dripping on a rainy day; restraining her is like restraining the wind or grasping oil with the hand." (Proverbs 27:15-16, NIV)
"The wise woman builds her house, But the foolish tears it down with her own hands." (Proverbs 14:1, NAS)

"Better to live in a desert than with a quarrelsome and ill-tempered wife." (Proverbs 21:19, NKJV)
"Better to live on a corner of the roof than share a house with a quarrelsome wife." (Proverbs 25:24, NKJV)


Building Our Houses Up

I want to build my house up, not tear it down. Instead of being the quarrelsome wife, I want to be like the Proverbs 31 woman who "opens her mouth in skillful and godly Wisdom, and on her tongue is the law of kindness [giving counsel and instruction]." (Proverbs 31:26, AMP) Even if I'm not happy about something, I need to control my attitude so that I don't make everyone else miserable, too.

That means not adopting the excuse, "I can't help the way I feel." I don't accept that excuse from my children; I certainly can't accept it in myself. Even if I can't control how I feel, I can control my behavior--my outwar d demeanor, my actions, my tone of voice, and the words I choose. If I bring my behavior under control, my attitude will get better as well.

God and Our Happiness

Not only are our husbands not here to make us happy, neither is God. Happiness is not part of a Christianity "package deal." As my mom says, "God isn't here to make you happy." In fact, Jesus assured us that "in this world you will have trouble. But take heart! I have overcome the world." (John 16:33, NIV) Our hope is not that God will make us happy on this earth, but that He will be with us always and give us a future in heaven with Him.

Sometimes we treat God the way we may treat our husbands when we aren't happy--we give Him the silent treatment or nag at Him when we pray. I'm so thankful that God doesn't just give in to my every demand! I may think I know what's best for me, but there have been times when I have been utterly and completely wrong. I'm thankful when I realize that God was taking care of me by not giving me my way. As Isaiah writes, "'For my thoughts are not your thoughts, neither are your ways my ways,' declares the LORD. 'As the heavens are higher than the earth, so are my ways higher than your ways and my thoughts than your thoughts.'" (Isaiah 55:8-9, NIV)

Enjoy Happiness

In those times when you are happy, enjoy it! Just because we can't expect others to make us happy all the time, doesn't mean happiness itself is bad. God gives us countless opportunities every day to smile--at the beauty of the world around us, at the creativity of our children, at the song on the radio or the chocolate on our desk (now in our mouths!). We should enjoy and treasure all of those reminders of God's goodness, but we shouldn't hold others (like God and our husbands) as hostages to our happiness.
Copyright © 2008-2015 Heather King
Read more about the writer: Heather King
---
Reader Comments...
2011-04-11 09:46:33
"Heather,

This message really spoke to me, as I'm sure it has others. You are a true blessing from God. He has given you such a talent of writing. I thank God for you! "


- Lynn
2010-07-07 07:35:49
"Very nice Heather. This is a good read for everyone. Wives, husbands, and couples no matter how long they've been together can use constant reminders. Thanks Heather!"
- Jennifer
---
Post Your Comment...
---