St. Nicholas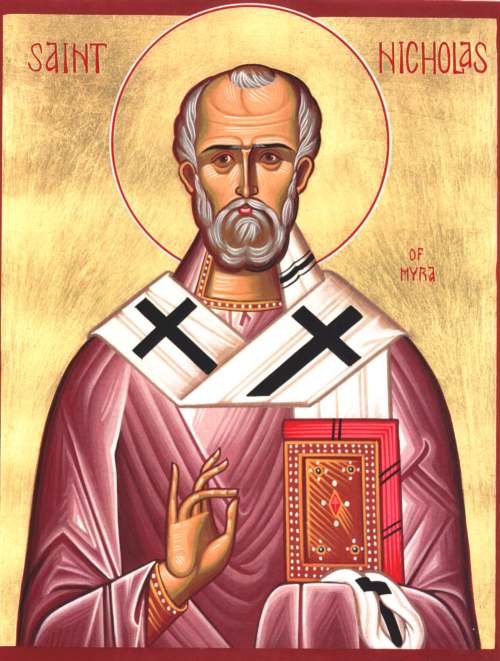 St. Nicholas was born in Patara, a city of Lycia in Asia Minor in 280 A.D.
He was a Christian Priest and later in his life became a Bishop. St. Nicholas was a wealthy man and was known to travel the country giving gifts and money to help the poor.
St. Nicholas became known as the gift giver of Myra. His gift giving was done late into the evening and those who received them never knew the giver. Years later, he was named the Patron Saint of children, sailors and of Russia and Greece.
There are many stories of the kindness of this man. One famous story is of a family that was extremely poor. The father did not have any money to give his three daughters on their wedding day. His daughters had left their stockings to dry by the fire; as was the custom in those days. St. Nicholas quietly put bags of gold in their stockings and the next morning when the daughters retrieved their stockings they had money for their future.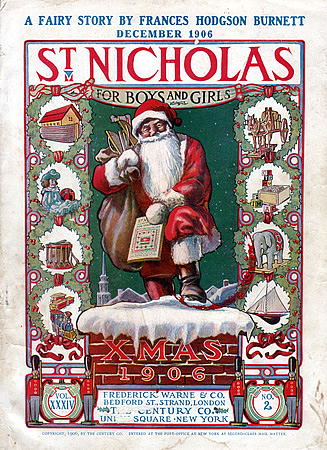 This was the beginning of why we hang our stockings by the fireplace on Christmas Eve so they can be filled with goodies to be found on Christmas morning.
In 303 A.D., Diocletian, the Roman Emperor commanded the citizens of the Roman Empire and Asia Minor to worship him as a god. Since Christians believe in the only one true GOD, they refused to obey the emperor. St. Nicholas was imprisoned along with the other believers. He was held for more than five years, where he was confined to a small cell, and suffered from hunger, thirst and the cold. But like many believers of the time, he maintained his strong belief in God.
Diocletian resigned in 313 and Constantine became the emperor of Rome and released St. Nicholas. St. Nicholas went back to his position as a Bishop of Myra and his good works continued until his death on Dec. 6, 343.
The Catholic Church made him a Saint for all the great works he had done. By the 1200's, December 6th was celebrated as Bishop Nicholas Day in France.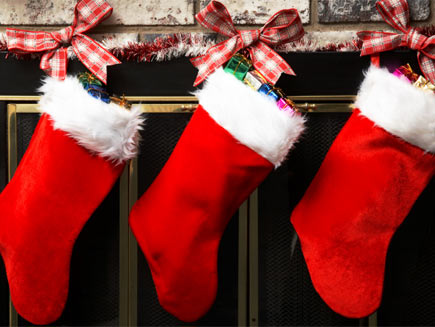 In Europe, over the centuries, the popularity of St. Nicholas became more evident and new stories were told about his caring for the children. In modern day, traditions have changed, and Santa Clause has taken the place of St. Nicholas.
While we should never worship people, we should however take note of the wonderful character qualities of goodness and generosity that St. Nicholas portrayed. We should continue likewise in considering and meeting the needs of others and be ready to serve in the name of Jesus.
How can you do good to others this Christmas season?
Copyright © 2008-2015 Nancy Panettiere
Read more about the writer: Nancy Panettiere
---
Post Your Comment...
---