Elizabeth Frye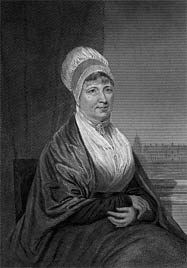 What would you do if your husband owned a business - it could be any business really, but let's say in light of current events, he owned a bank - and it collapsed. Some women might take it upon themselves to provide for their families, not trusting their husbands to do it any longer. Others might push their husbands to fix the situation. Still others might resort to dishonesty or theft, putting their own needs above anyone else's. You'd endure the embarrassment. You would probably wish for a miracle; some way for your debts to be paid so that all those people who trusted your husband would be taken care of.

Elizabeth Fry was taken care of. She had spent her life in service to God and other people, helping raise her brothers and sisters when her mother died, raising her own 11 children, caring for her husband, and helping the poor, sick, and imprisoned. About half way through her ministry, her husband's bank collapsed. He was kicked out of their church for mishandling other people's money, and the integrity of her charities were questioned, because they had accepted donations. But God did not abandon his servant. Her brother, whom she had helped raise, paid her husband's debts, took over his business affairs, and supplied Elizabeth with 1600 pounds a year to continue her work. Ironically, she is honored today with her portrait on the British five pound note.

Elizabeth Fry was a devout Quaker woman who lived in England from 1780 until 1845. She came from a wealthy Quaker banking family, and is best known for her work in prison reform. Her place in society allowed her to be a woman of influence, and for every cause she believed in, she organized societies of ladies to serve and bring relief.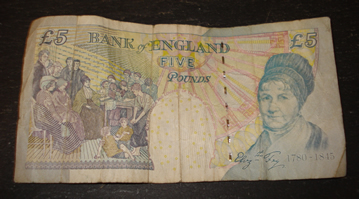 She found female prisoners at Newgate Gaol (prison) crowded with their children into a small area where they also cooked, washed and slept on the floor. There was no separation between hardened offenders and those who had committed a small crime. She returned with clothing and food, and eventually established schools for their children, and the Association for the Improvement of the Female Prisoners in Newgate. This association of ladies visited the prisoners, read the Bible to them, and provided supplies so the prisoners could sew, knit, and make other items to sell.

Elizabeth championed for better conditions for prisoners, calling for segregation of the sexes and female matrons for female prisoners. Her cause brought her before Parliament, the first woman permitted to present evidence, and eventually led to audiences with the queen and prison authorities in Europe.

Until her death in 1845, Elizabeth continued to work for those in need. She established a nursing school to improve hospital conditions. She worked for better treatment of the mentally ill, and established a shelter for the homeless in London. She persevered through her own hard times to make a difference for thousands of people. She is a woman who stood strong in the face of adversity and is remembered for it.
Copyright © 2008-2015 Sarah Lentz
Read more about the writer: Sarah Lentz
---
Post Your Comment...
---