Oh the Comfort of Friendship: "Will You Pick Up?"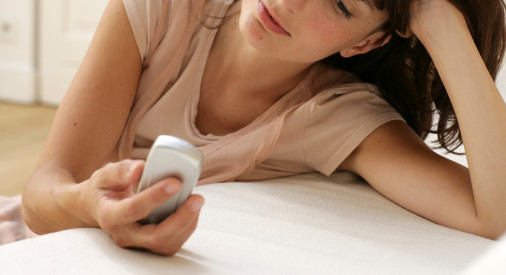 "Will you pick up?"
Well into wiping out all of the dust bunny litter in my home, a long day of intensive housework loomed over me. I was purposed. I was focused. I was going to thoroughly clean my house before the sun set.
Then the phone rang.
"Oh no," I whined to myself. "I have no time to talk right now." The name of a close friend who had moved away several years ago popped up on the caller ID.
"OK, OK, I'll pick up," I again whined to myself. "But I'm way too busy to talk. I'll tell her I'll call back later."
"Oh, Cindy!" Her voice echoed deep angst. "I'm so glad you picked up. I need your advice right now." From there, my friend went on to explain a difficult situation lying heavily on her shoulders alone. I had experienced a similar situation years before. She chose to call me because she knew I would understand. She knew I could offer tangible steps to walk through the difficulty. And I did. But, because of the immediacy of the need, it was more like we were in a race car. Together we maneuvered through the situation, one curve at a time. By our conversation's end, my friend sat comfortably in the driver's seat, prepared and strengthened in the Lord to face the immediate road ahead.
I don't know how long we talked, but I do know it was long enough to drain my cell phone battery…long enough to be interrupted by call waiting…and long enough to make my children antsy for attention.
We ended our conversation in prayer. Even though separated by a handful of states, it was as if we were sitting side by side. Surely, our hearts were.
If I hadn't answered her call, the Lord would certainly have led her to another friend….and I would have missed,what I call an amazing "II Corinthians moment". In the first chapter, verses 3 and 4, the apostle Paul writes, "Blessed be the God and Father of our Lord Jesus Christ, the Father of all mercies and God of all comfort; who comforts us in all our afflictions so that we may be able to comfort those who are in any affliction with the comfort with which we ourselves are comforted by God" 2 Corinthians 1:3-4 (NAS) (my emphasis). I like the Message Bible's translation, "All praise to the God and Father of our Master Jesus…He comes alongside us when we go through hard times, and before you know it, he brings us alongside someone else who is going through hard times so that we can be there for that person just as God was there for us" 2 Corinthians 1:3-4 (MSG).

The Greek root of "comfort" means to call near, to beseech, call for. I am humbly grateful I picked up the phone that day and answered my friend's call for comfort.
And as I script this missive, I am reminded of a deep concern I have and know exactly who I want to call for advice.
I hope she picks up.
Copyright © 2008-2015 Cynthia Newman
Read more about the writer: Cynthia Newman
---
Post Your Comment...
---