Who Do You Love the Betterest?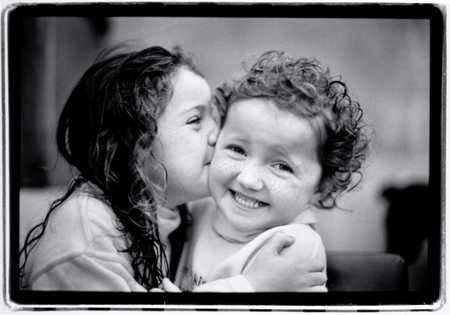 Several months ago as I was driving two of my grandchildren (Elizabeth, 11, and Jack, 5) home from shopping, Jack asked, "Who do you love the betterest, me or Elizabeth?"
I truthfully replied, "Well, I love you both just the same."
However, that didn't satisfy Jack. He was insistent that I make a decision between him and his sister "because you have to choose who you love the betterest."
Finally I said, "Jack, before you were born, I loved Elizabeth as much as I thought I could love any grandchild. But when you came into our lives, my 'love heart' just stretched to make more room for love. Then I loved you and Elizabeth just the same. " I went on to explain that that has happened with each grandchild (we now have 12!).
When you add love, it doesn't take away from what you already have; instead, your heart just expands so you can add more. Love does not prioritize; it equalizes.
In Mark 10:35-45 (NIV), James and John put Jesus in a similar situation. Rather arrogantly, they demanded that Jesus "do for us [them] whatever we ask." Of course, when the other disciples heard about James and John's request, they were indignant—and rightly so. They were struggling with the desire for preference and assurance of worth. Jesus responded that He didn't even have the perogative to do what they asked. Only God the Father could do that.
Paul, in the first letter to the Corinthians, challenged the Christians to seek love with all its positive characteristics: "Love is patient, love is kind. It does not envy, it does not boast, it is not proud. It is not rude, it is not self-seeking, it is not easily angered" (I Corinthians 13: 4-5 NIV).
When the teachers of the law asked Jesus which was the most important of all the commandments, He quoted from Exodus: "Love the Lord your God with all your heart and with all your soul and with all your mind and with all your strength. The second is this: 'Love your neighbor as yourself.' There is no commandment greater than these" (Mark 12:30-31 NIV).
Love does not bring division and strife; love expands to cover all the desires to be in first place. That kind of love brings comfort and assurance.
Five-year-old Jack was trying to assure himself that he had a place of importance in my life. Once he knew that I loved him the same as I loved his sister, he did not ask again about whom I loved the "betterest."
Copyright © 2008-2015 Shirley Shedd
Read more about the writer: Shirley Shedd
---
Post Your Comment...
---