The Danger of "I Wish I Had"
Fall is here—my favorite season! Time for sweater weather, pumpkins, and autumn leaves. But, it's also time for me to fight against an incessant barrage of Christmas toy advertisements—not my favorite thing.
Last year at this time, I was plagued by advertisements for a $200 triceratops that was big enough for kids to ride on. Just what my daughters always wanted, of course!! Every time the commercial came on TV, I heard the same thing, "I wish I had a dinosaur I could ride on."
Most of the time, I answer requests like this with, "put it on your Christmas list." I tell them they won't get everything on the list, but they will get some things. When they asked me for the massive $200 dinosaur that would have to replace our living room furniture, though, I told it to them straight: "That's just not going to happen."
It's only October and already the "I wish I had . . ." whine has begun in my home. In reality, though, this isn't just a kids' problem and I can't blame it on the advertisers. They are just playing into something deep in human nature, something that I struggle with all the time --- coveting.
The Tenth Commandment
Many of us learned the Ten Commandments as kids and rolled right past number ten because we didn't know what "covet" meant. The tenth commandment says, "You shall not covet your neighbor's house. You shall not covet your neighbor's wife, or his manservant or maidservant, his ox or donkey, or anything that belongs to your neighbor" Exodus 20:17 (NIV).
Webster's Dictionary defines "to covet" as: "to wish for earnestly, to desire (what belongs to another) inordinately." I fight against this all the time. Maybe you have trigger points as well—things others have that make you dissatisfied with your own lot in life.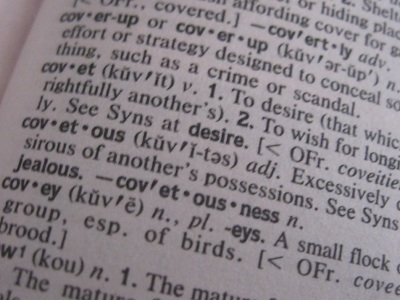 "I wish I had a big new house."
"I wish I weighed 20 pounds less."
"I wish my kids got straight A's."
"I wish my husband brought me flowers."
"I wish I could go on a beach vacation."
"I wish I had a ministry like hers."
"I wish my hair looked like that."
Each of us likely has our own pitfalls and some of these make coveting seem like such a minor issue. We might think, "So what if I covet every once in a while? I can't help it. It's just how I feel. And what's so wrong with wanting good things anyway?"
We Don't Know What We're Wishing For
A few years ago, I was abruptly made aware of how out-of-control my coveting had become. At that time, our small community was plagued by couples divorcing, mostly as the result of marital infidelity. The most difficult part was seeing couples crumbling who seemed to have it all. One week I was jealous of them and the next week I'd hear they were separating.
We could have all looked at these couples and said, "I wish I had a big house. I wish I had a boat. I wish I were that beautiful. I wish my house were as perfectly decorated. I wish my house were as clean. I wish my kids were as cute, smart, accomplished . . ."
Yet, all along they were struggling with issues I never want to face. It's so easy to covet what other people have, but we only see the superficial reality. We don't know what's happening behind the closed doors of any home, no matter how big and beautiful that home is.
No "Small Sin"
Coveting is often most destructive in our marriages. Our friends tell us the highlights of their marriage like, "My husband brought me flowers for no reason!!!!" Suddenly, we're mentally checking how long it's been since we've received flowers.
Romance novels and movies can also create unrealistic expectations of what love and marriage should be like, making it impossible for any husband to measure up. If you can't read a book or watch a movie without feeling dissatisfied with your own marriage relationship, perhaps you should stop reading those books or watching those kinds of movies.
We might be tempted to treat coveting like it's no big deal, but if it can be this destructive to our marriages and families, it's no "small sin." It's sometimes the first step into financial mistakes (I can afford a house as big as hers), marital infidelity (I deserve a man who is as romantic as my friend's husband), and ministry failure (why shouldn't I start a big ministry like hers).
The "Not Equipped" Formula
In her book, Becoming More than a Good Bible Study Girl, Lisa Terkeust describes this coveting pitfall this way:
"I'm blinded to what I do have in the face of what I lack, my heart drawn to a place of both assumption and ungratefulness. I assume that everything is great for those who possess what I don't have, and that assumption causes me to become less thankful for what I do have.
And here's the kicker . . . things for the person I'm comparing myself to are almost never what they seem . . . That's why whenever I get an overly idyllic view of someone else's circumstances, I often remind myself out loud, 'I am not equipped to handle what they have—both good and bad'" (99).
I love her formula for immediately addressing the coveting before it gets out of hand—"I'm not equipped." We need to remember that God has given us our current situation for a reason; he has equipped us for it, and He has not equipped us for the ministry, husband, financial situation, job and kids of anyone else.
While we may long for a husband who brings us flowers for no reason, we may not realize our friend's husband has to bring her flowers all the time to apologize for frequent indiscretions. We just don't know what we are truly wishing for and we should cultivate a thankful heart instead of allowing the coveting that leads to ingratitude.
The Battle For a Grateful Heart
One of my favorite verses says, "We demolish arguments and every pretension that sets itself up against the knowledge of God, and we take captive every thought to make it obedient to Christ" 2 Corinthians 10:5 (NIV). The struggle against coveting is really the battle to develop a grateful heart and it involves taking captive every jealous thought and replacing it with thanksgiving. It's an all-day-long kind of battle until your heart learns to be naturally grateful rather than frequently dissatisfied.
Find creative ways to redirect your thoughts. When you compare your small house to your friend's spacious home, thank God that you have a home with payments you can afford and that doesn't take so long to clean!!!
Sometimes the redirecting is difficult; it's hard to be grateful in times of great loss or long-term unfulfilled desires like unwanted singleness or infertility. These heartaches may seem unbearable. In these sometimes overwhelming situations, it may be best to confess your struggle to a dear Christian friend who can pray with you and encourage you to be satisfied with Christ and to place all your hope and fulfillment in Him alone, maintaining a grateful heart even in the toughest circumstances.
The Apostle Paul experienced poverty, hunger, prison, shipwrecks, stonings even to the point of near-death, and while in prison, he wrote: "I know what it is to be in need, and I know what it is to have plenty. I have learned the secret of being content in any and every situation, whether well fed or hungry, whether living in plenty or in want" Philippians 4:11-12 (NIV).
Regardless of your circumstances, you can begin the fight against coveting by fighting for contentment, the natural outflow of a grateful heart—taking one "I wish I had" thought captive at a time.
Copyright © 2008-2015 Heather King
Read more about the writer: Heather King
---
Reader Comments...
2010-10-01 15:39:39
"I love this article! Thank you Heather."
- Jennifer
---
Post Your Comment...
---