< Back to Strength for Your Spirit
Life's Little Treasures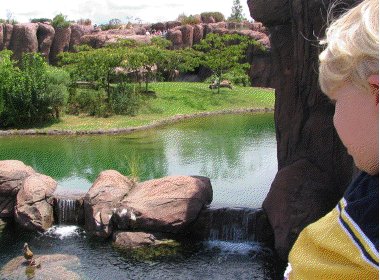 One of my favorite comic strips appearing in our local newspaper is FOR BETTER OR FOR WORSE by Lynn Johnston. In my collection of favorites is a time when Elly's elderly father, Jim, was limited by failing health. Jim could no longer walk without the assistance of a rollator. The first frame of the comic strip shows Jim and his wife, Iris, taking a walk and conversing with each other.
Iris asks Jim, "Are you ok, Dear?" He responds to his wife, "I can't look up too easily, but I'm fine. In fact . . . looking down has its good points. I pay more attention to the flowers, now, I see moss growing through the sidewalk . . . And sometimes, there's a name or a handprint left in the cement. And look at that—a brand new dime! Everyday, there's a treasure to find—if you know where to look, Iris." The last frame shows Jim pushing the rollator down the sidewalk with Iris's arm around her husband affirming his words of wisdom.

We face all sorts of choices everyday, varying from which cereal we'll eat for breakfast to planning the annual family vacation. Sometimes we find ourselves struggling to make the right selection, but finally we make our decision and move on through the day never giving things a second thought.

In the hospital where I work, I regularly see patients and their families devastated by a single major medical event. The familiar is now clouded by the uncertainty of the future. Families begin searching for direction and hope in the midst of their crisis. As hope replaces fear and uncertainly, a marvelous transformation takes place.

In the adjustment process, families initially begin to accept their present situation. Over time, they are able to move forward with making plans into the future. Even though life may not return to the way it once was, choosing to live life in spite of obstacles now becomes the order of the day. Taking one step at a time, the family is able to refocus their energies on things that matter, not just on the loss they've experienced.

Great Works Are Accomplished Through Perseverance

When Samuel Johnson was approached by a group of publishers in 1746, he accepted a project to create an "authoritative dictionary of the English language." He initially boasted of being able to complete the project in three years, but actually finished it in nine. Samuel Johnson's commitment did not waiver under the constraint of time. Instead, he brought the project to completion. Johnson said, "Great Works are performed not by strength, but by perseverance." This illustrates that he understood the meaning of perseverance by keeping his eye on the task set before him.

Hebrews 12:1 holds a treasure: "Therefore, since we are surrounded by such a great cloud of witnesses, let us throw off everything that hinders and the sin that so easily entangles, and let us run with perseverance the race marked out for us."

Every Day There is a Treasure to Find

Returning to the words of Jim: "Everyday, there's a treasure to find—if you know where to look," Jim did not allow his deficit to hinder his ability to enjoy the simple things of life that we can often miss in our hurry-up world. He chose the freedom to live life in the circumstance where he found himself, rather than adopt a victim mentality.

Our attitude can hinder the work of the Holy Spirit. The word says we are surrounded by a great cloud of witnesses. We are being observed in the way we respond in the race of life. Running with perseverance will enable us to continue in the race.

We all experience obstacles in our lives that hinder us from enjoying all that God has for us. The choices we make each day can set us free to enjoy the blessings God has for each of us. No matter how great or small your challenge, God wants to bring good to your life. Choose to "Fix (y)our eyes on Jesus, the author and finisher of our faith…" (Heb. 12:3a).

Begin your new journey today. There is treasure waiting to be discovered right where you are.


Resources:
New International Version, Copyright 1986 by Holman Bible Publishers
Wikipedia, The Free Encyclopedia
Copyright © 2008-2015 Ruth Van de Riet
Read more about the writer: Ruth Van de Riet
---
Post Your Comment...
---