< Back to Strength for Your Spirit
A New Season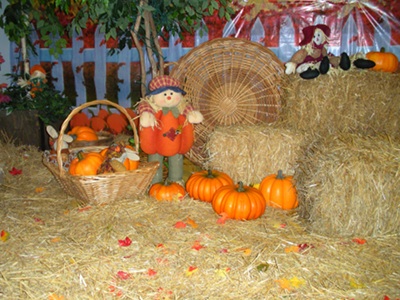 Fall is a reminder that the hot, lazy, and hazy days of summer are fading and being replaced by sounds, sights, and smells of a new season. Ooh, the pleasantries of fall.
Playgrounds once filled with sounds of children now have becoming gathering places for an array of colorful windblown leaves.
Apple trees abound with fruit of red, gold, and green, bidding apple pickers from far and near to fill their baskets with the delectable treasure.
Fall festivals are in full swing where wood-burning fires become resting places for large kettles of Brunswick Stews, apple butter, spicy hot cider and other wonderful foods to tantalize even the fussiest pallate.
The fall season reminds us that the world around us is ever-changing. Nothing remains the same. Today will bring experiences that are different than yesterday. Seasons come and go, but each brings a fresh start with new opportunities to grow in Him.
Seasons and times are appointed by God. The writer of Ecclesiastes said it this way,
"There is a time for everything and a season for everything, And a season for every activity under heaven"
Eccl. 3 :1 (NIV).
Designed by God in creation, there are four distinct seasons. As we look at the world around us, we notice that the fall season is different than that of summer. Change is inevitable. It is going to happen because it is appointed by God. The old is gone and we experience the newness of another season.
"Therefore, if anyone is in Christ, he is a new creation; The old is gone, the new has come" 2 Cor 5:17 (NIV).
Just as there is a season menat for things to grow, there is also a season of harvest. So, in our Christian walk, God reveals Himself in so many ways. Through these revelations we discover there is so much more about Him that there is to know.

"However, as it is written: No eye has seen, no ear has heard, no mind has conceived what God has prepared for those who love Him, but God has revealed it to us by His Spirit" 1 Corinthians 2:9, 10a (NIV).
In the same way that our surroundings remind us that we are in a new season, so the Holy Spirit utilizes the seasons of life to transform us by the renewing of our minds. We are no longer satisfied with our old way of thinking, but discovering God's perfect will for our lives motivates us to move forward in our Christian walk.
"Do not be conformed any longer to the pattern of this world, but be transformed by the renewing of your mind. Then you will be able to test and approve what God's will is—His good, pleasing and perfect will."
Romans 12:2 (NIV).
So, as we celebrate the newness of the fall season, let's rest in the knowledge that God has great things in store for us. As we step out of the old and into new, we will be able to discover all that God has prepared for us. Praise His name!
Copyright © 2008-2015 Ruth Van de Riet
Read more about the writer: Ruth Van de Riet
---
Post Your Comment...
---