The Blessing Tree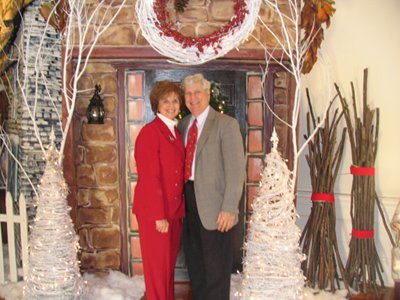 Probably one of the most celebrated times of the year for our family is the Christmas season. As with many families, we have established our own traditions.
Several years ago while packing away Christmas decorations, we realized that we had accumulated a collection of assorted gifts from family and friends. Recalling the years in which our family received these gifts brought so many wonderful memories. Since it was in the spirit of giving that our family received these treasures, we were now given an opportunity to return a blessing. So began the tradition of the blessing tree where we display our collection of memorabilia celebrating family and friends both near and far who have touched our lives.
Each year we decorate three Christmas trees with specific themes. Our living room tree is adorned with my Victorian collection with finely detailed ornaments of lace and ribbons. Since we spend most of our time in the family room, it is befitting that the tree in this room display reminders of special occasions. These ornaments represent special events such as births, anniversaries, vacations, storybook and cartoon characters, favorite songs, hobbies, and the list goes on. Last of all, the blessing tree is displayed in the entrance way of our home, with prayers and ornamental reminders of those we should be praying for. It has been a source of conversation as guests curiously admired these wonderful treasures.
Our Christmas prayer list has grown. Initially we prayed blessings over those who had sent us Christmas greeting cards and letters. Now we also include those whose ornamental gifts hang on our blessing tree.
An excellent biblical example of a prayer in which the Lord instructed Moses to speak blessing to Aaron and to his sons is found in the book of Numbers: "The LORD said to Moses, 'Tell Aaron and his sons, "This is how you are to bless the Israelites. Say to them: "'"The LORD bless you and keep you; the LORD make his face shine upon you and be gracious to you; the LORD turn his face toward you and give you peace."' "So they will put my name on the Israelites, and I will bless them." Numbers 6:22-27 (NIV).
Moses prayed that the Lord's presence (His face) would shine on His people and that he would graciously and kindly preserve His children by keeping, protecting and bestowing His peace on them.
Because we live in uncertain times and so many families are experiencing difficulties, it is all the more important to hold each other up in prayer.
The blessing tree has given us the privilege of lifting up the names of those who have blessed us with thoughtful loving gifts. In turn, we are able to pray that the presence of the Lord would fill their lives and homes.
It is our prayer that God will enable you to become a source of blessing to those whom He has placed in your lives.
As you, my friends, read this article, please know that our family will be praying that His joy, His peace, and His blessing will shine on you now and through the coming year
Copyright © 2008-2015 Ruth Van de Riet
Read more about the writer: Ruth Van de Riet
---
Post Your Comment...
---