< Back to Kitchen Keeper Recipes
Corn Fritters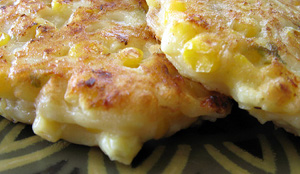 Corn is always a family favorite, but here's a recipe that will be fun and delicious!
Ingredients:
1 c flour
1 t. baking powder
1/2 t salt
2 T sugar
1 egg
1/3 c milk
1 T oil
1-12 oz can niblet corn, well drained.
Directions:
Mix flour with next 3 ingredients
Beat egg, add milk and oil.
Add flour mixture and beat until just smooth.
Fold in corn.
Drop by spoonfuls in hot oil (360) degrees) Fritters will float.
Flip over when bottom side is golden brown.
Drain on paper towels. (Makes approx 12 fritters).
Copyright © 2008-2015 DeeDee MacDonald
Read more about the writer: DeeDee MacDonald
---
Post Your Comment...
---