Mother Teresa: A Ministry to the Least of These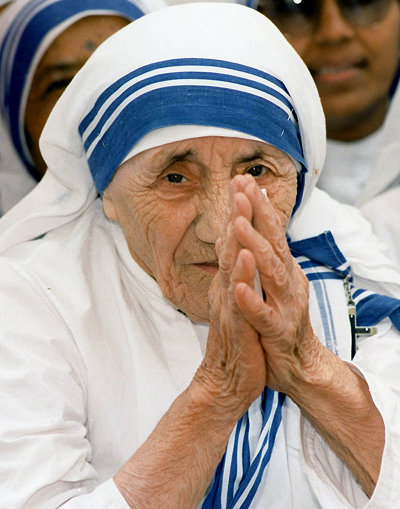 Universally, the Christmas season compels people to give to others, particularly the less fortunate and needy. In Dickens's A Christmas Carol, we, along with Scrooge, are reminded that "it is more than usually desirable that we should make some slight provision for the poor and destitute. Many thousands are in want of common necessities; hundreds of thousands are in want of common comforts."
So, how do we find ways to focus on giving rather than getting during the Christmas season? Even more challenging---how can you create a culture of giving in your family that lasts all year?
One hundred years after the birth of Mother Teresa, she still represents self-sacrifice at its most exemplary. Her heart for the poorest and neediest in the world seems to reach far beyond what the average person can do. And yet, she believed she was just "the little pencil" that God would direct and use. What would happen if we humbled ourselves enough to go anywhere, do anything, and to serve anybody as Christ directed us? Would we be yielded enough to be God's "little pencil" in a world full of need and hurt?
Her Life:
Mother Teresa was born Agnes Gonxha Bojaxhiu (and known as "Gonxha") on August 26, 1910 in Skopje, which is now the capital of Macedonia. When a new parish priest arrived in her community, he taught that our faith should be acted out in everyday life. He introduced the church to missionaries from faraway India and gave his parishioners a new perspective on the world outside of Skopje.
Gonxha responded to this call and left her family, never to see them again, in order to join the Sisters of Lareto, an Irish-based religious order working in Calcutta. There, she ministered for 17 years, teaching and serving like all of the other sisters in the order.
In 1946, though, Teresa's life changed as she responded to a clear and compelling call to do something different. She witnessed brutal riots in Calcutta that devastated the city. Her superiors, feeling that Teresa was near exhaustion, sent her to a retreat in Darjeeling. While she was traveling on the train, she had an encounter with Christ in which He called her to a ministry to the poor.
Matthew 25:37-40 became particularly meaningful for Teresa: "Then the righteous will answer him, 'Lord, when did we see you hungry and feed you, or thirsty and give you something to drink? When did we see you a stranger and invite you in, or needing clothes and clothe you? When did we see you sick or in prison and go to visit you?' "The King will reply, 'Truly I tell you, whatever you did for one of the least of these brothers and sisters of mine, you did for me' (NIV).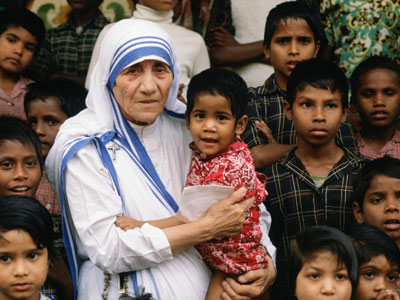 Her Ministry
For 15 months, she planned and argued for the establishment of a new order. Finally, in April 1948, Pope Pius XII granted her request—and so began the Missionaries of Charity. Mother Teresa made it her rule to seek "out, in towns and villages, even amid squalid surroundings, the poorer, the abandoned, the sick, the infirm, the dying" and care for their needs "assiduously." She would tick off each of the fingers in her hand one at a time and quote Christ in Matthew 25---"You. Did. This. To. Me."
This one average-appearing woman created a worldwide religious organization that ministered to so many, ultimately leading her to meet princesses and presidents and to receive recognition from many world leaders, including ultimately the Nobel Peace Prize. So, how did she go about it? The very magnitude and scope of her ministry is daunting to another average-appearing woman like me.
Mother Teresa would have responded, "Ek. Ek. Ek," which in Hindi means "One. One. One." She referred each step of her ministry to God, promising to obey Him in whatever He called her to do. Every day she and the sisters in her order rose at 4:30 a.m. with the focused purpose of finding the "least of these" to whom they could minister.
Ministering to one person at a time, one action at a time, one day at a time, Mother Teresa's ministry grew. By 1984, she related these ministry results: "4 million lepers served by mobile clinics since the first of them went out in the 1950s; 157,851 people fed at relief centers, 13,246 admitted to homes for the dying and destitute—of whom 8,627 actually ended up living."
Her Struggle
You'd think that a woman with such a ministry impact would "feel" closeness with God. However, following her initial encounter with Christ on that Darjeeling train, Teresa, as revealed in her letters and journals, never felt so close to God again. In fact, she struggled with feeling disconnected from Him.
Sometimes we want to pack it in when we don't feel emotionally connected to God. We may abandon ministry and walk away from God's call. But, Mother Teresa exemplified obedience to God's call regardless of our emotional connection to Him.
Her Legacy
Following her death on September 5, 1997, many have sought Mother Teresa's recognition as a saint through the Catholic Church. What's more important to me is to consider her legacy of ministry and missions and how I can follow her example. How can I minister to the "least of these?" What are some first steps for me to take on this journey of "One. One. One."?
Here are some ideas to consider:
Sponsor a Child through World Vision or Compassion International:
Purchase medical supplies, farm animals, school supplies and other practical gifts for the neediest in the world. There is something available for any budget.

Volunteer in your community at a shelter for the homeless or abused women.
Get involved in orphan care or consider domestic or international adoption and/or foster care: www.showhope.org/
Source for this article:
Stengel, Richard. (2010). Mother Teresa at 100. TIME.
Copyright © 2008-2015 Heather King
Read more about the writer: Heather King
---
Post Your Comment...
---