Counting the Real Cost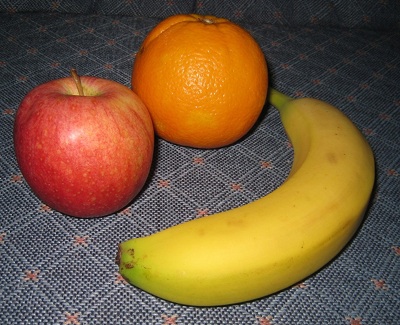 You are in the grocery store looking for snack foods for your kids. The heaping piles of brightly colored fruit are appealing. You know they are good for your kids. Then you eye goes to the "per lb" cost. You sigh, and think, "I just can't afford the fruit."
So you move on to the snack food aisle with a variety of chips, energy bars and even candy bars! "I know these foods are not as good for my kids, but I just can't spend the money on fruit when I can get 10 bars for $2.00."
What's a mother to do? Count the REAL cost.
In a large discount store, I recently bought a banana (medium) for 24 cents, A medium-sized apple cost 31 cents., and a beautiful, navel orange was 58 cents. Okay, that means the snack bars ARE a bargain at about 20 cents each.
So, your first reaction might be, "See, the snack bars are cheaper than fruit."
WAIT! Have you REALLY counted the cost?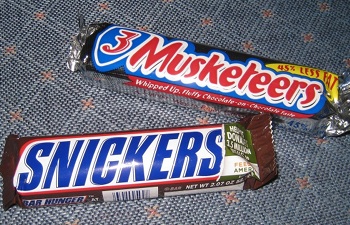 A regular-sized Snickers bar cost 67 cents in that same store and a 3 Musketeers cost the same.
However, the Snickers bar has 280 calories and 14 grams of fat. The 3 Musketeers, which advertises on the package, "45 percent less fat" (my question always is "less than what"?), still has 8 grams of fat and weighs in at 260 calories.
In contrast, an orange has 85 calories and 0.216 grams of fat. The medium-sized apple has 94 calories and 0.31 grams of fat. The seven-inch banana has 105 calories and .039 grams of fat.
I haven't even touched the sodium, cholesterol, vitamin and other nutritional differences.
As you buy food for your family, count the REAL cost in terms of calories, fat content and other nutritional values. Although we all are looking for bargains in this tight economy, sometimes the 'bargain" comes at the cost of unhealthy bodies.
Note: The costs of the items were all from one day in one store. Obviously, prices can vary considerably. To get free info online about calories and nutritional information about foods, put in "calorie counts" into your search engine. There are many sources out there; just don't be drawn into something that will cost you more!
Copyright © 2008-2015 Shirley Shedd
Read more about the writer: Shirley Shedd
---
Post Your Comment...
---