< Back to Strength for Your Spirit
Lessons from a Lunch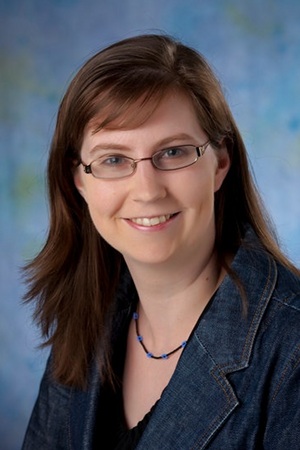 Insufficient. Truth be told, it's how I feel many days. I'm insufficient as a mom to manage every detail from getting my kids dressed, fed, teeth brushed, lunch packed, homework done, verses memorized, piano practiced . . . and then train up their character, too! I'm insufficient to balance family, work and ministry and easily overwhelmed by things like messy closets or one small extra to-do on my weekly calendar. I'm insufficient to perform the ministry God has given me and amazed that God allows me to serve anyway.
I'm not qualified enough, prepared enough, wise enough, self-disciplined enough, creative enough. Just insufficient.
Yet, rather than concede defeat and abandon my God-given responsibilities and roles, I have hope---not that I'll someday wake up more sufficient in my own strength. I have hope because God is sufficient. He's in the business of taking our meager offerings and miraculously multiplying them to be more than enough.
Lessons from a Lunch
In my favorite Gospel event, Jesus had been teaching a crowd of people all day and healing the sick among them. By the time evening came, the disciples were worried. They told Jesus, "'This is a remote place, and it's already getting late. Send the crowds away, so they can go to the villages and buy themselves some food.' Jesus replied, 'They do not need to go away. You give them something to eat.'" Matthew 14:13-14 (NIV).
The disciples certainly didn't have enough food for a crowd of over 5000 people, but the disciple Andrew did find one little boy with a small lunch: "Here is a boy with five small barley loaves and two small fish, but how far will they go among so many?" John 6:9 (NIV).
How far indeed?! This boy's lunch was utterly insufficient. It probably embarrassed Andrew to even mention it. It's a question I ask myself at the start of each new ministry project. I start out thoroughly overwhelmed by everything that needs to be done and think—"How far is what I have to offer going to go here? It's just not enough to accomplish this!"
Instead of giving up, though, because his lunch clearly wasn't enough for the immense need of the crowd, this little boy with a lunchbox willingly and in great faith gave 100% of what he had to Jesus. Even though it was insufficient, he trusted that Jesus could use his offering. I must similarly be willing to offer up 100% of me, even on those days when I clearly see how much that falls short.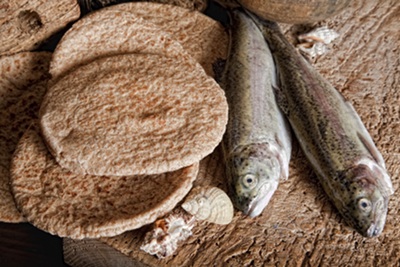 In My Own Strength
This boy could have also worked in his own strength to catch some more fish or bake some more bread. He could have collected small change from everyone in the crowd and trekked into town to order take-out. Still, despite his best efforts and hard work, he would never have provided enough in his own strength. Likewise, I can't be enough in my own strength either. If I'm relying on my talent, skills, hard work, and ingenuity, I'll just fail. I can only give my all to Jesus and trust that He will multiply my offering.
Besides, it was the insufficiency of the boy's gift that allowed Jesus to be glorified. If that boy had somehow gathered enough food for the crowd, the story would have been about his ingenuity and generosity instead of Jesus' compassion and miraculous power.
Even if every attendee had packed a little snack and the disciples had pooled the resources to form a buffet line, Christ would then be a master organizer or administrator—not a God of compassion who sees our need and provides for us in abundance through His great power. Our insufficient offerings give Jesus the opportunity to be glorified.
God is Sufficient in My Insufficiency
I am truly humbled when I consider how little I have to give and I am constantly in need for God to be sufficient in my insufficiency. Of course I'll be overwhelmed if I compare my limited ability to the tasks before me!
So I can't focus on the big picture or the whole to-do list. I have to take one step at a time and simply offer God what I have in that moment. I don't give up or hoard my small offering—my time or spiritual gifts—simply because I see how insufficient it is. It is only when I offer up to Jesus all I have that He can miraculously multiply it into enough.
Ordinary People
Lyrics and Music written by Danniebelle Hall
Just ordinary people
God uses ordinary people
He chooses people just like me and you
Who are willing to do as He commands
God uses people that will give Him all
No matter how small your all may seem to you
Because little becomes much as you place it in the Master's hand
Just like that little lad
Who gave Jesus all he had
How the multitude was fed
With the fish and the loaves of bread
What you have may not seem much
But when you yield it to the touch
Of the Master's loving hand, yes,
Then you'll understand How your life could never be the same
Copyright © 2008-2015 Heather King
Read more about the writer: Heather King
---
Reader Comments...
2011-01-14 06:50:10
"I am blessed to have Heather as a choir director. Each and every time I see her and her family, I am blessed beyond belief! She is truly and Woman of God!"
- Linda
---
Post Your Comment...
---