American Slavic Apostles to the Bulgarians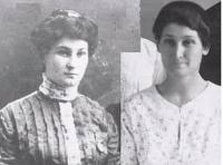 Olga Zaplishny's life had a suspense-book storyline that could rival the plots of many novelists. But more importantly, her life left a legacy that truly counts—one added to the impact prominent women had on shaping the Pentecostal movement throughout the last couple of centuries.
The Pentecostals by the middle of the twentieth century had more women preachers than any other branch of Christianity. Vinson Synan reports that allowing women to preach was a Pentecostal practice that varied from the norm of other churches. These Spirit-filled believers based their actions on the prophecy in Joel 2:28: "Your sons and your daughters shall prophesy."[1] David Cartledge also emphasizes the role of women in ministry. He contends that there are women worth noting who have made an impact on the world equal to that by any male contemporary, and in some cases the signs of an apostolic ministry were obvious in these amazing women.[2]
The preacher,[3] Olga Zaplishny, was one of these apostolic women. She lived a life that was Spirit-breathed, church-forming, culture-altering, and generation-impacting. Her devotion to God began in her early childhood. Olga was born on May 31, 1887, in the sea-port city of Burgas, Bulgaria, to the wealthy family of Stefan and Marta Popov. Her family had deep roots in the Orthodox faith,[4] and was revered by many, because of the sacrificial life that Olga's grandfather, George Stoyanov, lived as a renowned Orthodox priest and a martyr.[5]
Although Olga had heard of God because of her upbringing, she was unfamiliar with the salvation message. One day, at the age of nine,[6] as she was headed to the beach, Olga's plans got interrupted with eternal consequence. She was attracted by the sound of children's singing coming from a two-story house. The young girl's curiosity led her inside. In the sovereign plan of God, she "stumbled upon" the Congregational church in Burgas where a pastor was holding a children's meeting. Olga sat in the back and for the first time heard the gospel clearly explained to her. Weeping, she accepted Christ as her personal Savior. Consequently, she brought her two sisters and mother to the Lord, although her father was greatly opposed to this new-found religion.[7]
Olga grew up to be an attractive, well-known young woman in the Burgas society.[8] She went to a private American School in Samokov, Bulgaria then continued her college education at the Robert's College in Instanbul, Turkey. After college, she married and went to study pharmacy in Switzerland.[9] Her husband died during World War I as a paramedic in the army, leaving her with a young daughter.[10] Olga felt that even though she had lost her husband, God was setting her free to pursue her calling to spread the gospel. Knowing that her in-laws would object to her leaving the country, Olga secretly boarded a ship and sailed to America.[11] The young widow was fluent in English, Bulgarian, Turkish, French, Greek, and Russian.[12] God uniquely had begun to prepare Olga for the apostolic task ahead.
Olga and her daughter Vasilka arrived to the Unites States in1914. Olga found herself in a new country with very few friends and very little money.[13] She desired to attend a Bible school. Following the recommendation of friends, she attended first the Grammary Park Bible College in New York City, and then the Bethel Bible Institute in Newark, New Jersey.[14] Olga heard the Pentecostal message for the first time at Bethel. A veteran missionary, A.W. Simpson, laid hands on her, and she was filled with the Holy Spirit with the evidence of speaking in tongues.[15] Olga then returned to New York City and immediately started witnessing, conducting house prayer meetings among the Slavic people.[16] Full of the Holy Spirit, this young female preacher[17] helped pioneer two Pentecostal churches in New York City—one Russian and one Ukrainian.[18]
While in New York City, friends introduced Olga to the family of Ivan Voronaev—a Baptist pastor. It is reported that she would often spend hours, well into the night,[19] discussing with Voronaev the topic of the Holy Spirit's baptism.[20] These discussions aided Voronaev's understanding of the tongue-attested baptism, and when Voronaev's daughter begun to speak in unknown languages at the Glad Tidings Tabernacle, he was finally convinced of the reality of the experience. Voronaev began to seek and received the Gift himself; he left the Baptists to establish the first Russian Pentecostal church in New York City .[21]
PARALEL BETWEEN OLGA ZAPLISHNY AND OTHER OUTSTANDING WOMEN MINISTERS
A Pentecostal practice that varied from the norm of other churches was that of allowing women to preach. The holiness movement had long allowed women to occupy the pulpit, basing its action on the prophecy in the second chapter of Joel.[22] One female stands as a maverick in furthering the cause of women called to ministry long before the climax of the woman's suffrage movement around 1920.[23]This history maker was Maria Woodworth-Etter – the first woman preacher to gain fame in the United States.
Maria Woodworth-Etter had one of the most powerful miracle ministries in Church history.[24] She ministered in a prior-to-Pentecostal and in a Pentecostal environment from the end of the nineteen century through the early years of the twentieth century. Maria Woodworth-Etter planted many churches, led thousands to Christ and claimed to be the first woman in modern times to baptize people by immersion. Pentecostal manifestations occurred in her meetings many years before the outpouring of the Spirit in Charles Parham's Bible School.[25] As God used this yielded vessel, many dramatic healings of the incurably sick occurred.[26] Broken bones were instantly mended, the lame walked, demons were cast out, and even the dead were raised to life. Both she and her audiences reported many visions they had of heaven, angel, the New Jerusalem, and of forthcoming events including earthquakes and wars that subsequently occurred.[27] The Holy Spirit's stamp of approval rested on Maria Woodworth-Etter's ministry and life. Her example inspired and emboldened many women to answer the call of God on their lives.
Olga Zaplishny undoubtedly experienced the positive influence of such role models. Her ministry bears similarity to several noteworthy women in ministry. One can see a parallel between the work of Phoebe Palmer and Olga Zaplishny. Phoebe Palmer was another influential personality in American church history. In 1839 Palmer started Tuesday evening meetings at her home, where she created the altar terminology, and encouraged people to accept sanctification by faith as a crises event during which God would instantaneously send fire from heaven and burn out their sin.[28] Almost a century later, Olga started home meetings with the purpose of stirring hunger for God, and for believers to experience the baptizing fire of the Holy Spirit.
Interestingly, Olga's ministry not only uncanny resembles in life story, but also was personally influenced by the prominent woman minister Marie (Burgess) Brown. As a single woman Marie took the Pentecostal message to New York in 1907 at the urging of Charles Parham.[29] Marie was a student in Moody Bible Institute and was deeply affected by her sister's healing that came through the ministry of John Alexander Dowie. Her family then moved to Zion City and became part of Dowie's Christian Catholic Church until she was baptized in the Spirit.[30]
Marie established a mission on 42nd Street that was to become Glad Tidings Tabernacle. Together with her husband Robert she served as a co-pastor of the largest missions giving church in the Assemblies of God for many years. Glad Tidings Tabernacle held a special place in Olga's heart, because at that church Olga met Marie Brown and later had her wedding. When Robert Brown died in 1948, Marie continued as the Senior pastor and ministered for a total of sixty four years.[31] Undoubtedly, Marie's dedication to the Kingdom work influenced young Olga and was an inspiring example in her future ministry. Olga found herself walking a similar path to Marie Brown's.
Olga Zaplishny's ministry carries characteristics reminiscent of Pandita Ramabai's work for the Lord. Sister Ramabai, another outstanding woman minister, pioneered a change in attitudes towards women in her nation and was prominent in the outpouring of the Spirit.[32] In the same way Olga modeled to the women of Bulgaria the place of women in ministry and became a conduit for the outpouring of the Spirit in that country.
A major Pentecostal visitation occurred at Pandita's Mukti (Salvation) Mission, in Kedgaon, India in 1905.Amazing manifestation of the Spirit occurred as believers sought God. Cartledge praises Ramabai, "It is all the more significant that this revival came about through the courageous ministry of a woman in a land where women were disenfranchised."[33]
The story is told that Pandita Ramabai's meetings were so charged with spiritual power that some of the widows in her mission, on being baptized with the Holy Ghost were enveloped in flames of fire, and one of the servants actually threw a bucket of water over them.[34]The revival that begun in Pandita's home for children had a major impact on the birth of the Pentecostal churches in Australia. Cartledge makes a founded point that one thing is certain, Pandita Ramabai along with many women at the beginning of the Pentecostal revival touched dimensions of the Spirit that not many man did. Deservingly, Olga Zaplishny finds a place among these influential, early twentieth century Spirit-anointed women ministers.
---
[1]Vinson Synan, The Holiness-Pentecostal Tradition (Grand Rapids: Eerdmans, 1997), 190.

[2]David Cartledge, The Apostolic Revolution: The Restoration of Apostles and Prophets in the
Assemblies of God in Australia (Chester Hill, NSW, Australia: Paraclete Institute, 2000), 296.
[3]Todor Sabev, Parvata Evangelska Petdesiatna Zarkva v Burgas: Bez Krast Niama Korona (Burgas:
Duhoven Savet pri EPZ, 1999), 9.
[4]Martha C. Zaplishny Jackson, "Detailed Historical Postscript," typewritten, n. d. FPHC, 1.

[5]Sabev, 8.

[6]News of our Fellowship, "Pioneer of Bulgarian Churches with Christ," Pentecostal Evangel, March
28, 1982, 24.

[7]Jackson, 1.

[8]Sabev, 8.

[9]Jackson, 1.

[10]Daughter Mary Zaplishny-Waltke's letter to Fred Smolchuck, written on October, 31, 1988.

[11]Jackson, 1.

[12]Sabev, 8.

[13]Fred Smolchuck, From Azusa Street to the USSR: A Brief History of Pentecost Among
Slavic Immigrants 1900-1991 (R. Arcadia, CA: North American Slavic Pentecostal Fellowship, 1992), 19.
[14]Waltke.

[15]Jackson, 2.
[16]Smolchuck, 19.
[17]Martha Zaplishny, Mary Zaplishny and Joseph Zaplishny, 77 Godini. Kalnove i Rastej na Petdesiatnoto Dvijeni (Burgas: EPZ, 1997), 3.
[18]News of our Fellowship, "Pioneer of Bulgarian Churches with Christ," Pentecostal Evangel, March 28, 1982, 24.
[19]Jackson, 2.
[20]Smolchuck, 19.
[21]Synan, The Holiness-Pentecostal Tradition, 139.
[22]Synan, The Holiness-Pentecostal Tradition, 190.
[23]Ibid., 191.
[24]Cartledge, 298.
[25]Ibid., 298.
[26]Maria Woodworth-Etter, Signs and Wonders (New Kensington: Whitaker House, 1997), back cover.
[27]Ibid., back cover.
[28]Synan, The Holiness-Pentecostal Tradition, 32.
[29]Cartledge,302.
[30]Ibid., 302.
[31]Ibid., 302.
[32]Ibid., 299.
[33]Ibid., 299.
[34]Robert H V, New Zeland's Greatest Revival, Pelorus Press, Auckland, 1951, p26-27, as quoted in
David Cartledge, The Apostolic Revolution: The Restoration of Apostles and Prophets in the Assemblies of God in Australia (Chester Hill, NSW, Australia: Paraclete Institute, 2000), 299.
Copyright © 2008-2015 Svetlana Papazov, D.Min.
Read more about the writer: Svetlana Papazov, D.Min.
---
Reader Comments...
2011-10-26 17:50:33
"Every one remembers that life is expensive, but we require money for different issues and not every man gets enough cash. Thus to receive quick loans and just collateral loan should be a correct solution. "
- Audra
---
Post Your Comment...
---