< Back to Kitchen Keeper Recipes
Potlatch Salmon Pasta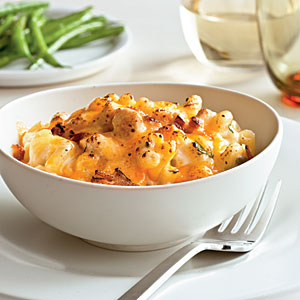 A delicious salmon dish straight from Margaret's cooking class!
Ingredients:
1 Filet of Salmon
1 Cedar Plank Board-Soak one to two hours before use
2 Sweet Onions Sliced
Potlatch Seasoning (Williams-Sonoma)
1 Tbls. Herbs de Provence
2 bags frozen sweet peas
Pint of Half and half (reduced)-reduce by 1/3 on medium heat
3 oz small capers (rinse if salty)
1 lb of Penne Pasta
Extra Virgin Olive Oil (EVOO)
salt and pepper
Parmesan cheese.
Directions:
1. Rub salmon with EVOO then Potlatch Seasoning
2. Place salmon on Cedar Plank, rub EVOO on side of plank that salmon has been placed on. HINT-Put heavy duty Reynolds wrap on side of plank that will be placed on the grill, prevents burning of the plank and you can use the plank again.
3. Grill Salmon until flakey (around 30 min.) or internal temp is 160 degrees. Set aside Salmon.
4. Caramelize onions in a large pan-Season with 1/2 Tbs. Herbs de Provence.
5. Cook Penne Pasta according to package directions.
6. Place all ingredients, except salmon, in a large bowl and mix together.
7. Break up Salmon in large chunks and add to mixture.
8. Add 1/2 Tbs. Herbs de Provence.
9. Stir in Cream.
10. Add cheese. Gently stir all ingredients together and serve.
Copyright © 2008-2015 DeeDee MacDonald
Read more about the writer: DeeDee MacDonald
---
Post Your Comment...
---