I Can Do It Myself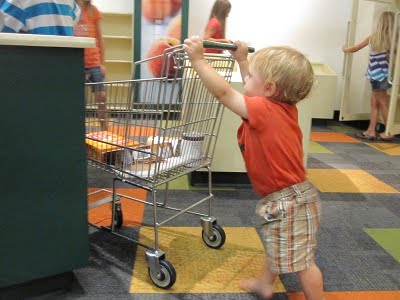 I headed into the store with three kids in tow and heard the dreaded words, "I can push the cart by myself, Mom."
"By myself."
These are words we hear often around here. One of our favorite children's shows, Charlie and Lola, featured an episode where the younger sister Lola announced she could "do everything that's anything all on my own."
That's become the catchphrase of all three of my children, from my baby needing to buckle her own seat belt to my older daughters needing to pour their own milk.
It's hard to navigate that world of growing independence as a mom. When do I allow for their mistakes and overlook the messes of first attempts? When do I step in and help out? How do I let them learn to handle their own problems? When is prayer my most important weapon on their behalf and when do I need to step into the ring and fight in their place?
It was difficult even that day in the store. Every time we turned a corner, I unwittingly grabbed hold of the cart's front and guided it around the turn. And every time I did, my daughter quickly swerved to the side and declared (with increasing frustration), "I can push the cart by myself."
As parents, our goal is to foster independence, giving our kids both the skills and the confidence to make it on their own.
But as children of God, the one hand on the cart that we should never wish away is God's.
Dependence feels so uncomfortable, so helpless, so out of control, so uncertain. Allowing Him to guide our turns and determine our pace can be frustrating at best.
Can we go down that aisle? No; it may look like what you want, but I know best.
I don't want to go there. But that's where I'm leading.
Can we go faster? This is taking forever. No, let's slow down.
Sometimes we have no choice but dependence. We've exhausted ourselves in independent efforts and faced the fullness of our weakness.
Most of us have been there. The stress of overwhelming circumstances breaks us down and we know that what we face is simply too much, too impossible and too weighty to handle on our own. We'd be crushed.
So, we turn to God. That's all that's left to do. As Paul said, "I can do all this through him who gives me strength" (Philippians 4:13, NIV). We declare dependence, we trust in His strength alone to help us through, and for a brief time we have no choice but to rest in Him.
It's in those moments that we understand what Jesus meant when He said, "Yes, I am the vine; you are the branches. Those who remain in me, and I in them, will produce much fruit. For apart from me you can do nothing" (John 15:5, NIV).
Notice that Jesus didn't say, "Apart from me you can do small things, but not the big stuff." Nor did He say, "Apart from me you can be okay, but with me you can be extraordinary."
He said that without Him, we can't do a thing. Anything. Not the big stuff. Not the small things.
In the same way, Lisa Harper in her book Stumbling Into Grace writes, "We can become more dependent on God by trusting Him with the full weight of our lives" (165).
When I consider the "full weight" of my life, I realize just how often I stroll along carrying most things on my own. It's only the big cumbersome packages of circumstances that I hand over to God.
We have a way sometimes of confining God's direction to "important" life matters. When it comes to where to live, our job, our relationships, our marriages, our health, and other huge life decisions, we pray frantically for God's will and for direction and wisdom.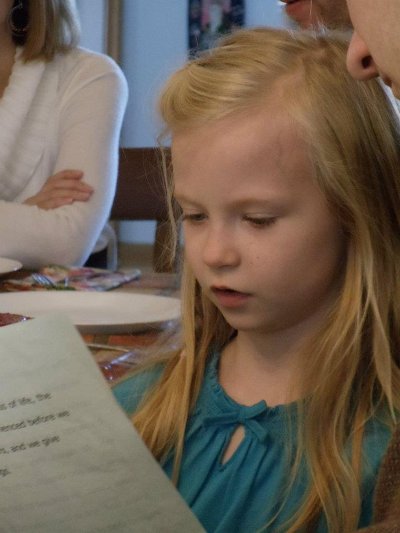 But when it's a matter of those everyday life details like our schedule, our eating and spending habits, our conversations, and our tasks at work or home, we tend to think we can handle that "all by myself."
Yet, while our goal as parents is to create independent children, God's goal for us is to encourage dependence on Him in the big things, in the little things, in all things.
Recently, I've been struck by how many times a day I have the opportunity to bring Christ into the middle of my decisions. How often I feel a quiet nudge on my heart to act or not act—and how often I ignore it out of busyness or stubborn pride
I'm not perfect at this, but I'm learning. "Don't watch TV right now. Don't go in that store today. Talk to her. Don't send that email today; wait until tomorrow. Give that away. Put this away or you'll lose it (wish I listened to that one more often!). Do this now, not later. Call her. Pray for her. Come spend time in My Word. Don't buy that. Don't take on that project. I have a plan for you here and want you to do this."
All day, I feel urged, reminded and encouraged. All day I should listen. All day I should surrender independence, stop declaring that "I can do it myself," and voluntarily choose to let God guide me in the way I should go. Because apart from Him, all by myself, I make things more difficult, I make a big mess, I miss out on blessing, I reject obedience, and I can do nothing.
To read more devotional thoughts from Heather King, check out her blog here: http://heathercking.wordpress.com/
Copyright © 2008-2015 Heather King
Read more about the writer: Heather King
---
Post Your Comment...
---