American Slavic Apostles to the Bulgarians - Part 3
VORONAEV AND ZAPLISHNY—TWO PARTNERS, ONE PENTECOSTAL OUTREACH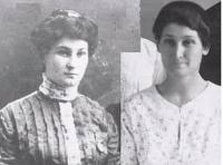 Meanwhile the Voronaev family continued to encounter visa difficulties in Turkey. They remained in Istanbul for approximately three months.[1] While in Istanbul, Ivan Voronaev found Russian immigrants and began prayer meetings in Russian. It has to be noted that during Voronaev's encounters with Sabbatarian Pentecostals in Constantinople, he learned the practice of foot washing at the observance of the Lord's Supper. Voronaev liked that practice and began to use it in his ministry, bringing it to Bulgaria and then to Russia. That practice became prominent in certain Eastern European Pentecostal denominations and has become a distinguishing emblem of identity. The Union of the Evangelical Pentecostal Churches (the Bulgarian Assemblies of God) does not observe foot washing, while the various Church of God groups (Church of God [Cleveland, TN], Church of God of Prophecy, United Churches of God, etc.) do observe the practice.[2]
Voronaev let Zaplishny know that his family continued to experience difficulties with the Turkish authorities, because of his preaching of the gospel and their lack of proper visas.[3] Zaplishny, concerned that Voronaev could not continue the trip to Russia, invited his missionary friends to go to Bulgaria and try to enter Russia from there.[4] Voronaev accepted, and his family, accompanied by Koltovich, joined the Zaplishnys in the Pentecostal missionary work, together evangelizing additional cities in Bulgaria.[5]
Voronaev's family remained in Bulgaria for approximately seven months, when finally they received proper visas to enter Russia. During their stay in Bulgaria, Ivan Voronaev actively worked in spreading the Pentecostal message, convincing his listeners that the tongue-attested baptism is for today.[6] His work was especially fruitful in the interior of the country.[7] In numerous letters published in the Pentecostal Evangel, Voronaev reported success in cities across Bulgaria. He observed that many of the new Pentecostals came from the ranks of the local Protestant churches.[8]
Curiously, Voronaev never mentions in his correspondence his hosts' role in spreading the Pentecostal message in Bulgaria.[9] One can assume that Voronaev needed an interpreter to preach the gospel, as the Russian language is not freely understood by the Bulgarians, although both languages are Slavic based. Olga Zaplishny, the native, and Dionissy Zaplishny, fluent in Bulgarian,[10] most likely facilitated help with the language, culture and relational connections. It is plausible that Russian immigrants in Bulgaria could have facilitated some of the interpretation needs, but at least Voronaev's initial evangelization efforts were done in conjunction with the Zaplishnys, yet he never refers to them. In his letters, Voronaev cites several cities that he had evangelized, such as Sliven, Burgas, Plovdiv, Stara Zagora, and Kazanlak, and states that over thirty people were baptized with the Holy Spirit in Burgas. Zaplishny, as the pioneering pastor of the Pentecostal church in Burgas, most likely was present and active at that event, but he was not mentioned in that report either.[11]
Whatever the reason for silence, one fact remains clear—the Pentecostal message had reached Bulgaria through the dedicated, apostolic work of the Zaplishnys and Voronaev and had found a fertile soil in the hearts of the natives. On August, 21, 1921 Voronaev received the long-awaited visa and departed for Russia.[12] The two missionary co-laborers, both postmortem recognized as apostles to Slavic nations, Zaplishny and Voronaev, parted ways never to meet again on this side of heaven.[13] Voronaev went on to establish over 350 Pentecostal churches in Ukraine and Russia, until he was arrested in 1927 and sent to Siberia. He never returned from there, ultimately becoming a martyr for the cause of the gospel.[14]
The Zaplishny family continued their call to minister to Olga's native land, as they welcomed their first child John, born in 1920.[15] Dionissy Zaplishny, gifted with charisma to attract and inspire listeners to serve the Lord, was a desired speaker throughout the country. Congregations eagerly waited to hear his interesting style of preaching, and to experience the anointing of the Holy Spirit that rested upon his ministry.[16] In September of 1923, political unrest broke out, and the months to follow brought persecution in Bulgaria.[17] After four years of missionary work, Dionissy was falsely accused, arrested, severely beaten, tortured for six days, and locked in a cold outhouse.[18] He did not use his American citizenship to seek favors or retribution.[19] The severe torture this young missionary underwent affected his health for the rest of his life.[20]
In 1924, the government ordered Zaplishny out of the country.[21] Broken in body and saddened, the whole family left Bulgaria and returned to Stamford, Connecticut.[22] The newly-founded Pentecostal church in Burgas lost its pastor and the burgeoning Pentecostal movement its leader. Yet the Pentecostal message continued to go forth, and many budding small village and city churches continued to mature in the faith.[23]
ZAPLISHNYS' INFLUENCE ON THE AMERICAN
AND EUROPEAN SLAVS
1924 was not an entirely grievous year for the Zaplishny family. After their return to the U.S., on October of that year, Dionissy and Olga welcomed their second child, Mary. Immediately upon arrival, although still weak physically, Dionissy resumed his ministry as an evangelist among the Slavs in America.[24] The young pastor traveled extensively throughout the States, all the while praying for the door to Bulgaria to reopen.[25]
Zaplishny became an ordained pastor with the Assemblies of God on February, 28, 1926.[26] Zaplishny's popularity and likability gained momentum, and he was elected in 1927 to serve as the chairman of the Slavic Pentecostal Union of the Assemblies of God. In that role, he encouraged national Slavic people to form their own ethnic congregations from which they could minister to fellow natives in their own language. Dionissy's faithful ministry greatly influenced the spiritual growth of the American Slavs.[27] During that period, two more children were added to the Zaplishny's household—Martha in 1926, and Joseph in 1929.
Early in 1930, while actively engaged in serving the Slavic Pentecostal Union of the Assemblies of God, Zaplishny felt led of the Holy Spirit to go back to Bulgaria.[28] The entire family embarked on an overseas trip to continue the pioneering work of the Pentecostal movement there. Unfortunately, left without a leader for six years, the Bulgarian Pentecostal churches experienced weakening and division. Some doctrinal changes emerged, and the need for unifying all Pentecostal believers became a priority. Olga's nephew, Nicholas Nikoloff, rose to the responsibility to stabilize, organize, and officially register the Pentecostal church in Bulgaria. In 1928, Nikoloff became the first General Superintendant of the officially registered Union of the Evangelical Pentecostal Churches. Nikoloff left Bulgaria in 1931 to continue his education in the United States,[29] and Paul Rahnev succeeded him as the next General Superintendant.[30] Both Nikoloff and Rahnev ministered not only in Bulgaria but in the United States as well and significantly contributed to the American Assemblies of God.
God called Zaplishny back to Bulgaria at that crucial period of establishing the Pentecostal Union. In conjunction with strengthening the new denomination, Zaplishny again took the pastorship of the Pentecostal church in Burgas, together with Nikoloff's brother, Veselin.[31] Dionissy and Olga Zaplishny often traveled together throughout the country, evangelizing and encouraging the believers.[32] Olga, a deaconess in the Burgas church, ministered to women,[33] hosted visiting pastors and believers at her home, and filled in for her husband when he went evangelizing.[34]
Zaplishny poured his heart into pioneering and strengthening the Pentecostal movement on two continents and saw much spiritual fruit in America and Bulgaria. The baptizing fire spread swiftly in Bulgaria, and by 1935 there were at least 5,000 Pentecostal believers in the country.[35] Yet ministry in Bulgaria had its price.[36] Dionissy began to feel tired, preached sitting down, and was later confined to his bed with a form of Hodgkin's disease. He passed away at his home at the age of 46, on January 12, 1935. Olga Zaplishny stayed in Bulgaria to strengthen the church, and returned to the U.S. in 1946, only after the Communist occupation and strong encouragement of the American Embassy.[37]
CONCLUSION
Leaders of the Assemblies of God caution that the title of apostle should not be lightly granted or assumed. Historically, apostles have been persons of recognized spiritual stature, stalwart character, and great effectiveness in the work of the church.[38] The Assemblies of God leaders define the marks of an apostle as one commissioned for a missionary and church building work.[39] Cartledge defines one of the most powerful effects of an apostolic ministry as the ability to initiate a faith response in the lives of those ministered to.[40]
Thus Dionissy and Olga Zaplishny's legacy sets them among the most deserving of such a title. Slavic believers on two continents testify of their credibility and effectiveness in the Kingdom work. Nevertheless, neither husband nor wife had ever seen themselves elevated to such a status, although, without a doubt, they lived a life that bears the marks of an apostolic calling. The Ephesians' scripture fittingly describes them: "For we are His workmanship, created in Christ Jesus for good works, which God prepared beforehand that we should walk in them" (Eph. 2:10). Dionissy and Olga Zaplishny, an exquisite divine workmanship, faithfully walked the apostolic path that God had charted for them to conquer. Both left giant footprints on the mission field in Bulgaria and among the Slavs in America. Their legacy brings believers back to their Pentecostal roots, and propels them forward in experiencing Pentecost as a lifestyle by becoming apostles to foreign and home lands, cities, neighborhoods, and communities.
---
[1]Donev, 53.
[2]Ibid., 53.
[3]Sabev, 12. Sabev uses the former Bulgarian Pentecostal Union General Superintendant Ivan Zarev's work: Istoria na EPZ v Bulgaria 1920-1989. 1993.
[4]Jackson, 3.
[5]Donev, 53.
[6]Sabev, 12.
[7]Zaplishny, 77 Godini. Kalnove i Rastej na Petdesiatnoto Dvijeni (Burgas: EPZ, 1997), 4.
[8]For Voronaev's revival reports from Bulgaria, see: Pentecostal Evangel, March 5, 1921, 12; Pentecostal Evangel, April 16, 1921, 13; Pentecostal Evangel, May 14, 1921, 12; Pentecostal Evangel, June 11, 1921, 13; Latter Rain Evangel, July 1921, 15.
[9]Dony K. Donev, "Pisma ot Bulgaria 1920, (chast 3)" Blagovestitel,2008, 31.
[10]Smolchuck, 20.
[11]Jackson, telephone interview. Decendants of the Zaplishny rightly raise the question why Dionissy and Olga Zaplishny were not mentioned anywhere in Voronaev's correspondence since all other available data points to the Zaplishnys' active involvement in the missionary work during that period.
[12]Donev, "Pisma ot Bulgaria: Korespondenziata na Ivan E. Voronaev (obzor)," Blagovestitel, broi 2, 2009, 34.
[13]Zaplishny, 77 Godini. Kalnove i Rastej na Petdesiatnoto Dvijeni (Burgas: EPZ, 1997), 4.
[14]Smolchuck, 4.
[15]Jackson, 3.
[16]Smolchuck, 20.
[17]Waltke.
[18]Zaplishny, 77 Godini. Kalnove i Rastej na Petdesiatnoto Dvijeni (Burgas: EPZ, 1997), 4.
[19]Sabev, 14.
[20]Jackson, telephone interview. Olga told her kids that Zaplishny never recovered completely after that severe torture.
[21]Smolchuck, 20.
[22]Waltke.
[23]Sabev, 14-15.
[24]Smolchuck, 20.
[25]Waltke.
[26]General Council of the Assemblies of God Ordination Certificate, February 28, 1926.
[27]Smolchuck, 20.
[28]Ibid., 20 -21.
[29]Jackson, 3.
[30]Dimitar Mitev, "Zavetat na Predzite – Istoricheski Pouki za Badeshteto," Blagovestitel, broi 3, 2008,
14.
[31]Sabev, 24.
[32]Jackson, 3.
[33]Sabev, 24.
[34]Jackson, 3.
[35]Smolchuck, 4.
[36]Ibid., 20.
[37]Jackson, 3-4.
[38]Assemblies of God. Apostles and Prophets. Official position paper of the General Council of the Assemblies of God, Springfield, Missouri, August, 2001, 10.
[39]Ibid,8.
[40]Cartledge, 93.
Copyright © 2008-2015 Svetlana Papazov, D.Min.
Read more about the writer: Svetlana Papazov, D.Min.
---
Post Your Comment...
---