Loving the Layers: Winter's Chic Potential
Oh how winter chic has been dripping from the pages of fashion magazines. In previous articles I have stressed being over-the-top… Yet sometimes, and in our case, this winter is featuring fantastic layering techniques. Below are three pieces--each to help start a different story and layering canvas.
Faux Fur
Faux fur is the newest and most socially responsible layering piece. Depending on the silhouette this faux fur creates, it can be over-the-top or not. One of your best options is a faux fur vest. They are all the rage and are super-becoming, adding just the right touch of texture and layer over a light cotton or a tight knit. Another potential for this material would be a faux fur embellished boot or scarf. These options add just a touch of furry goodness without getting you mistaken for a wild animal in the middle of Main Street.
Loose Knits
A chunky loose knit never loses winter style aesthetic. Loose knits are great for a quick addition of cool to keep you warm. When choosing a knit length make it flattering to your body type; keep it right above the knee. Additionally, taking on a special stitch gives the sweater some gusto, cable knit or fish scale lace knit are two great concepts.
Colored Denim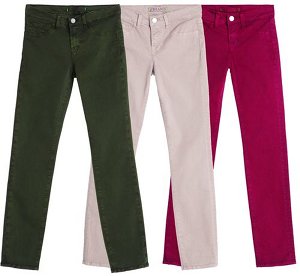 Now, drum roll please… The favorite and year-long style snatch-up is colored denim!! The greatest colors and easiest to begin layer atop are beige, kelly green, royal blue or a coral orange. Add a button down, blazer or knit cape with a camel colored belt and you've created the ultimate boho chic prepster look.
Test these out and you will see the magic of employing some trendy layers in to your winter wardrobe. May all your fashionista wishes come true!
The above sweater can be purchased here.
Copyright © 2008-2015 Evie Phillips
Read more about the writer: Evie Phillips
---
Post Your Comment...
---