No Texting at the Table
As the mother of multiple cell phone users, we can have some pretty interesting "information highway traffic-control problems" at our dinner table or at any given time.
During the holidays, as we gathered all our children to the table for ham, green beans and mashed potatoes, we didn't realize that we would also be inviting countless ongoing conversations to our table as well.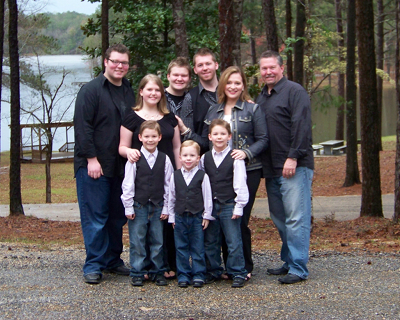 It used to be that the people that you saw sitting around the table were the only ones present… but not anymore. Now, you have those who you can see and those who you can't see—those who are present and those with whom they are in constant communication. I guess it's a consolation that we don't have to feed them all… but still it presents an ever-increasing imposition and a hindrance to meaningful conversation.
Our oldest son, age 22 works full-time as a youth director and fine arts pastor of a church in another state and, while at our home during the holidays, was in the middle of organizing a remodeling project of his youth facilities, as well as planning an upcoming winter retreat, for which he needed to remain in contact with his group leaders to coordinate. And of course, they were on a different time zone and still working, when we were trying to have dinner.
At the same time, our second son, age 18, had just received news that he was selected to be a part of a traveling worship team for his college, and was receiving multiple messages from many of his new group members and music professors. Both of these sons were keeping up with the buzz via facebook, texting or email messages being sent to their phones.
Our third son, age 15, was busy on his phone buying and selling bikes on Craig's list, and our daughter, nearly 14, was coordinating drama practice times with her team. Of course, add my husband and me… all with our cell phones and people and responsibilities that we need to keep up with… and you can get the picture. So what to do??
We discussed the dilemma and decided to implement a kind and friendly "no cell phones at the table," policy until we had finished our family mealtimes with both satisfying food and conversation. For the dinner hour, everyone agreed to place their phones out of sight and reach and to alert others that we would be "pausing" for the dinner hour. It made a big difference and we were able to have order and memorable fellowship.
With today's social media networks and instant access to anyone anywhere, it makes it difficult to make yourself completely available to those with whom you are actually present. With a little care and consideration, you can give eye contact, a cheerful countenance, adequate mind-share, emotional engagement and sincere interest to those you love most.
Copyright © 2008-2015 Debbie Reynolds Harper
Read more about the writer: Debbie Reynolds Harper
---
Post Your Comment...
---