A Fresh Facelift for the Bath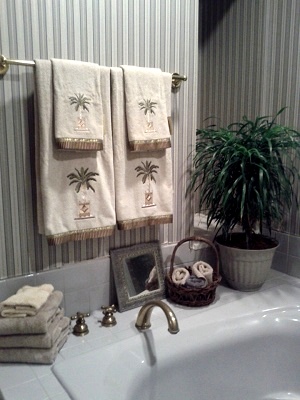 Want to give a fresh look to your master bath without spending too much money? Start with some new towels that are fun and fashionable--but most of all--that you just LOVE!!
If you LOVE it in the store...you'll LOVE it at home too. If it doesn't just GRAB you when you're shopping--it certainly won't do much for you when you get them home and you're looking at them every day!
We got these towels half price--so we LOVED the style--AND we LOVED the price too!!
Next, add some live plants!! No more fake plants!! Real plants breathe real oxygen and purify the air in the room! Real plants require real soil, so keep them watered a couple times a week and give them just the right amount of light!
We got these tropical plants 75% off the original price--we were thrilled!! And we have enjoyed them so much!!
After 11 years, our master bath was over-do for a much--needed facelift--and we were able to do it quickly and without spending much money! And now we love it!!
So don't wait too long and get started!
Copyright © 2008-2015 Debbie Reynolds Harper
Read more about the writer: Debbie Reynolds Harper
---
Post Your Comment...
---