The New York Fashion Color Plunge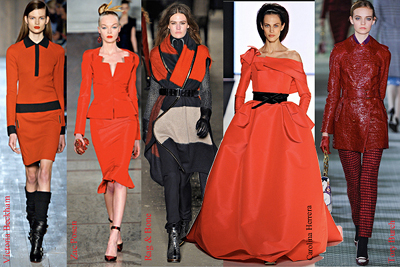 I had the pleasure of working with some wonderful fashion friends of mine on various projects for New York Fashion Week 2012. In light of the visual concepts that I was able to co-create with my glamazons, I was blessed to get a glimpse of the upcoming color pantones that are going to start hitting the shelves at your favorite stores soon!
The one color that received the most applause and encore appearances in numerous big time fashion collections was RED. For some, tying color into your wardrobe can be a little scary. That notion is for the plain Janes, but we aren't striving to be plain, we are striving to be exceptional powerhouse fashionistas! That role comes with risk, and color should be a risk that you're always willing to take.
Red is a color of confidence and it's proven that women who dare to wear it are portrayed as so. Am I suggesting you go all Kentucky Derby on us and dress from head-to-toe in red? Please no! Remember matchy-matchy is not so appealing, nor is looking like you are your own little fiesta walking down the street with your famous chips and salsa recipe!
When tying a power color into your look you want to keep it in healthy moderation: simple, small doses. If you're willing to take the plunge, go out and snatch up a fitted red blazer, or even a red handbag. You can even go slightly lighter with red accessories, like a solid cubic zarconia ruby red earring. These touches will give you flair, not flame.
If red still seems like it is "TOO MUCH" you can step it down a notch and go for an off pantone like burgundy, another prevalent color that was racing down the runways this season. This deeper version of red still adds to your look yet comes accross as less of a threat to some.
There are many ways that you can bring in color to your wardrobe and it's looking like a nice contemporary, yet conservative little red dress could be the answer and the one that shakes down your little black dress this season.
I hope to see all you fashionistas take the RED plunge.
"For the faint at heart you can also steer clear of the red attire and even bring out color in your beauty choices and grab a nice red tone of lipstick. This is also another way to get the look without dropping a ton of money on wanted, yet un-needed clothing."
Photo Credit: Compliments of VOGUE
Copyright © 2008-2015 Evie Phillips
Read more about the writer: Evie Phillips
---
Post Your Comment...
---