Dress Like a Princess
All girls are princesses. I've believed this statement ever since I was a young girl. My Dad was the first one to tell me, but a favorite childhood movie reminded me time and time again. The Little Princess, which is a film based on the novel by Frances Hodgson Burnett, is about a girl named Sarah Crewe whose father is a wealthy soldier. Set in London during the Victorian era, she attends an upscale boarding school where she allows her creativity and imagination to keep her company in her father's absence. After news of his bankruptcy and death reaches the malicious headmistress, Miss Minchin, Sarah is forced into servitude. There is a powerful dialogue between these two characters that will always stay with me:
Miss Minchin: Don't tell me you still fancy yourself a princess? Child, look around you! Or better yet, look in the mirror.

Sara Crewe: I am a princess. All girls are. Even if they live in tiny old attics. Even if they dress in rags. Even if they aren't pretty, or smart, or young. They're still princesses. All of us.
So there you have it. We women can know that we are all princesses. Never doubt it. Instead, claim it. Show it.
When one thinks of a princess, one might think of "Disney." Yes, those happily-ever-after tales that have the flawless animated women with big doe-like eyes and high-pitched voices. While it is simply unrealistic and impractical for us real, live women to try and be like those fairytale characters, we can still have a little fun trying – at least in terms of our wardrobe.
It's time to get inspired by the fashion of our beloved Disney heroines. Let's revisit some of their iconic outfits and figure out how to make these looks work today!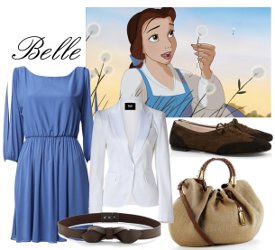 1. Inspired by BELLE
This is the perfect outfit for the office. It says, "smart" and "bookish" just like Belle, but the blue hue gives it a warm, whimsical feel. Th
e bow on the belt makes the professional outfit a bit more feminine, and the burlap purse adds a unique and modern flar
e. Don't forget the sophisticated oxfords to make the look more casual. In this outfit, you will be a BEAUTY with or without your Beast!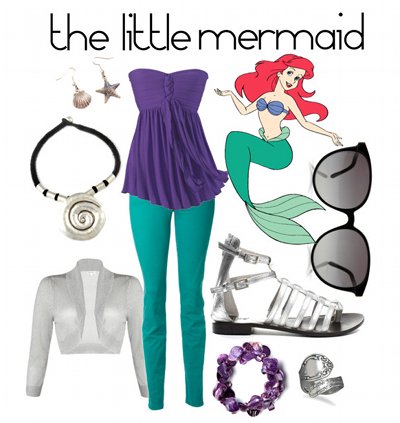 2. Inspired by THE LITTLE MERMAID
Hit the boardwalk in oh-so-Ariel-attire. Against these bright colors, the silver is extra brilliant, so start accessorizing! The shell necklace, similar to the one in the movie that "holds" Ariel's voice, is all your neckline needs to accent the softly pleated strapless top, which is loose around the hips to offset the tighter pants. The gladiator sandals add some shine to the teal skinnies, the mismatched earrings provide originality, the shades give you attitude, the ring makes you think of a "dinglehopper," and if you wanna layer, add some more shimmer with a silver cropped shrug.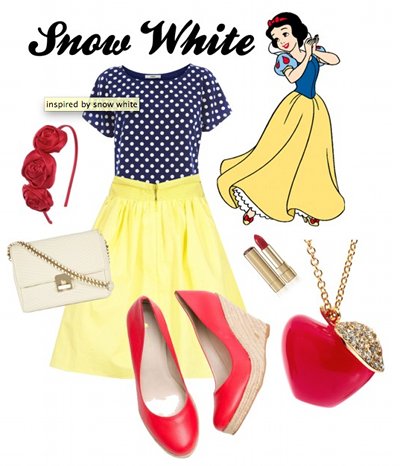 3. Inspired by SNOW WHITE
This juvenile, yet totally vintage look will make you
wanna "whistle while you work!" The polka dot t-shirt is transformed when tucked into the light yellow flared skirt. Add some striking red features with ruby lips, flirty wedges, and a headband full of roses. Make the outfit extra yummy with a red delicious apple to wear around the neck– just make sure it's not poisonous!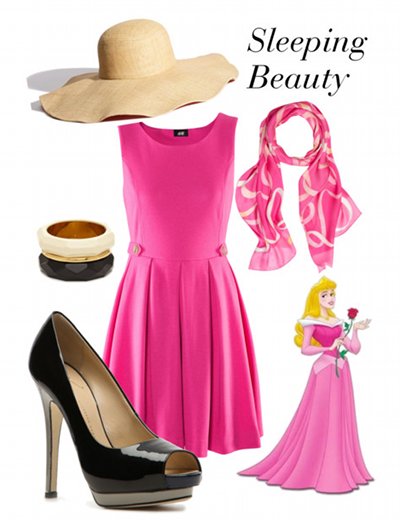 4. Inspired by SLEEPING BEAUTY
It's the box pleats in the dress that rock the outfit! The straw hat, resembling Aurora's luscious locks, makes this ensemble perfect for an outdoor summer event. The silk scarf is lightweight enough for warm weather and adds a refreshing patterned design to the solid blush. You know nothing says dainty and delicate like a good shade of pink, but add a dramatic finish with black, patent leather, peep-toe pumps. And remember to show your personality with a few bangle bracelets!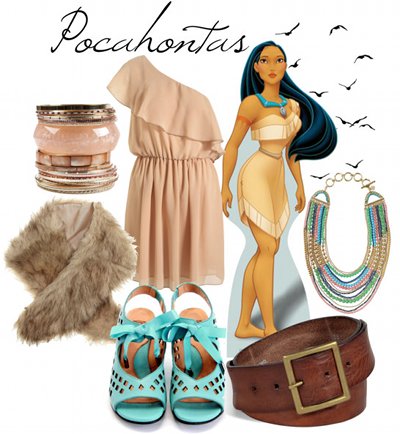 5. Inspired by POCAHONTAS
Ah, Pocahontas – a true icon of bohemian-chic style. With her as inspiration, you could create tons of casual outfits with tasseled boots and multi-colored prints; however, I stuck with something more along the lines of bold elegance. The incredible necklace with "all the colors of the wind" paired with the to-die-for heels creates the WOW in this outfit. The duo provides the perfect ratio of color to offset the sandstone one-shoulder evening dress. A little chilly? Throw on this blonde fur shawl to complete the look!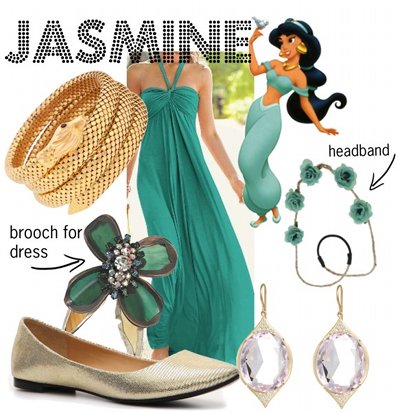 6. Inspired by JASMINE
In this Arabian outfit inspired by the Princess of Agrabah, you'll be ready to take on "a whole new world." Make the flowing maxi dress fit for royalty by wearing a jeweled broach in the center below the straps and elegant teardrop earrings. Add the daring bangle, inspired by Jafar's snake staff, to match the pointy-toe flats that are delightfully detailed with reptile embossing and a metallic finish. To freshen the look, tone it down with a bohemian flower headband.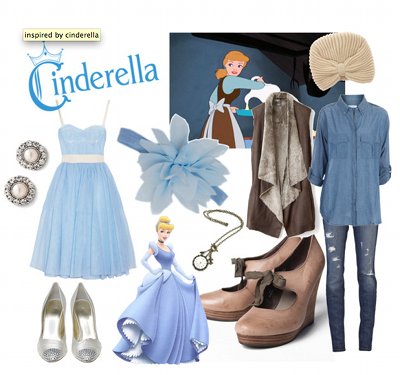 7. Inspired by CINDERELLA
BONUS: two for one! Whether you're wearing the glass slippers or you're slaving away in the kitchen, there is an outfit for you!
Imitate Cinderella's famous ball gown with this light-blue layered tulle dress. Wear the chiffon flower headband with a glamorous up-do so you can show off the pearl and diamond earrings. The grand finale? These ivory satin shoes with pleat detailing and crystal-embellished tips. You'll look like you stepped out of your very own contemporary Cinderella story!
OR
If you're looking for everyday wear, try getting inspiration from Cinderella's drab rags. Try your favorite pair of jeans, you know, the pair with rips or holes, and wear them with a loose and longer fitted button-up. Layer by slipping on a shearling or a leather jacket. Cover your locks with a hat if you're having a bad hair day (this knitted hat has a built-in bow, which conveniently matches Cinderella's bow on her apron!) and never underestimate the way a pair of shoes can transform something from shabby to classy! These wedges do the trick with the cocoa brown leather, faux wood stacked heel, and olive ties. It says "Princess" and "damsel in distress" all at the same time! Don't forget a vintage clock on an extended necklace so you can see when the clock strikes midnight!
If you're anything like me, you have your favorite Disney princess from childhood, and she may have even inspired you in some way. Perhaps you want to be selfless like Belle – taking the place of her father as the Beast's prisoner so that he can be free. Or maybe you want to be courageous like Ariel – leaving all she knew behind to embrace a new adventure. Or instead you want to be beautiful like Snow White – being known as the "fairest one of all." Today, you can have solace knowing that you can easily acquire their fashion and that their iconic looks are pure inspiration! But don't take my word for it -- treat the inner little girl in you and have fun creating outfits that resemble your favorite Disney darling!
Copyright © 2008-2015 Destiny Morrow
Read more about the writer: Destiny Morrow
---
Post Your Comment...
---