Two Way Journaling With God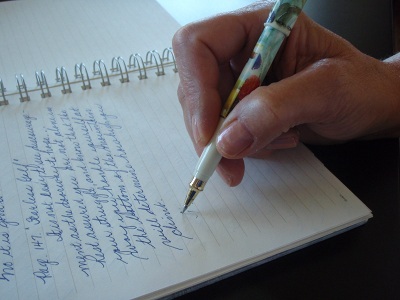 The Lord God Almighty is a God of relationship. He loves to communicate with His creation. Every living spirit was designed and created for intimacy with the Creator. That is the desire of God's heart and He longs for that to be our desire, too. Jesus says in John 10:27, "My sheep hear My voice, and I know them, and they follow Me."

One Word from God can change our life. Imagine what continually hearing from and being led by His Holy Spirit would do to dramatically alter our life! The Creator has infinite ways to communicate with His people. He speaks to us all the time but are we open to and diligently seeking His face and voice.
One of my favorite ways of communicating with God is the spiritual discipline of two-way journaling. Simply put, it is the practice of talking to God on paper or online. I write down my prayers and then record what I receive in my spirit. It is a dynamic, living, ongoing supernatural inter-active process that involves talking to and listening to God. Just like building any natural relationship, it takes time; however, the rewards are immeasurable and eternal.
I have found that when I make time for God, it honors Him and my efforts are not wasted. He loves to respond to those who diligently seek Him. I get quiet before the Lord with my notebook in hand. I pour out my thoughts, prayers and petitions, praise, questions, thanksgiving, any concerns, situations for which I need understanding, direction and wisdom, and anything and everything else that is on my heart. Then I patiently wait on Him to hear His still small voice. I record what He speaks to my heart. It is an amazing rendezvous with the Lover of my soul.
One morning I simply wrote down a long gratitude list. He loves that. I also wrote, "Father, You told me that two-way journaling is Your supernatural "High"-way to Your heart. What else would You have me tell people about what the benefits and significance are of practicing this spiritual discipline?"

God's Reply:

As you have already stated, the most significant thing and value to them is time spent in My presence. My Word says that I am a rewarder of those who diligently seek Me, not for what is in My hand for them, but for Me Myself, the One who lovingly created them and desires to be in intimate relationship with them.

Oh the rewards are great because out of My heart I will freely give them everything I have, but I desire to give them My presence above all things!

In My presence is fullness of joy. In My presence is ultimate peace and lavish provision for all needs and God-given desires. There is healing in My wings for one's spirit, soul, and body. Come to Me and let Me wrap Myself around you and overtake you with My supernatural goodness and glory.

I know what is in your heart before you even approach Me, but it gives Me great pleasure for you to come to Me because that honors and glorifies Me. It tells Me you want and need Me.

I will surely speak to you as we grow intimate and spend time together. I will answer your questions and order your steps and give you direction very clearly. All that is needed is a heart for Me and a heart full of faith expecting that I am a good Daddy and I will love and care for you.

This is an eternal journey we are on. Stay by My side. Stay close to My heart. Follow Jesus and My Word and you will be on the right path because He is the Way.

Two-way journaling is a magnificent tool to create intimacy with Me and in return I will surely bless you with My love, provision and direction. Commit your way to Me and you will surely reap the abundant life I promised you. Enjoy every step in the journey and remember it takes two to create intimacy. I am the ultimate lover of your soul and I do not disappoint.

Come, My Beloved. Come. I love you with an everlasting love. (End).
From personal experience, I can testify to how much a word from God has dramatically changed my life. With great excitement, I lovingly encourage and challenge you to pick up your pen or turn on your computer and start writing. Expectantly open your heart to hear from the Master. When you practice the spiritual discipline of two-way journaling, you will never be the same again as you get on the supernatural "High"-way to the King of King's heart just for YOU! He has blessed you to enjoy the journey.
Copyright © 2008-2015 Nancy Slocum
Read more about the writer: Nancy Slocum
---
Reader Comments...
2012-03-02 16:53:39
"Nancy, Your writings are beautiful. It shows your heart pure before the Lrod. It is a blessings to all who read your articles. Continue to fill us up."
- Sylvia
---
Post Your Comment...
---