Creating a Learning Atmosphere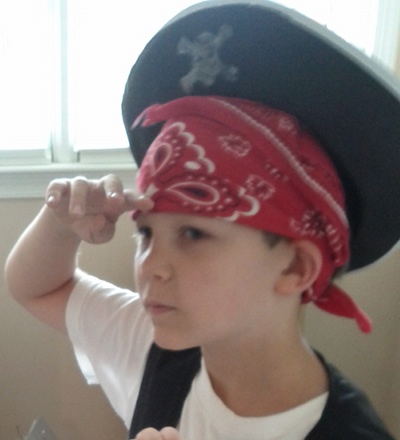 One of the best things we can do for children is to create for them a learning atmosphere. This allows them to see the world as a gift from God to explore. Adventures await at every turn. There are things to discover, to apprehend and to know! Homes where books abound for all ages and learning games are handy create opportunities to develop childrens' minds and their creativity. When pens and pencils, paints, paper and crayons are available, endless possibilities can be created. In our home anything can become a learning project.
Our 8-year-old twin boys and 5-year-old son, make projects out of just about anything! They take cereal boxes and yogurt cups and make clever masks with gobs of tape and glue! They make imaginary swords out of empty cardboard wrapping-paper tubes, using empty paper towel tubes cut in half as the handle, and of course, wrapped in shiny aluminum foil! Add a bandana and a hand-made patch over one eye, and suddenly their pirates! Ahoy mate! We learn everything about life that we can!
We learn how to have conversations and have polite manners.
We learn how to have discernment, reasoning and logical decision making skills.
We learn how to make polite telephone calls and how to rightly and justly handle difficult social situations. We learn how to plant flowers, grow a garden, how to peel potatoes and cut kiwi and pineapple. We learn how to set the table and iron clothes. We learn about rocks and leaves and trees. We learn about Asian, Indian and Caribbean foods.
We learn sign language, photography, graphic design, and how to play various musical instruments! Right now, my daughter is learning a song in Spanish, and my son is memorizing a chapter from the book of Hebrews. She's learning how to do special braids for her hair and he's learning how to repair bikes. We also take opportunities as a family to explore historical topics together in meaningful ways, so that we have points of discussion now and later.
Not too long ago, we read the story of Corrie ten Boom, and recently watched the movie, "The Diary of Anne Frank," and "Red Tails," a story about the Tuskegee airmen. We discussed the hardships and courage, and made an application to our own lives of what we would do in a similar situation. We also learned about the book of Ruth, about the perils and joys of her willingness to follow Naomi. We learn about character, integrity, faith and hope.
Be encouraged to bring a cheerful, learning environment to your home. Find out what captures your child's attention and brings a spark to their eyes and you have found a place where their minds can engage in discovery and where their spirits can thrive. And most of all-- keep learning yourself! Whatever it is, do it with all your might!
Copyright © 2008-2015 Debbie Reynolds Harper
Read more about the writer: Debbie Reynolds Harper
---
Post Your Comment...
---