Beautiful Birthday Celebration
It's not often that we get to be treated like royalty, but our birthdays provide a great opportunity to enjoy a delightful afternoon and be reminded of the beautiful things God provides for us to enjoy!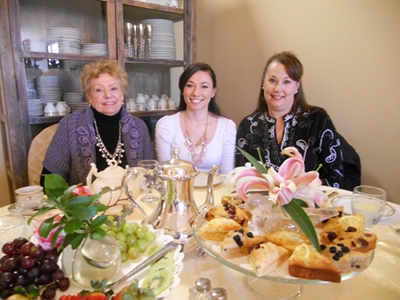 This spring, my daughter and I had the wonderful privilege of taking our new and sweet friend Rachel out for her 19th birthday, along with her mother and grandmother. Rachel has become quite special to our oldest son, Garrett, and we wanted to begin establishing a relationship with her for ourselves. And it was delightful!
We decided on a classy tea room called the First Lady's Tea Parlor, halfway between their house and ours, where we could dress pretty and enjoy all the things ladies like!
We really enjoyed our time together and getting to know one another better and decided to do it again often. I began reflecting on why ladies like to have tea together. I think it's for the conversation, fellowship, beauty and atmosphere.
Conversation: Ladies like to share on a variety of conversation topics. We like to listen and talk and share what's on our hearts, and even more than that, we like to be heard and understood. We love to share and learn things from others in a social manner, from our friends' experiences that are similar or dissimilar.
We discover a deep sense of who we are and who everyone else is when we have meaningful conversation with them. It makes us feel real and okay. Conversations even with those whom we have just met, can be refreshing. When we ask questions of others and listen intently to their responses, there is a world of information to know and understand.
Fellowship: Relationships are important to women, and there is no substitute in life for building quality, authentic relationships. It requires starting from the heart with genuine interest in others, then caring and sharing with sincerity. During our time together for this particular celebration, we discussed the original meaning of "sincere." It was a term that was used by pottery makers in the old country. It was the custom of some merchants to fill in the cracks with wax to cover imperfections and make the peice seem more valuable to potential buyers, but when the new owners would use the pots to cook, the heat would melt the wax and expose the cracks.
So, there arose potters with integrity who wanted to distinquish their original potttery as being authentic and not glazed with wax. . . so they began to stamp the bottom of the peices with the word, "sincere," meaning "without wax." This was to insure that what they were seeing was the real thing, all imperfections were exposed, not to be surprisingly discovered later. Likewise, we should be authentic and "without wax" in our relationships. Our goal in conversation is to develop "sincere" fellowship.
Beauty: We all love beautiful things. Clutter and chaos don't bless anyone's spirit. But to see elegance and beauty all around us creates in us a beautiful inner gladness of heart. I believe we are the reflection of God's beauty. Petite sandwiches, tasty scones, aromatic teas, cut fresh flowers, polished silver, embroidered linens, fine crystal, assorted fruit, all arranged in an aesthetically pleasing manner, are very lovely things to enjoy.
We also observed the beauty of Christ's love reflected in each other: the bright smiles, twinkling eyes, radiant countenance, glad hearts and refreshed spirits. Our words were also beautiful, and not full of poison or venom. No complaining, gossiping or slander. Philipians 4:6-8 reminds us that whatever things are good, noble, lovely, praiseworthy or of a good report, these are the things for us to think about. . . and thus speak about. When we do this, we reflect the beauty of the Lord in our spirits!
Atmosphere: Where noise and loud, boisterous activities are going on, it's hard to quiet the soul. It's also difficult to enjoy meaningful conversation and pleasant laughter. Grace-filled air is not toxic. An atmosphere of peace and grace is a life-giving place to be. Peace comes because of truth and righteousness.
Situations or people who offend our spirit or dishonor us or God's holiness or justice, make for very unpleasant surroundings. On the other hand, pleasantries and thoughtful manners, accompanied by soothing, elegant music, creates a gracious atmosphere and ensures a delightful time with friends for a special celebration.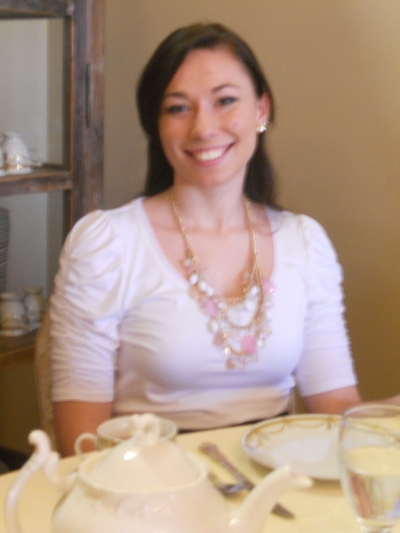 So, if you are thinking of how to enjoy a special celebration, try having an afternoon tea time. I'm sure you'll enjoy it as much as we did. Happy Birthday, Rachel!!
Copyright © 2008-2015 Debbie Reynolds Harper
Read more about the writer: Debbie Reynolds Harper
---
Post Your Comment...
---