The Great Remodeling Project - Done!
A Continuation of The Great Remodeling Project - Part I
After weeks and months of sawdust, nails, paint, putty and perseverance, we have seen the great home remodeling project completed.
A Newly Remodeled Kitchen
In the kitchen--our tile was broken and cracked so we replaced it with wood flooring and shoe molding that matched the natural wood color. The wall-paper was faded and outdated so we painted the walls instead with a clean solid color.
Our cabinet doors were showing a lot of wear and had swelled in places where moisture had done some damage, but instead of replacing them at a costly expense, we decided to take the doors off the hinges, sand them down, putty them where needed with a car bondo, then prime and paint them with a high gloss white. The results were excellent.
Probably the biggest change we made in the kitchen was going with the granite countertops. We did a lot of research and price shopping for the best solution. We had at least three companies come out with samples of countertop selections and estimates, but after much prayer about our decisions, we finally decided to make a significant upgrade in a basic easy-to-match-color that would be long-term quality and also offer a better selling point for the home in the future if needed. The results were beautiful.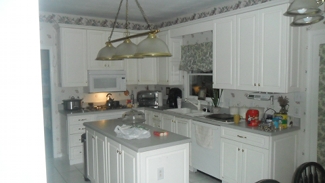 Before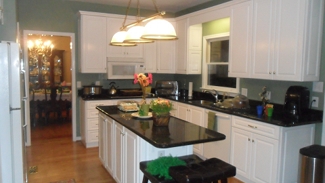 After
New Floors in the Living Room and Dining Room
In the living room and dining room, we replaced the 18-year-old stained and worn-out carpets with wood flooring that we found for the quarter of the usual price.
We tried to install the wood floors ourselves but the job was bigger than what any of us could do, so we did the only smart thing and called the professionals—they came out that same afternoon and gave us an estimate based on the measurements and had it all done in three days!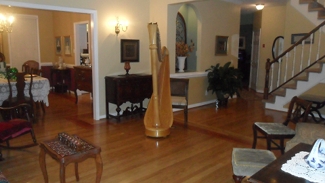 After
He Makes All Things New
The results have given the place a whole new look that is clean and in good repair. It took much patience, and perseverance, but we are glad to enjoy the results.
It was interesting that as we were making physical repairs to our home, God was—at the same time—making other repairs in our lives in different ways. We recognized that as the projects were nearing completion, we were likewise in a much different "state-of–repair" ourselves.
So, if you're up for some needed changes, pray and ask God what direction to take and He truly can make all things new!!
Copyright © 2008-2015 Debbie Reynolds Harper
Read more about the writer: Debbie Reynolds Harper
---
Post Your Comment...
---