The Place of Women in the Graeco-Roman World: Part Three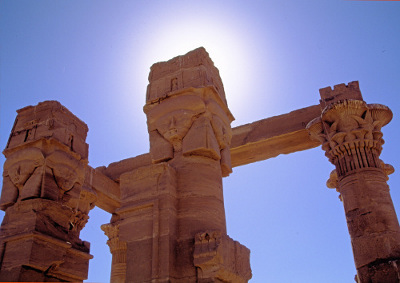 This article is a continuation of The Place of Women in the Graeco-Roman World: Part One
and The Place of Women in the Graeco-Roman World: Part Two

As the developed world was undergoing social, political, and economic revisions on its journey to the new era, unbeknownst, mankind was moving toward the "fullness of time" of Christ's coming. That single man's effect, on the arena of the Graeco-Roman world of first century, would make such a profound impact on history that the collective rulers of influential Greece and powerful Rome could not begin to duplicate it. Life, as it had been known thus far, was no longer. There was a well of abundant life, a spring of living waters that this Son of Man brought to men and women alike, causing the reassessment and profound alteration of all philosophical systems, and all theological beliefs. The validity of the "natural" inferiority of women, and their subordinate place in society was duly challenged and exposed as false. This new kyrios was becoming the head of all who wanted to experience life to the fullest, and in Him there were no longer male or female priority status.[1]
Jesus valued women and treated them with great respect and dignity. The New Testament's position on women developed that perspective, and passed it along to the following centuries. The value of women that permeated the teachings of the New Testament was not found in the Greco-Roman culture, or the cultures of other societies. The extremely low status that the Greek, Roman, and Jewish women had for centuries was radically affected by the appearance of Jesus Christ. His actions and teachings raised the status of women to new heights, often to the dismay and sharp disapproval of his friends and enemies. By word and deed, He went against the ancient, taken-for-granted beliefs and practices that defined women as socially, intellectually, and spiritually inferior.
With this new teaching revolutionary trends began to appear. Throughout the empire there was developing a new conception of the rights of married women. Gradually they had passed out from the restrictions of the old in manu marriage and were permitted to study, if not to practice, learned professions, to control their own property, and in many other ways to break from the restraints set by the old views of the necessary wife's subjection.[2] The emancipation of women advanced steadily.
The humane and respectful way Jesus showed toward the Samaritan woman at the well, recorded in John chapter 4, was in effect a radical proclamation of equality in sexes. His disciples were stunned at such treatment. Jesus ignored the Jewish anti-Samaritan prejudices along with the prevailing view that saw women as inferior beings. He started a conversation with a Samaritan woman in public. He went at least against three restrictive rules for communication -- Samaritan, woman, and public. The rabbinic oral law was quite explicit: "He who talks with a woman in public brings evil upon himself." Another rabbinic teaching prominent in Jesus' day taught, "One is not so much as to greet a woman."[3] No wonder the Messiah's disciples were amazed to find him talking to a woman, Samaritan at that, in public.
Yet, that was not the only example of Jesus' revolutionary attitude towards women. Among His closest friends were Mary, Martha and Lazarus, who entertained him at their home. Martha assumed the traditional female role of preparing a meal for Jesus, her guest, while her sister Mary did what only men would do -- learn from Jesus' teachings.[4] By accepting Mary in the men's circle of disciples, and even commending her for her thirst of spiritual knowledge, Jesus violated the rabbinic law that said, "Let the words of the Law [Torah] be burned rather than taught to women. . . . If a man teaches his daughter the law, it is as though he taught her lechery."
When Lazarus died, Jesus comforted Martha with this promise containing the heart of the Christian gospel: "I am the resurrection and the life. He who believes in me will live, even though he dies; and whoever lives and believes in me will never die." Then He asked her, "Do you believe this?"[5] Schmidt says, "To teach a woman was bad enough, but Jesus did more than that. He called for a verbal response from Martha. Once more, he went against the socioreligious custom by teaching a woman, and by having her publicly respond to him -- a man."[6]
All three of the Synoptic Gospels note that women followed Jesus -- a highly unusual phenomenon in the first-century Palestine. In the prevailing culture only prostitutes and women of very low repute would follow a man without a male escort. Yet, these women were genuine followers of Christ, and some even provided financial support for Him and the apostles.[7] Shockingly, the first people Jesus chose to appear to, after his resurrection, were women. He instructed them to tell his disciples that he was alive.[8] In a culture where a woman's testimony was worthless because she was inferior and untrustworthy, Jesus elevated the value of women beyond anything the world had seen. The Living Word -- The Creator of humankind -- gave women the status and respect they were always intended to have -- a status equal to men. Author Dorothy Sayers, a friend of C.S. Lewis, wrote:
Perhaps it is no wonder that the women were first at the Cradle and last at the Cross. They had never known a man like this Man—there had never been such another. A prophet and teacher who never nagged at them, who never flattered or coaxed or patronized; who never made arch jokes about them, never treated them either as 'The women, God help us!' or 'The ladies, God bless them!'; who rebuked without querulousness and praised without condescension; who took their questions and arguments seriously, who never mapped out their sphere for them, never urged them to be feminine or jeered at them for being female; who had no ax to grind and no uneasy male dignity to defend; who took them as he found them and was completely unselfconscious.
She continues: "There is no act, no sermon, no parable in the whole Gospel that borrows its pungency from female perversity; nobody could possibly guess from the words of Jesus that there was anything 'funny' about woman's nature."[9] Not only did Jesus break with the anti-female culture of his era, but he set a standard for Christ-followers. Peter and Paul both rose to the challenge in what they wrote in the New Testament.
The apostle Paul is often accused of being a misogynist, one who hates and fears women. Yet, if one looks at the church as fraternity within the Roman empire, one would appreciate the teaching of Paul on the details of social life. His teaching in each department of social communication was affected both by practical considerations, resulting from the actual environment in which the Christian life was to be lived, and also by the regulative conceptions of his eschatology. Thus, Paul's teachings on women reflect the creation order, and high value God places on women as creatures made in his image. Paul's commands for husbands and wives in Ephesians 5 provided a completely new way to look at marriage: as an earthbound illustration of the spiritual mystery of the union of Christ and His bride -- the church. Paul called wives to not only submit to their husbands as to the Lord, but he called husbands to submit to Christ.[10] He called men to love their wives in the self-sacrificing way Christ loved the church. In a culture where a wife was property, and a disrespected piece of property at that, Paul elevated women to a position of honor previously unknown in the world.
Paul also provided highly counter-cultural direction for the New Testament church.[11] In the Jewish synagogue, women had no place, and no voice in worship. In the pagan temples, the place of women was to serve as prostitutes. The Christian church, on the other hand, was a place for women to pray and prophecy out loud.[12] The spiritual gifts, supernatural enablings to build God's church, were given to women as well as men. Older women were commanded to teach younger ones. The invitation to women to participate in public worship of Jesus was unthinkable -- but true. There was a great diversity of ministries available to early church women to perform.[13]
Paul's "patronesses" are famous: Priscilla, Lydia, Phoebe, Mary and others.[14] These women seem to be people of some position -- "chief women;" "honorable women;" having households, which they are able to influence; conducting church meetings in their own homes.[15] E. A. Judge describes these and others of Paul's female "sponsors" as a "cultivated social elite," through whom the apostle was able to reach their social dependents by a sort of clientele system.[16] Wayne Meeks relates the well-known prominence of women in Acts to a rising status of women, and the questioning that had began of male/female roles.[17] Paul's female converts demonstrated a freer participation of women, not only in the religious life of the community, but in the economic life of the Graeco–Roman society as well. Their story amounts to a functional equality in leadership roles that would have been unusual, and strongly rejected in that society prior to Christ.
Unfortunately, as the Christian movement grew larger, it also grew more conservative. Over the centuries, many Christ-followers have fallen far short of the standard Jesus set in showing the worth and dignity of women. There were no models for this new kind of participation of women. Might women squeeze men out of their traditional authority roles? The next four centuries of the new era would slowly down- spiral toward the earlier, domestic role model for women, and women would loose their initial equal status in the new Christian communities. The overarching cultural lesson is that of a history in which real women lived out their lives in social systems, where their roles were largely circumscribed, as symbols of family, honor and social acceptability. In their time, the women of the early church were sacrificial victims to a rivalry over honor and true belief.
The question that the postmodern society of the twenty first century faces is how far has it moved from the first century model of Christ's example? Being more advanced in technology, is the society better equipped to fix the broken partnership in marital relations? Being more advanced in medicine, is it better equipped to bind the wounds of inequality in hurting women? Being more advanced in social relations, is this postmodern world better equipped to extend a hand of friendship and true appreciation to the "weaker gender?" Being theologically versed in all church doctrines, is the contemporary Christian ready to live by the teachings of Galatians 3:28? This new millennium society will do well to remember the Genesis account of Creation -- "God created man in His own image, in the image of God He created him: male and female he created them."[18] If people can only grasp that inequality of sexes tears directly at the heart of God, for both man and woman equally represent the divine image to His creation. Nothing short of mutual partnership and genuine appreciation of the otherness can aid both man and woman in their quest for completeness of self.
---
[1] Galatians 3: 26-29: "You are all sons of God through faith in Christ Jesus, for all of you who were baptized into Christ have clothed yourselves with Christ. There is neither Jew nor Greek, slave nor free, male nor female, for you are all one in Christ Jesus. If you belong to Christ, then you are Abraham's seed, and heirs according to the promise."
[2] Shailer Mathews, "The Social Teaching of Paul.VII . The Family," Journal of the Biblical World 20, no.2 (August 1902): 124.
[3] Schmidt,102.
[4] Luke 10:38-42.
[5] John 11:25-26.
[6] Schmidt,104.
[7] Luke 8:3.
[8] Matt. 28, John 20
[9] Dorothy L. Sayers, Are Women Human? (Grand Rapids: Eerdmans, 1971), 47.
[10] 1 Corinthians 11:3 .
[11] Bonnidell and Robert Clouse, Women in Ministry (Downers Grove: Inter Varsity Press,1989),191.
[12] 1 Corinthians 11:5 .
[13] Lisa Bellan-Boyer, "Conspicuous in Their Absence: Women in Early Christianity," Journal of Cross Currents 53, no.1 (Spring 2003): 48.
[14] Acts 16:14; Romans 16: 1-3,6 .
[15] E. Margaret Howe, Women & Church Leadership (Grand Rapids:Zondervan,1982), 30.
[16] Timothy H. Lim, "Not in Persuasive Words of Wisdom, but in the Demonstration of the Spirit and Power," Journal of Novum Testamentum 29, no.2 (April 1987): 140.
[17]Wayne Meeks, "The Image of the Androgyne : Some Uses of a Symbol in Earliest Christianity," Journal of History of Religions 13, no.3 ( (February 1974): 165.
[18] Genesis I: 27
Copyright © 2008-2015 Svetlana Papazov, D.Min.
Read more about the writer: Svetlana Papazov, D.Min.
---
Post Your Comment...
---