First Name, Last Name: How Kids Address Grown-Ups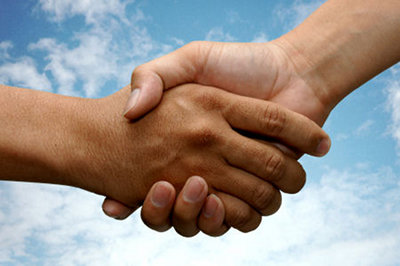 Over the years, I've worked with kids in a variety of ways. I've taught in the classroom, worked in children's ministry at church, and even worked as a musical director for children's theater productions. Every once in a while, a child calls me by my first name.
That's jarring to me, to say the least. On occasion, I've even corrected children and told them, "You can call me Mrs. King" or "Ms. Heather."
I found out just how accustomed my kids were to hearing me addressed as a teacher when I was chatting with my three-year-old one day. We were playing a game and I said, "Hello, what's your name?"
She answered, "I'm Catherine. What's your name?"
"Oh, hello," I said. "I'm Mommy."
"Nooooooo," she roared, "You're Ms. Heather!" Then she giggled herself into a fit.
I love that my kids are learning from others how to address an adult, but sometimes we need to remind them of some basic principles.
We require our children to call adults Mr. or Mrs. "Last Name" (Mr. Smith, Mrs. Davis). In what I'm told is a more Southern tradition, we do allow our children to call very familiar adults Mr. or Ms. "First Name" (just like many kids call me Ms. Heather).
However, our kids may not address adults by their first names alone, not even if the adult tells them it's okay.
At some point when they are older, these relationships may shift to a first name basis or maybe they won't. Many of my old high school students keep in occasional contact with me and they always call me Mrs. King. Even if I sign my notes to them with my first name, they always write back to me as a teacher. It's a sign of respect and I appreciate that.
When our youth pastor first arrived at our church, some kids took to calling him by his first name. We nixed that immediately in our family. Pastors are deserving of respect, no matter their age or how fun they are to be around. I don't even call my pastor by his first name. I always say, Pastor Mike, when addressing him. In the same way, I make my kids call the children and youth minister, Pastor Jonathan. He may be a total blast and relate to them on their level, but I never want them to forget the place of authority he has in their lives.
Addressing an adult with respect helps kids remember their manners in other ways when conversing with adults, like saying "Yes, Sir" or "Yes, Ma'am," instead of "yeah" and to remember "please" and "thank you." It's a sign of good manners to recognize authority and to show respect when it is due.
To read more devotional thoughts from Heather King, check out her blog here: http://heathercking.wordpress.com/
Copyright © 2008-2015 Heather King
Read more about the writer: Heather King
---
Post Your Comment...
---