Casual Comfort for the Cold
Casual without casualty… How to dress down and warm, yet still feel up to fashion par?
Burrrrrr…. Yes, it is that time of the year again! Holiday shopping and parties coupled with cold renditions and versions of your fave fashion trends. Let's take a closer look at how to take your working and shopping day looks and keep them trendy without sacrificing warmth and comfort.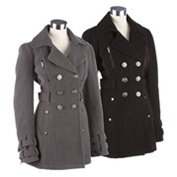 Peacoat or wool/camel hair trenches are silhouettes that are classics. You can buy a quality pea coat or wool/camel hair trench and you won't ever have to purchase either again. Instant classics in your outerwear wardrobe each can be worn with a pencil skirt and heels or jeggings and some spiffy "UGGs".
Shawl/boat neck long sweaters and sweater dresses are fabulous to keep your inner snow bunny bundled up and chic. They can be belted, accessorized and layered with fabulous pattern stockings, chunky socks coupled with a short-heeled "lumberjack" boot. The sweater dresses can also be worn as choice winter work apparel paired with a fitted blazer and the go to…. ACCESSORIES!!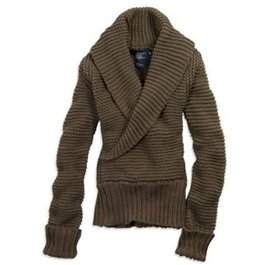 Henley tunic shirts: When some think of this silhouette they automatically think, "Eeeeek! Long Johns?!?!" Think again!There are plenty of simple cotton and even plush silk Henley concepts. This is my version of the winter tank top, your first layer and typically solid in color. Start here with your cotton jeggings and dress out from there. Envision a cardigan, and blazer over, scarf to top it off, chunky boot (dressy or funky) and voila-- queen of your winter wonderland.
Cotton jeggings are the bomb.com. Some days especially during and after the foodie fun holidays I yearn for bottoms that are not disturbing my sweet muffin top (your holiday pudge, normally fitting right over the top of your pants). I love high waisted pants, but my go to for work or play are the jeggins. Jeans/leggings having the silhouette and pockets like denim, yet fitting like a legging. Ahhhhh the loves of my fashion holiday season! They come in various colors and provide a little leeway to give you the comfort and confidence to make a stylish winter fashion decision.
Solid stockings with a pattern stocking on top can be a great way to feel attractive without feeling too bare. I love pattern stockings, but a version like fishnets are a little much for the conservative fashionista. If you take a solid black or colored stocking and place it under a bit more exposed stocking choice it simply adds texture, looks super cool and gives you some extra poise.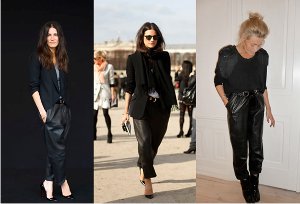 Leather and pleather are all over the racks, runways and in the magazines. How do you translate these styles into your closet? Number one you would be surprised there are loose versions of leather and pleather pants, shorts, shirts, blazers, with even the added hair-piece. I adore longer leather shorts with solid and pattern stockings underneath and a chunky sweater on the top, flat boots on the bottom. It is crazy to think that leather and pleather are even allowed to be worn after the 80's in all these silhouettes. But to be quite frank there are plenty of versions out there that aren't super tight. The leather and pleather loose tanks are awesome to replace that boring black shirt you always wear. Check out Zara.com, Forever21.com and your local H&M./ These awesome fits exist and they can be tied into your candy cane style dreams.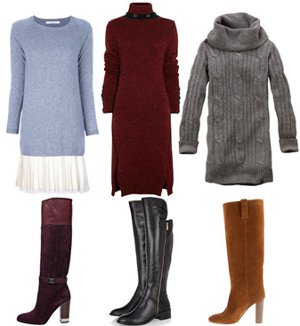 Of course I could go on and on about the loves of the snowball season, but I'll have to save some for next year. Wishing you a wonderful holiday season and blessed New Year.
Copyright © 2008-2015 Evie Phillips
Read more about the writer: Evie Phillips
---
Post Your Comment...
---