Thank You Notes for Young Children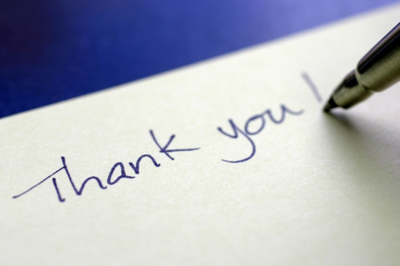 I want my kids to learn gratitude. When others take the time, trouble and expense to thoughtfully pick them out a present, whether for Christmas or a birthday, I want my children to learn how to say, "Thank you" with care and attention.
But my kids are little. One of my daughters, in particular, detests writing out lengthy letters or notes by hand. Typed notes seem too impersonal. So how can a mom with young kids encourage them to write thank you notes when they are still beginning writers and still avoid a headache-filled afternoon of whines and protestations?
Years ago, I discovered some "starter" thank you notes that saved the day. These cute little cards gave the kids a template to follow and then left blank lines for personalization.
They read something like this:
Dear _____________,

Thank you so much for ____________________________! I really love ___________________________.

Yours truly,

__________________________.
I began by buying these note cards and letting my oldest send them to friends and family who had given her birthday presents. Later, though, I realized how quickly and easily I could create these on my own computer.
Using a simple word processing program, I could type the message with the blank lines (still allowing for personalization and the time and attention I desire from my child) and make them look cute with colorful fonts and even some clip art.
This is a great way for even young writers to still participate in the discipline of writing thank you notes for presents and thereby teaching gratitude and appreciation.
Copyright © 2008-2015 Heather King
Read more about the writer: Heather King
---
Post Your Comment...
---