< Back to Kitchen Keeper Recipes
Nags Head Recipes: Oyster Stew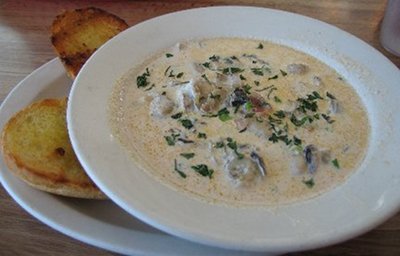 Recipe from: David Feder
This is a delicious and filling oyster stew!
Ingredients:
2/3 cup sliced leeks (2 medium)
2 Tbsp. margarine or butter
3 Tbsp. all-purpose flour
1 tsp. anchovy paste
2 cups milk
6 cups shucked oysters (3 pints)
Several dashes bottled hot pepper sauce (optional)

Directions:
In a 4-quart saucepan cook leeks in margarine or butter until tender.
Stir in flour and anchovy paste until combined.
Add half-and-half or light cream and milk.
Cook and stir until slightly thickened and bubbly. Cook and stir 1 minute more.
Meanwhile drain oysters, reserving 3 cups liquid. Strain liquid.In a large saucepan combine reserved oyster liquid and oysters.
Bring just to simmering over medium heat; reduce heat.
Cover and cook about 1 to 2 minutes or until oysters curl around the edges.
Skim surface of cooking liquid.
Stir oyster mixture into cream mixture.
Add hot pepper sauce, if desired
Copyright © 2008-2015 DeeDee MacDonald
Read more about the writer: DeeDee MacDonald
---
Post Your Comment...
---