Black and White Evolving Into Flavor - Posh Extreme
I've always been one that vies for a solid black and white combo. Now my favorite marriage of color is turning to be a fan favorite in the fashion industry. Monochrome is back with simple stripes and twists of topping patterns like florals to lace to brocade. These fancy little numbers are making their way into the style mindsets of the most chic. You don't want to miss this fashionista boat.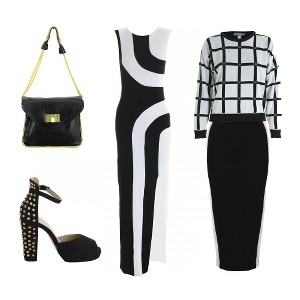 Patterns and black and white can be intimidating, no doubt. Yet this summer season give it a whirl. Try these snazzy combos and mixtures to come up with a fresh take on a simple color collaboration that can truly be a head turner.
Most stripes are best-worn vertical unless you're going for a more voluptuous look. If you are going to try the black and white stripe, the safe pick is vertical stripes in a cool silhouette. I know it seems a little jailhouse rock, but take a black and white striped blazer with a floral tank underneath --you ex out that jailbird feel.
Stripes are an easy pattern to go to, but it's getting funky and fun that makes fashion all the more exciting. Check out the diamond pattern in these cooperative colors. Yes, it is very Twiggy of you, but like I said mod is back with black and white as its main starlets.
Houndstooth and polka dots are also super fierce and chic. The great thing about sporting a black and white top or even bottom is that solid color on the opposite is embraced easily. Try a houndstooth top with a bright bottom, nude or black shoe and you're the chicest of them all.
I always endorse layering, even when the heat wave hits, mainly because everything looks better with a little oomph to it. All the help you need to heighten your trendsetting ways could fall into adding a simple scarf, light blazer, great shoe or accessory. Black and white serves as the perfect canvas to play around with color, lace, florals, brocade, bright neon's and other fun patterns that tickle your fancy.
There is a classic black and white silhouette that your wardrobe is in need of. So take a look at some of the examples we have spotlighted and don't let this color partnership pass you by.
Until the Autumn my dear beach bunnies. Enjoy the sunshine!
Copyright © 2008-2015 Evie Phillips
Read more about the writer: Evie Phillips
---
Post Your Comment...
---