< Back to Strength for Your Spirit
Praying Effectively
I sought out to study prayer, and what I discovered instead is the understanding and fuel for intercession. In the book written by, Beni Johnson "The Happy Intercessor" she defines intercession as "capturing the heart beat of Heaven and declaring or praying that into your world". Many times in pray we can feel overwhelmed by everything that we need to pray-- this simplifies prayer. I will pray what the Lord's heart beat is saying in that moment, this creates a constant connection with the Lord and fulfills His desire that we pray without ceasing. Being an intercessor is about being on the offense, praying from a place of faith not fear; don't spend the majority of your time worrying about the strategies of the enemy, but the strategies of our God.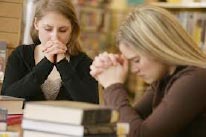 One way to apply prayer in an offensive manner is to pray the Scriptures. Sit and read a chapter (Psalms is a great book to start with praying), get quiet, listen for the Lord's directions; pray the Scriptures out loud declaring them over your life and situations. The Bible is the Word of the Lord it is the only person, place, or thing that God honors above His name "I will worship toward thy holy temple, and praise thy Name, because of thy loving kindness and for thy truth; for thou hast magnified thy word above all thy name" Psalms 138:2 King James Version.
The second way to apply prayer in an offensive manner is pray fearlessly. Refuse to pray in fear, fear is the opposite of love and has no place in the Kingdom. This is often simple to say but, not always easily done. Beni Johnson says, "that when we spend time in prayer with Daddy we become strong love warriors" (Happy Intercessor). Spending intimate time with God creates fearlessness when the God of the universe is on our side. Who can be against us?
Finally, Jesus is our Joy this is the third and final way I believe that we pray in an offensive manner. In Isaiah 61:1-3 the Bible says is that God will give us the "oil of joy for mourning" Jesus is for joy. Joy in Jesus brings such freedom in prayer and intercessions, freedom to ask, seek, and knock freedom to know that you can trust God. The Happy Intercessor is the offensive intercessor who knows that God is for you and for His joy.
Copyright © 2008-2015 Courtney Pierce
Read more about the writer: Courtney Pierce
---
Post Your Comment...
---