Words Of Honor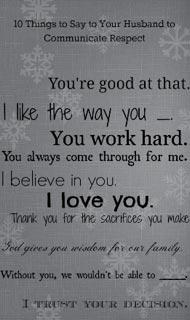 Wives, let us not forget that words expressing respect are a great gift for our husbands any time of the year! Our choice of words and our focus on building him up are a big part of his success. The wife of noble character brings her husband good every day, and that goal begins with the attitude of her heart which, in turn, leads to the words she speaks (See Proverbs 31:12 and Matthew 12:34). Our language satisfies a core need because when our husbands are respected in the home, they are more apt to be confident in the public arena.
Copyright © 2008-2015 Renee Beamer
Read more about the writer: Renee Beamer
---
Post Your Comment...
---