< Back to Kitchen Keeper Recipes
Easy Enchiladas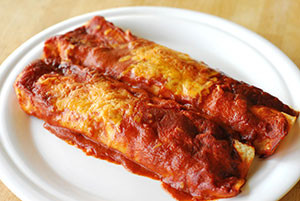 One of the favorites of our family is Mexican food. Try making these Enchiladas together with your family and enjoy the fun and the flavor! Enchiladas are great with a fresh green salad on the side. You can garnish with some fresh guacamole or pico de gallo on the side.
Ingredients:
1 onion, cut fine and sautéed in olive oil
1 lb. ground or shredded beef, or shredded chicken
2 cans Old El Paso enchilada sauce (mild)
1 can Hormel Chili with meat and no beans
1 package corn tortilla shells
1 bag (2 cups) shredded cheddar cheese
Directions:
Sauté onion in olive oil. Remove from oil. Brown chicken or beef in remaining oil. Drain. Add onion and stir together. Add 1 can of sauce and mix. Heat oil in separate pan while mean simmers. Dip tortilla shells in hot oil to soften. Lay out one at a time and put a large spoonful of meat mixture on each shell. Add spoonful of chili. Sprinkle the cheese on top of the meat mixture and chili. Roll up and arrange in cooking pans side by side. Cover top with the other 1 can of enchilada sauce and cover with grated cheese. Bake at 350 about 15 minutes or until cheese is bubbly. Yum Delicious!! If you prefer, tortilla shells may be dipped in heated sauce instead of oil. You may also use either flour or corn tortilla shells. Enjoy!!
Photo Courtesy of: Ducks Oven Blog
Copyright © 2008-2015 Debbie Reynolds Harper
Read more about the writer: Debbie Reynolds Harper
---
Post Your Comment...
---