Martin Luther: Transforming the Church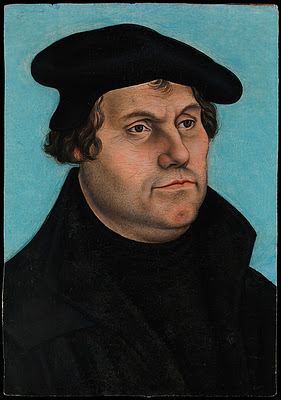 It's interesting to note that throughout history, God has used ordinary men and women to do extraordinary things.
Martin Luther was a man whom God used to reform the church. Martin Luther observed the corruption within the church and made an effort to change it. Average citizens were being taught by church officials that they must pay for the forgiveness of sins for themselves and their deceased relatives. Nearly 500 years ago, in 1517, Luther nailed on the church doors, a thesis of 95 things that needed to be reformed . . . thus beginning a period of church history that is now known as the Great Reformation.
I realized recently that not enough people know the history of how our ways of worship came to be, and thus lack a considerable amount of appreciation for these truths. There are so many varied styles of worship in modern churches to agree or disagree about, but the amazing thing is that the central truths still stand throughout the ages.
Our college-aged son, Gavin, is studying about Martin Luther in one of his online classes this summer before he heads back to campus this fall for his senior year, and it prompted some fascinating discussions in our family about Luther's contributions to our walk of faith as people of God and our understanding of God's Word.
As part of Gavin's assignment, he was instructed to watch a movie about Martin Luther and two documentaries. I thought they would be great resources for you and the members of your families. I wanted to share them with you and encourage you to share them with those in your household.
I would also like to exhort you to increase your responsibility to provide learning opportunities for those you love and care about in order to teach them that they to need to guard the Word of God close to their hearts and be fully instructed in its truth until the Lord returns.
One resource is a movie that could be found in a number of libraries or stores, and is called "Luther" (2003) but the documentaries are found here....
Martin Luther: Driven to Defiance. http://video.pbs.org/video/1379546586
Martin Luther: Reluctant Revolutionary. http://video.pbs.org/video/1379563195​​
May the Lord Bless You as you create opportunities for yourself and your families to grow in the knowledge of God's Word, and those Heroes of the Faith who have defended it throughout the centuries.
Here is more from www.history.com, to piqué your interest.
"Born in Eisleben, Germany, in 1483, Martin Luther went on to become one of Western history's most significant figures. Luther spent his early years in relative anonymity as a monk and scholar. But in 1517 Luther penned a document attacking the Catholic Church's corrupt practice of selling "indulgences" to absolve sin. His "95 Theses," which propounded two central beliefs—that the Bible is the central religious authority and that humans may reach salvation only by their faith and not by their deeds—was to spark the Protestant Reformation. Although these ideas had been advanced before, Martin Luther codified them at a moment in history ripe for religious reformation. The Catholic Church was ever after divided, and the Protestantism that soon emerged was shaped by Luther's ideas. His writings changed the course of religious and cultural history in the West."
Copyright © 2008-2015 Debbie Reynolds Harper
Read more about the writer: Debbie Reynolds Harper
---
Post Your Comment...
---