Teaching Children About Money
The principles we build our lives on are often formed during childhood. What we learn to value while we are young can stick with us for a lifetime.
That's why I think it's so important to share good values with our children during the time they are growing up, and have honest and open discussions about the choices that life presents.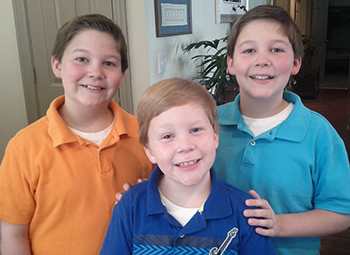 Recently, our 10-year-old son, Graham developed a desire for a particular expensive set of Legos. He and his twin brother, Grayson, together with their younger eight-year-old brother had decided they would put their money together and try to purchase the item at a nearby store.
But Grayson had a change of heart and decided he did not want to participate because he wanted to be able to use some of the money he had saved to buy his two older brothers something for their birthdays that are coming up in the next few weeks.
Although this was a noble desire on the part of Grayson, his brother, Graham, was not happy. In fact, he was very upset. Once we explained to Graham how we must let others make their own decisions and that each person has the individual will to exercise their own choices and that we must respect that, then he didn't hold it against his brother.
However, he just decided to shift his focus to his younger brother, Galen's, participation.
This seemed okay at first, until, the pressure was increasing to a sense of urgency, which didn't seem quite right. They came to me and asked to go to the store immediately that day, to spend the whole pot of money they had accumulated on the one single item.
I asked the Lord for discernment and told them that I would pray about it for three days and give them my answer. So, I did.
At the end of the three days, I told them that it wasn't a "no," but it was a "wait." I wasn't sure why, but that is what I felt the Lord wanted us to do. Perhaps there was an unknown expense or need that might unexpectedly arise and we needn't put all their funds in one place just yet, but for whatever reason, we were going to hold off on the purchase.
What I didn't realize is that this would reveal a deeper root issue in Graham's heart that we needed to work out.
We discovered that Graham was displaying a great deal of discontentment. We also discovered a type of covetousness in longing for what he couldn't have, which was not a pleasant or good character quality, and neither was it pleasing to God or His Word.
We could understand a mild disappointment, but his face literally looked sick, like he was ill, or not well. It affected him that much.
When we talked to him about it, we discovered that only a fraction of the money was actually his personally. The other portion, the larger percentage by far, was either his brother, Galen's, or what they had together jointly.
This made it worse. We realized that for him to have such negative feelings over something he couldn't buy, that he wanted, when so little of the money was his to begin with; we realized why God had put it in my heart to stall and postpone the purchase.
We sat looking at the condition of our son's heart—it was on his face-- his countenance was both upset and angry. When he was faced with the fact that he couldn't have something he wanted, his response was not a good one.
We were shocked. We hadn't seen this before. He is usually a very loving and compassionate child. But something needed to be addressed at that moment. And with the help of the Holy Spirit, we were able to both comfort and correct him and redirect his thinking on the matter to realize that attitude was not good.
He needed to develop patience and moderation and contentment---very necessary character qualities, especially when it comes to matters of money.
We then taught the boys that the lure of material things can be strong and the thrilling benefits are sometimes very short-lived.
We taught them to both think and pray about how to use their money and that it's not all about learning how to spend their money, but how to direct it and steward it well.
We taught them that there are three things that they are to do with money—give some—save some---and spend some. All three are necessary.
We can't give it all---we can't save it all---and we can't spend it all!
A balance is needed based on Biblical principles, divine discretion and right motives.
We have taught the older children to tithe 10% of what they earn to the local church they attend---to also have some to give and share out of love, not obligation, to those whom the Lord places on their heart and to others whom they want to bless, not to win favor but to extend a gift, or to have some to help with a special cause or mission---and we have tried to teach them not to just live for the moment or the present, but to save for short-term and long-term provision, to consider and prepare for what's coming ahead---and to spend carefully, prayerfully, joyfully and responsibly.
I have known people who try to give it all, only to become hurt, empty and resentful later… and I have known people to save it all…. only to become miserly, and miserable later… and I have known some people to spend it all… only to become destitute and impoverished later.
May God help us as parents to teach our children to TRUST God always and at all times with everything He provides us with, and to rely on Him daily for all that we need.
Copyright © 2008-2015 Debbie Reynolds Harper
Read more about the writer: Debbie Reynolds Harper
---
Post Your Comment...
---