How to Host a Fiesta Night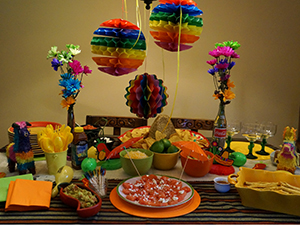 With cold weather approaching, families and friends get together to eat and fellowship. Everyone makes their favorite chili or Crock-pot meal that they make every year. After a while, you begin to wish that you could try something different and more exciting. Here is an easy way to spice up your social life. Host a Fiesta Night!
Hosting a Fiesta Night is easier than it may sound. Here are some steps to take:
Food: Mexican food is not hard to make when you know some simple shortcuts. For appetizers, you start off with chips and salsa. Everyone likes chips and salsa! An easy way to display your appetizer is to get a real sombrero hat and place it in the center of your table. Fill the bill of the hat with tortilla chips. (I like to get the chips with a hint of lime to add an extra pop!) You then bend the top of the hat inwards until there is a circular dent. You will then place your bowl of salsa in the dent. Be sure to not overfill the bowl so the hat doesn't collapse in. Not only is this a great way for all your guests to be able to enjoy the start of their meal, but it becomes the focus of the table until the main dish. For your main course, let your guests create their own burrito bowls. Remove the sombrero and place all the foods your guests will need to create their favorite burrito such as: rice, beans, sautéed veggies, grilled chicken (make sure to marinate in a southwest marinade), salsa, sour cream, corn, lettuce, and guacamole. This will put less stress on you when it comes to pleasing everyone, and your guests will enjoy being able to customize their burrito to their liking. Put all of the ingredients on the table. Serve it family style! For dessert, you can serve empanadas. They can be baking while your guests are eating. My favorite recipe for empanadas is found in this link.

Atmosphere: To decorate your table, you will want a colorful table cloth. The more colors, the more fun it is! Make sure that your table cloth matches your dish set. The sombrero will be your table's central focus. You can add some maracas or other fun Mexican trinkets to your display to keep with the theme. Fiestas are all about the color and the fun, so add as much as you want! Choose a fun, patterned dish set for your guests to eat from, you will only need a side plate and bowl. Add a bold colored napkin that complements your dishes. To complete your fiesta atmosphere, play Spanish music on your Pandora radio station. Your guests will feel lively and excited for the festivities!

Favors: To add a little bit more fun to the party, provide favors at each place setting. They can be little sombreros or mustaches on a stick. Your guests will be tickled by their little gift! (In some Wal-Marts they have Mexican sodas to offer your guests. They are called Jarritos)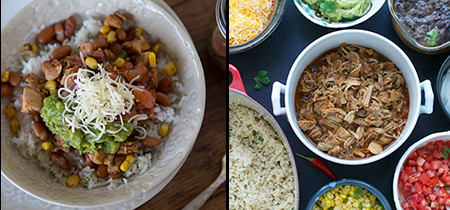 If you focus on these areas, you can create a fun atmosphere for you and your guests. So, put on your sombrero and have fun!
Copyright © 2008-2015 Rachel Lynn Harper
Read more about the writer: Rachel Lynn Harper
---
Post Your Comment...
---