Girlfriends' Guide to New York City
New York City is always a great place to visit, especially during the Christmas season. So, three of my girlfriends (Theresa, Marge and Faye) and I headed off to the "Big Apple".
We flew out of Norfolk International Airport and arrived at LaGuardia. We decided to make this a four day trip. Every minute was filled with something to do or somehwere to be. Please follow along as I take you along with me on our trip.
Day One
We planned ahead and reserved a car service to take the four of us to our hotel in downtown Manhattan. The car arrived early, which was great that we didn't have to wait at the airport once we got our luggage.
Car Service: 212-777-7777
Cost: $35.00
Rating: * * * * Stars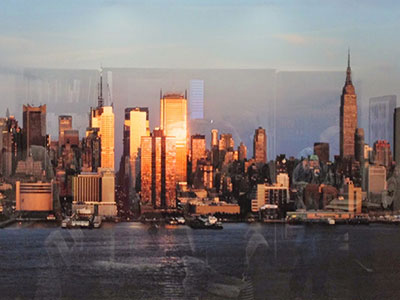 We wanted to be right in the center of everything that happens in New York City, so we book a wonderful room at the Double Tree Suites by Hilton, New York City, Times Square. Most of the rooms you get in New York City are unusually small. The Double Tree has larger rooms and is right in the middle of Times Square. Our room had two queen beds in one room and a queen pull out sofa in a separate room. Of course, the fresh hot cookies when you check-in at the Double Tree are always a welcoming treat! The hotel has over 50 floors with great views of the city.
Rating: * * * * Stars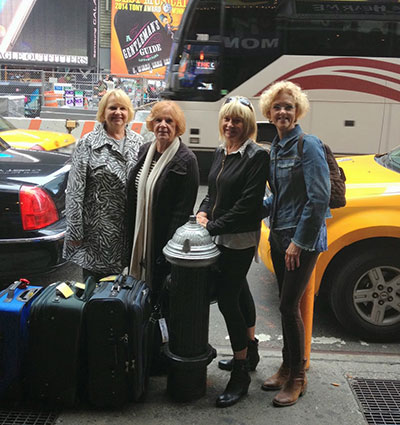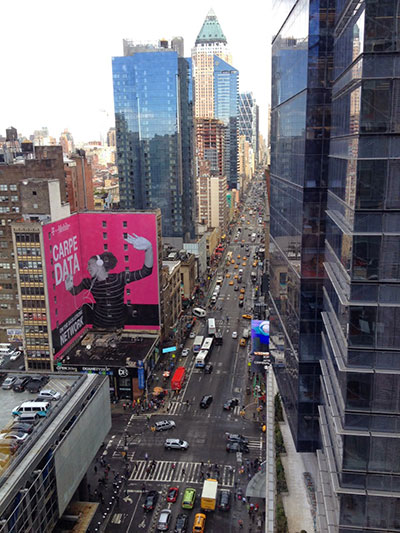 After getting settled into our hotel, we had breakfast at the Evergreen Diner. It was a true NYC experience.
Location: 145 W 47th Street (between 6th & 7th Ave)
Phone: 212-921-7676
Cost: $$
Rating: * * * Stars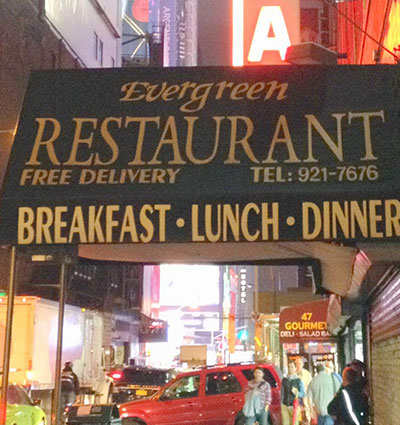 We rode the New York Subway quite a bit. Once you get the hang of it, it is one of the best ways to get around town. Of course, there is always the Yellow Cab, however, it will cost more and the ride might shake you up a bit.
Subway Cost: Senior rate $2.50 for two rides all others $6.00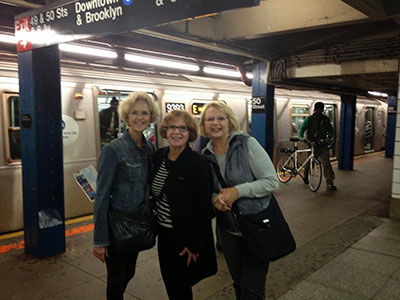 The High Line is a public park built on a historic freight rail line elevated above the streets on Manhattan's West Side. It runs from Gansevoort Street in the Meatpacking District to West 34th Street, between 10th and 12th Ave.
Rating: * * * * Stars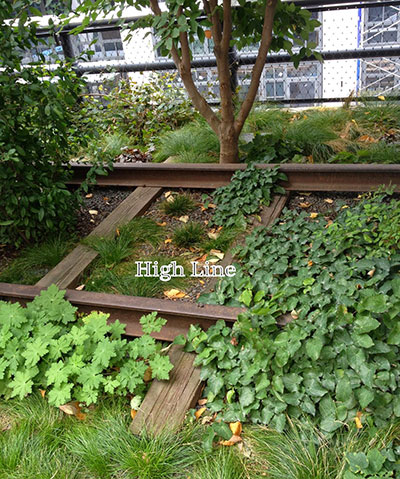 We decided to try the Chelsea Market for lunch. The Chelsea Market is an enclosed urban food court, shopping mall, office building and television production facility to The Food Network. It was a little too busy and congested for us.
Location: 75 9th Ave.
Phone: 212-652-2110
Rating: * Star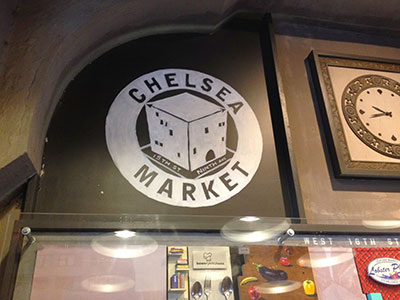 Since Chelsea Market was so busy, we decided to have lunch at Gaslight Pizza. We had pizza and calamari. It was a much better choice.
Location: 39 9th Ave.
Atmosphere: * * Stars
Overall Rating: * * * Stars
After lunch, we headed off to Canal Street for some street shopping. Canal Street is not like it used to be. We will not go again the next time we visit.
Rating: * Star
We found a wonderful restaurant to have dinner at. The Azalea Restaurant had the most amazing wait staff. Every bite of food that we took was beyond wonderful. The atmosphere was cozy and modern all at the same time. It was a unique Italian restaurant. You don't wan to leave this restaurant out on your next time to New York City.
Location: 224 W 51 Street
Phone: 212-262-0105
Rating: * * * * Stars
Day Two
Our second day started off pretty early. We planned to attend the live taping of the Today Show. If you want a good spot in the crowd so that you can be on camera, you will need to arrive by 6:15 am. To find out more about the taping, visit the Today Show online and all the details are there and you can book a reservation for when you want to attend. 49th Street is where the anchors typically broadcast.
When you arrive on the plaza. An NBC page will greet you.
The Today Show Experience: * * * Stars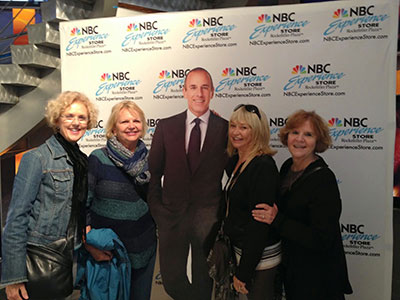 Yes, that's me on camera!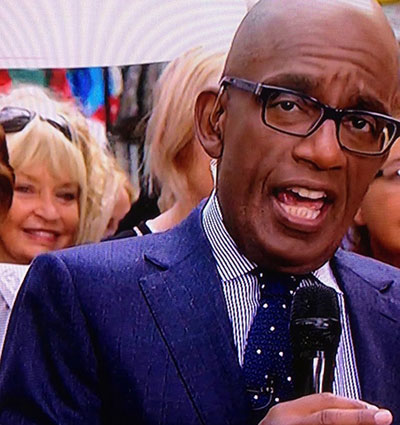 Of course, not trip to New York City would be complete without a visit to Central Park. Central Park is an 843 acre park right in the central New York City borough of Manhattan. Always nice to stroll, run, jog, whatever your preference through the park. Jacqueline Kennedy was famous for her morning strolls there.
Rating: * * * * Stars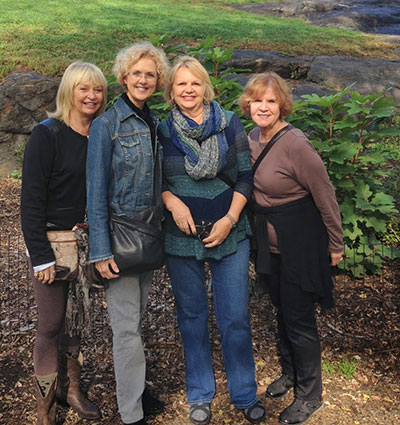 Once we completed the Today Show and a visit to Central Park, it was still early and it was time for breakfast. We found a wonderful place for breakfast that had excellent service as well as great food, Sarabeth's Breakfast.
Location: 40 Central Park South
Phone: 212-826-5959
Rating: * * * * Stars
We couldn't wait to see the new World Trade Center. It was amazing.
The 9/11 Memorial and 9/11 Memorial Museum is the principal memorial and museum commemorating the September 11 attacks of 2001, which killed 2,977 people and the World Trade Center bombing of 1993, which killed six people. The memorial is located at the World Trade Center site, on the former location of the Twin Towers which were destroyed during the attacks. It was a very powerful and thought provoking experience.
Location: 200 Liberty Street
Rating: * * * * Stars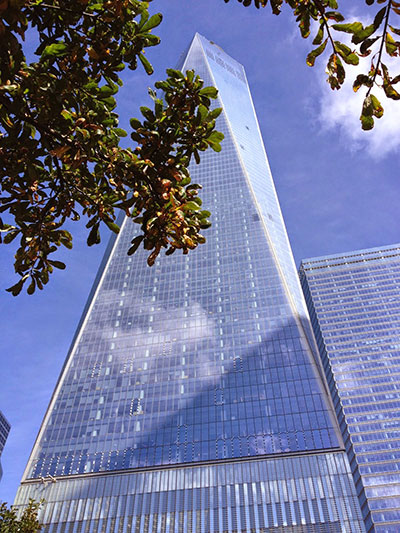 A wonderful experience, Mario Batali, Lidia Bastianich and Joe Bastianich are partners in the unique 50,000 square foot combination of sandwich stands, market style stalls and many "sit down and enjoy yourself" restaurants (which we did). The food is authentic Italian. Many New Yorkers were busy purchasing their food items, meats, cheeses, fresh pastas and sauces, desserts and the list goes on and on.
Location: 200 Fifth Ave.
Phone: 212-229-2560
Time: Opens Daily at 10:00am.
Eataly NYC Experience: * * * * Stars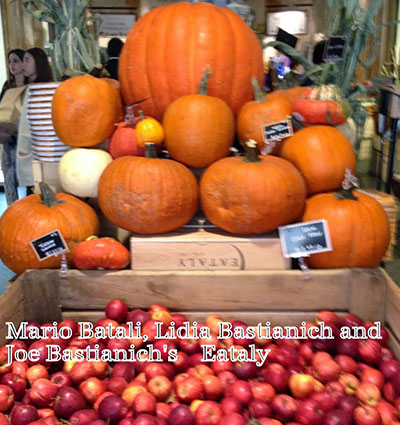 While we were walking around the city that never sleeps that evening, we were greated by some Disney charachers. So, we decided to have our picture taken with them. And of course, as always in New York City, everything has a cost. The characters are expecting a "tip".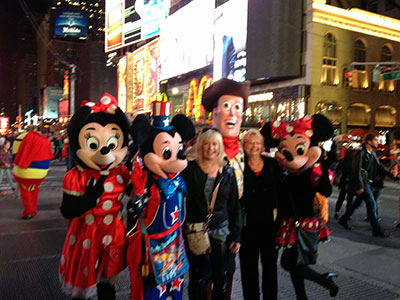 Day Three
We started our third morning with a delightful breakfast at the Brooklyn Diner. Our server was very friendly and efficient. There are two locations with different times of operation. The food is good and we will visit again when we have the chance.
Location A: 57th Street
Times of Operation: open Monday 7:00am-11 on, Tuesday through Friday from 7:00-midnight, Saturday 8:00-midnight, Sundays from 8:00am-11:00pm.
Location B: 43rd Street
Times of Operation: open Sunday and Monday from 8:00am-11:00 pm, and Tuesday through Saturday 8:00am-midnight.
Rating: * * * * Stars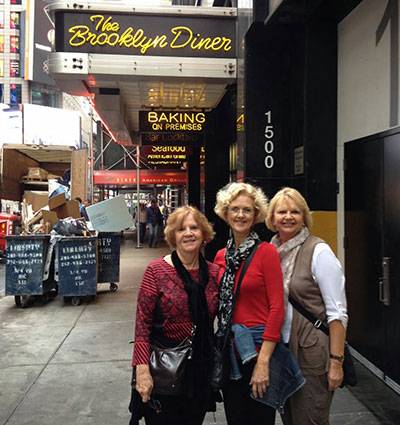 Christmas time is a great time to visit the Rockefeller Center. Not only can you watch the ice skaters, you can also visit the Top of the Rock and the Rainbow Room while you are there. Both of these activities are highly recommended.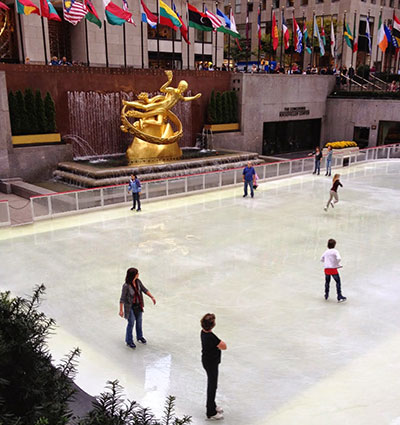 We decided to have lunch at Mama's Pizzeria before we headed off to our matinee play. At Mama's Pizzeria, you select what you want to eat as you view all the many items to select from, get your own beverage and wait until your number is called to enjoy. I selected the pizza, YUM!!
Location: 941 Amsterdam Ave.
Phone: 212-531-3797
Rating: * * * * Stars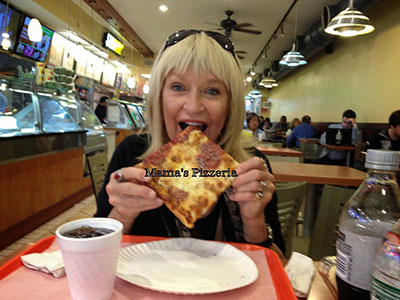 Our matinee was to see "It's Only A Play" @ 2:00pm.
Theater: Gerald Schoenfield, 236 West 45th Street, between Seventh and Eighth Aves.
Cast: F. Murray Abraham, Matthew Broderick, Stockard Channing, Rupert Grant, Nathan Lane, Megan Mulally, Micah Stock
Run Date: Now through Jan 4. 2015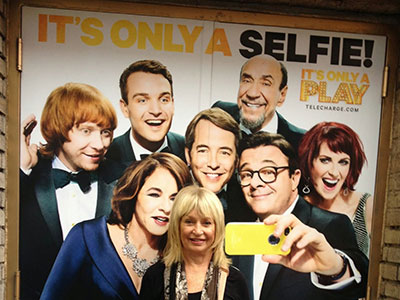 We couldn't forget Faye's birthday. So off to Little Italy we went. Little Italy is located on Mulberry Street. It used to extend for many blocks, however, now it is only three blocks long. As of 2014, Little Italy is on the verge of extinction, so if you do want to go, go now.
It is a good idea to pre-select the restaurant you want to go to and head directly to it, because they do try to hustle you to come into their restaurant.
Day Four
Breakfast on our last day wasn't as great as our previous days. We visited the Edison Cafe and were disappointed. The Cafe is connected to the Edison Hotel. we did get our breakfast, however, it was crowded, extremely busy and loud.
Rating: * Star
We enjoyed a nice visit to the The New York Times Building. We had a special guide, Laurie (Theresa's niece). Laurie works for the New York Times Newspaper and is very knowledgeable about New York City.
She gave us the grand tour of all the interesting aspects of the building. A vast building with many employees.
Rating: * * * * Stars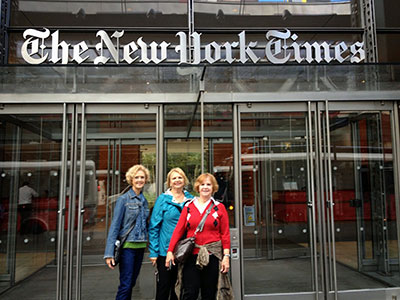 The ONLY food we had not had, and wanted, was from a New York Delicatessen. Laurie suggested Ben's New York Kosher Delicatessen Restaurant.
Their slogan is, We cure Our Own Corned Beef, Our Chicken Soup Cures Everything Else. Ben's has been family-owned and operated for more than 41 years. It was the perfect ending to a great New York City trip.
Location: 209 W. 38th Street Manhattan
Rating: * * * * Stars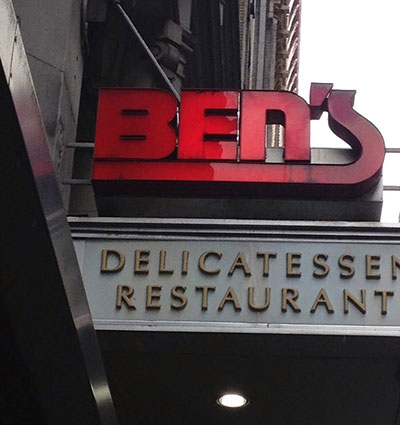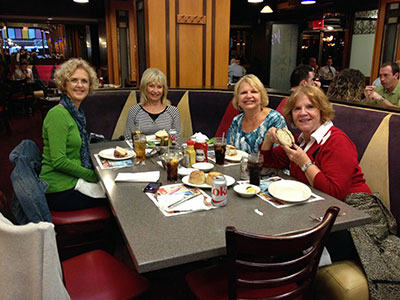 We called the same car company to pick up to take us to the airport (more expensive). The driver took us through Astoria, it was really nice to see the individual homes in the northwestern corner of the New York borough of Queens.
Copyright © 2008-2015 DeeDee MacDonald
Read more about the writer: DeeDee MacDonald
---
Post Your Comment...
---