'Tis The Season For Moco Coco!
It's the most wonderful time of the year! Christmas music is playing all around, you can get your favorite holiday drink at Starbucks, and everyone is at the mall, searching for the perfect Christmas present. Buying gifts for everyone can be daunting and expensive. Last Christmas, my husband and I had to get presents for our worship team, youth leaders, and friends in our church as well as all our family.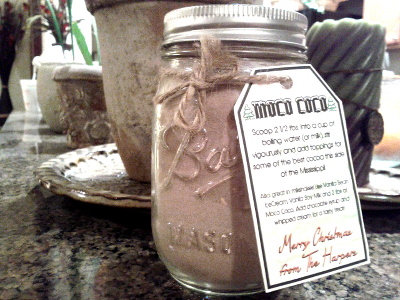 We had A LOT of presents to get, but we couldn't really afford spending too much money on each one. Thank goodness for creativity!
The Story Behind Our Gift Creation!!
One morning, while my husband was in the shower getting ready for work, he called out to me, "Babe, I've got it!" He then went on to explain how we could create a tasty treat for all of those who were on our Christmas list. "Moco Coco" was born. It is a growing trend to create your own gifts. What better way to save money? We decided to create our own spiced, hot chocolate. We went to a salvage store and bought as many mugs as we could find. We tried to find different mugs that matched everyone's unique personalities and for families, we bought sets. We then went to Michael's craft store to get little, clear, plastic bags to put our hot cocoa in. Finally, we got our ingredients for our hot cocoa.
We didn't want to get the traditional, store bought cocoa. So we spiced things up!
Here's How to Create it Yourself!!
To make a single bag of Moco Coco, you will need:
8 tbs of Swiss-Miss Hot Cocoa (or your favorite brand)
1 pk of Starbucks Peppermint Mocha Vias (instant single serve coffee)
2 tbs of Powdered Peppermint Creamer
4 tsp Cinnamon
Mini Marshmallows (you can use peppermint too)
Dark Chocolate Shavings (found in Target baking aisle)
Depending on the number of people use a small bag, a large bag or a mason jar. In the large bag, double the recipe above, and for a mason jar quadruple it. A small bag serves 1 person, a large bag serves 2-3 people, and a mason jar serves 4-6 people. Mix all the powders together before putting them into the plastic bags. Once they are thoroughly mixed, pour it into the bag and top it off with marshmallows and dark chocolate shavings; for the mason jars, put them in a small bag instead of on top of the mix. Be sure to tie the bag tight.
Now, for the Presentation of the Special Gift!!
To wrap the Moco Cocoa, you will need tissue paper, small and medium gift bags, ribbons and tags. I get my gift wrapping from Target. I asked my husband to make the tags that you see here. Stuff some tissue paper at the bottom of the mug. Then wrap a ribbon around the tie of the Moco Coco bag or at the neck of the mason jar. Place the bag inside of the mug.
It is also cute to put a candy cane in the mug. Your friends can use it to stir their Moco Cocoa. Place the mugs and/or mason jar inside your gift bag. Make sure to put extra tissue paper around the mugs so they don't hit each other and break before your friend can use them. For large families, we also gave them a small bag filled with shortbread cookies to complete the gift. Finish your gift off by stuffing the rest of the bag with tissue paper and by putting the gift tag on the handle.
Time to Enjoy!!
Now you have the perfect and inexpensive gift for all your friends. You can add or subtract ingredients to make this recipe your own. Show off your creativity this year and have fun making Moco Coco!
Copyright © 2008-2015 Rachel Lynn Harper
Read more about the writer: Rachel Lynn Harper
---
Post Your Comment...
---