Create a Happy Home for the Holidays
It's easy to be stressed during the Christmas season trying to get everything in your home ready for everyone to ENJOY the holidays, but there is no need to fret! Try these simple tips and you will find yourself delighted with the results.
I will share with you five tips I once learned at a women's conference many years ago that I have kept in my "idea tool belt." They are perfect for when you need a home "refresher"!
The idea is the use your "FIVE SENSES" for creating a happy home environment, so here we go!!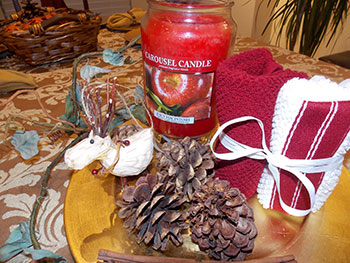 SMELL—Try a bag of scented pine cones for about $3 at Wal-Mart. They smell like cinnamon and add a beautiful fragrance to any room of your home. You can also pick up some extra branches of pine, spruce, or fir from your fresh Christmas tree lot, or farm, or buy a can of Christmas room spray from your area T.J. Maxx, or Bath & Body Works store. You can also light a fragrant candle or simmer some apple or cranberry juice on the stove with some cinnamon sticks or a teaspoon of allspice. When people enter your home, it will be a haven of aromatic bliss! And since you are the center of your home, don't forget to use your own sweet-smelling lotions and perfumed products for yourself that make your hair and skin smell wonderful! My daughters favorite fragrance this year is "Cashmere Silk," body spray and wash from Bath & Body Works!
TASTE—Try some warm-baked muffins, or apple crisp in the oven. You may also like to create a warm holiday drink like English wassail, or hot apple cider! Your favorite home-baked Christmas candies are a perfect idea! Try one new recipe this year and create a new tradition that your family can look forward to all year. If you have children old enough to help, let them create their "specialty" also. This year our twin 10-year-olds are making "Oreo Snowballs," with whipped cream cheese and crushed Oreo cookies, and rolled in white chocolate. One of my favorite is warm-baked scones and hot peppermint tea! Our children love Swiss Miss hot chocolate with tiny marshmallows!!
SIGHT—This category is certainly according to your preference. But try something easy, like some beautiful new kitchen towels or dish clothes, or a couple fresh new, brightly colored hand towels for your bathroom! You may want to hang some green garland on your banister, or circle a strand of white twinkly lights in a basket, on a mantle, or around a plant in your den. You can turn them on in the evening for a beautiful silent night just for yourself! A glowing fire or candles are also wonderfully pleasant! My favorite this year are a stack of beautiful cranberry dishcloths in my kitchen that I picked up at Target for about $5. Something so simple has made my kitchen and my holidays very happy! And I'm already enjoying cooking for everyone!! And of course, don't forget your own beauty, so dress in some warm and lovely lounge clothes to add to your peaceful atmosphere!
SOUND—This category can often be overlooked but it is very important! We like to play holiday music CDs that we get from the local Christian bookstore that makes everyone feel happy and bright. Another great idea is to get a Wood Wick candle from a store like Hallmark or Cracker Barrel, that when you light the wick, it sounds like a wood-burning fire and gives both the "crackle," and the warm beauty of a campfire! They are a little bit pricy but they last a very long time! You can also get a sound spa from a store like Bed Bath & Beyond that has eight or more stress-relieving sounds to create a peaceful environment. These also make great relaxing Christmas gifts for those on your list who need some divinely-granted and much needed REST!
TOUCH—Blankets, throws, and warm socks are just a few ways that this category can be sure not to be ignored! Of course, warm hugs from one family member to another, is also a special way to show love and make your home happy this season! My favorite this year, are my black fleece lounge top and pants and candy-cane stripe, fuzzy socks that my family members bought for me last Christmas!!
Try any of these ideas that appeal to you and your family and be sure to make your Home Happy this Christmas!!
Copyright © 2008-2015 Debbie Reynolds Harper
Read more about the writer: Debbie Reynolds Harper
---
Post Your Comment...
---