Settle the Matter
How do you typically approach conflict in your marriage? Jim Rodriguez, Pastor of Warwick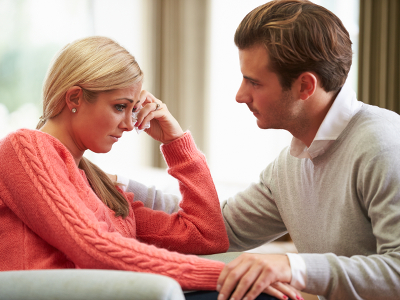 Assembly of God in Hampton, Virginia, offers excellent insight, stating that conflict is not a negative word; it becomes negative when we fail to handle disagreement in a positive manner!
A beginning place for understanding conflict resolution is to assess your personal reaction to the clashes you experience. Are you the type that withdraws from conflict, or do you quickly yield in an effort to keep the peace? Are you determined to win, or are you more inclined to compromise?
The problem with withdrawal is the couple never deals with their differences, so the conflict is left unresolved. Withdrawal communicates a message that the spouse is not valued enough to have his/her perspective understood.
Yielding in conflict creates a pattern of giving and taking. Jim Rodriguez adds that in this approach, the relationship is maintained but the goals are sacrificed. The win method creates the opposite dynamic: the goal is achieved but the relationship is sacrificed. "Vicious attempts are used when the goal is to win; it is very destructive to the spirit of marriage," says Rodriguez.
Ultimately, we want to resolve conflict. The following tips create the pathway for us to follow for healthy resolution.
Select an appropriate time.
Listen.
Define the problem.
Define the areas of agreement and disagreement.
Identify your contribution to the problem.
Resolve.
A couple may even want to use a worksheet like the one below to work through the factors involved in the issue they are facing.
The Word of God wraps marriage in a no-fail approach to conflict, and the key is humility!
Let your gentleness be evident to all. The Lord is near. Do not be anxious about anything, but in everything, by prayer and petition, with thanksgiving, present your requests to God. And the peace of God, which transcends all understanding, will guard your hearts and minds in Christ Jesus (Philippians 4:5-7, NIV).
Prayer is the foundation to your communication in marriage, so take all concerns to the Father. By allowing Him to sort through emotions attached to the conflict, your heart is ready to receive wisdom, understanding, and even correction. It is in this stance that you are ready to communicate differences while adhering to love and truth.
Try this activity with your spouse: consider a recent conflict that you have already resolved. Use the above worksheet to review the progression you made in achieving a solution. Share how you each can make future improvements by taking ownership of any neglected steps to healthy resolution. Did you pray first? Did you pray together? Were your viewpoints based on truth or feelings? Did you honor each other in the midst of disagreement?
A review of the past is not an attempt to create a fresh wound; rather, it is simply a learning tool, and used in this context, you are certain to continue building your marriage on better communication.
For more Marriage Building information, go to marriagebuildingevent.com or thelovetrianglebook.com.
Copyright © 2008-2015 Renee Beamer
Read more about the writer: Renee Beamer
---
Post Your Comment...
---