Sights of Sedona
Your first encounter of the Red Rocks of Sedona Arizona is utterly breathtaking and beyond description. The handiwork of God is so prevalent. To see the massive red rocks surrounding you in a 360 degree view leaves you spellbound.
History of Sedona
Sedona was named after Sedona Arabella Miller Schnebly (1877-1950), the wife of Theodore C. Schnebly, the city's first postmaster.
Sedona was known for her hospitality and industriousness. Reports indicate that the suggested names for the post office were, Schnebly Station, then Red Rock Crossing and even Oak Creek Station and most of these reports state that the names were not accepted by the government because they were too long to fit on a cancellation stamp. Subsequently, T.C's brother, Dorsey Ellsworth, thought of submitting the name of T.C's wife, Sedona. And after telling T.C. that in the person, he turned to Sedona and said, You're going to have a town named after you.
Postal officials approved the name Sedona, and on June 26, 1902, the post office was in business in the back of the Schnebly home.
Our Tour of Sedona
We used our time share for our week long stay.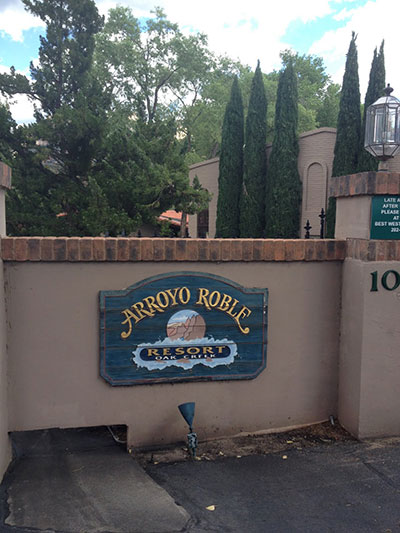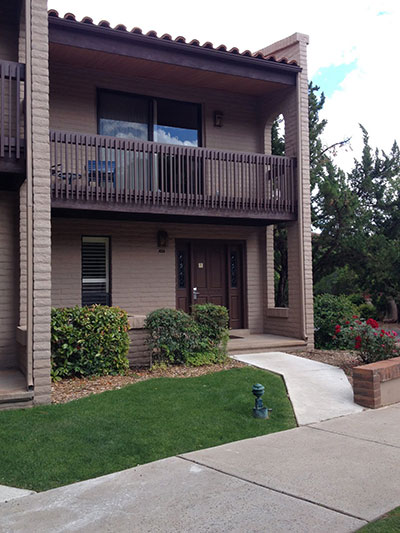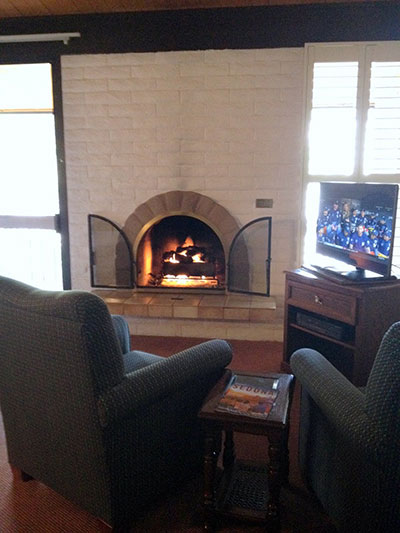 Arroyo Roble Resort, Sedona AZ
We highly recommend this Resort. Our townhouse featured a master bedroom with a fireplace, large screen TV, large tiled bathroom and a balcony, a second bedroom and a second bathroom . Large sitting area with fireplace, another large screen TV and a balcony off the sitting area, a dining area as well as a well stocked kitchen with every appliance that would be needed if you preferred to have some meals in your well appointed townhouse. There was also a washer/dryer/ironing board and iron.
One of the best things about the Resort, just a short walk to the downtown area, lots of unique shops and restaurants.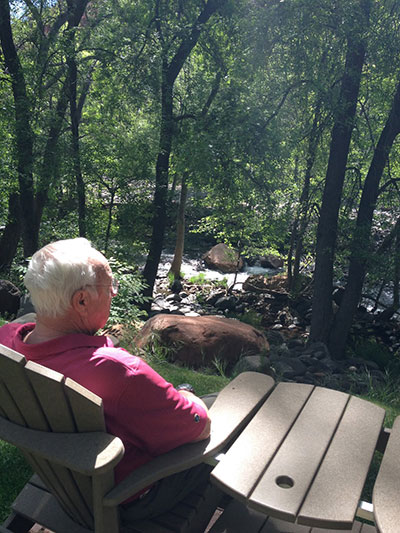 The grounds surrounding the Resort were immaculate.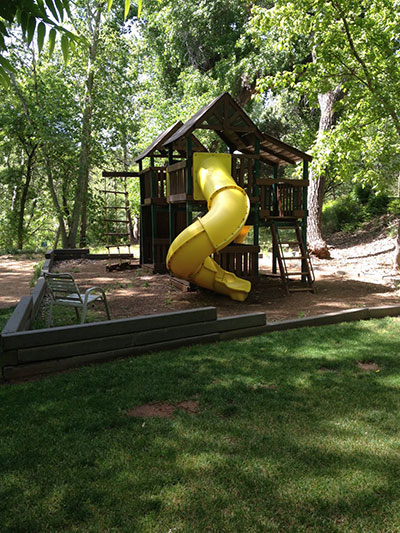 Bring the children, they will love it.
This was our third time to Sedona, AZ, we had already been acquainted with some of the many exciting and fun, things to do: pink jeep tour on the red rock mountains, balloon flights over rocks, visiting the Grand Canyon (only a couple of hours away), and several tours of the Indian villages, cave dwellers, and information tours on the formation of the Red Rocks.
You can also bike ride on trails, ride horses, hike the Grand Canyon and boat on the Colorado River at the base of the Grand Canyon and on and on and on.
On this trip we went on the Verde Canyon Railroad.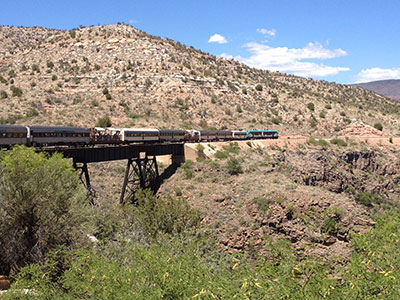 A relaxing four hour trail ride through the foliage, rugged deserts rocks , Indian ruins, and through a manmade 680-foot tunnel. This journey takes you from the old mining town of Clarkdale to the Perkinsville ghost ranch and back while following the Verde River. If you are a train buff the train locomotives are FP7, two of the only 10 remaining in North America.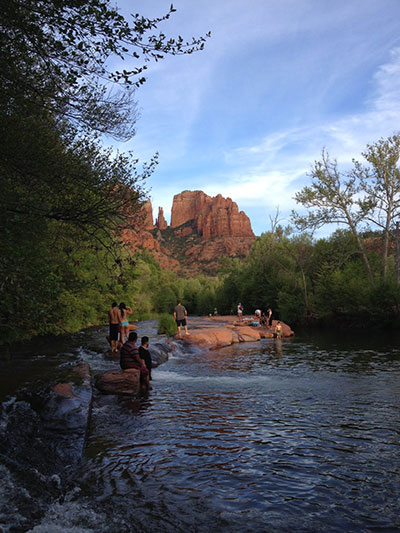 A must for everyone is viewing the Cathedral Rock, you can always find activity in the water at the base of the rock, picnickers, and sometimes a wedding.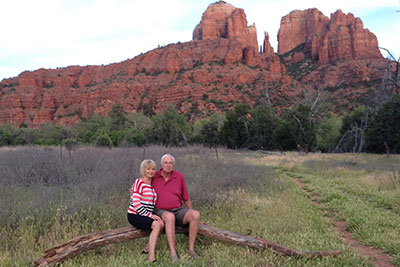 Dave and I had a wonderful time in the picturesque beauty of Sedona, Arizona and would highly recommend it.
A Place to Experience Our Divine Creator
"Be willing to follow where I lead. Follow Me wholeheartedly, with glad anticipation quickening your pace. Though you don't know what lies ahead. I know; and this is enough! Some of My richest blessings are just around the bend: out of sight, but nonetheless very real. To receive these gifts, you must walk by faith--not by sight. This doesn't mean closing your eyes to what is all around you. It means subordinating the visible world to the invisible Shepherd of your soul. Sometimes I lead you up a high mountain with only My hand to support you. The higher you climb, the more spectacular the view becomes; also, the more keenly you sense your separation from the world with all its problems. This frees you to experience exuberantly the joyous reality of My Presence. give yourself fully to these Glory-moments, awash in dazzling light. I will eventually lead you down the mountain, back into community with others. Let My Light continue to shine within you as you walk among people again."
Devotion from: Jesus Calling by: Sarah Young
Copyright © 2008-2015 DeeDee MacDonald
Read more about the writer: DeeDee MacDonald
---
Post Your Comment...
---