Battle Room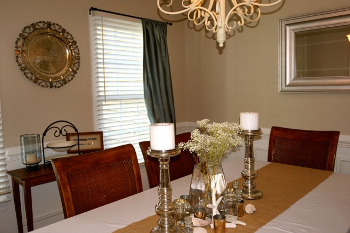 I started hearing about the War Room movie earlier this year and my hope for radical change in America catapulted to new heights. I knew that prayer is our answer and the Body of Christ is greatly neglecting it. Little did I anticipate how impactful the film would be in focusing us in prayer and in healing families. I heard one newscaster tearfully tell the film's producers during an interview that he went home after watching the film and created a battle room for prayer.
All of us who saw the movie should be walking in greater revelation, for we have been reminded that our enemy is not a spouse, a wayward child or a disgruntled co-worker. Ephesians 6:12 clarifies: "For our struggle is not against flesh and blood, but against rulers, against the authorities, against the powers of this dark world and against the spiritual forces of evil in the heavenly realms."
Where do you go to do battle? I mean, in the height of the moment, to where do you run? I have a room on each floor of my house! I've also done some praying (warfare) outside, but seeing as my neighbors are nearby and also enjoy being outside, I do not feel the freedom to vocalize battle cries for all to hear. Therefore, I prefer the privacy of the dining room or my bedroom closet.
I tend to circle my dining room table while praying and declaring the truth of God's Word over the situations that arise in life. Like the children of God circled the walls of Jericho and gave a battle cry on the seventh day, I also see results of these "prayer walks" in my dining room. The walls of Jericho fell down and the children of God saw their faith materialize right before their eyes. Today, the walls built through deception of the enemy still must fall in obedience to our expressed faith in the Word of God.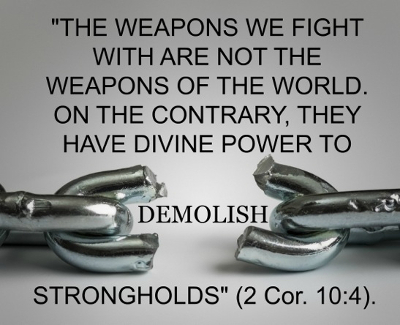 That is why we must go to a battle room and use the mightiest of weapons available to the believer: prayer!
For more than a decade my extended family endured a time of broken relationships. It was difficult to have so many hurting people in my life, so I continually prayed God's restoration. One day, while "prayer walking" in the dining room, I sensed a shift was to come as a result of my telling the enemy he was trespassing and was no longer the authority. I remember my arm swinging forward and back as though I was working a sword to sever all unholy ties. I declared that the lies of the enemy were laid bare and the power of deception was broken. Walls began falling. The season of restoration was manifesting, and all glory and honor belongs to God! He spoke to me about the coming regeneration. The promises I had declared for months were about to be realized!
Are there disjointed relationships in your family? Be assured that you are on watch and your prayers matter. Seek out scriptures to pray over the relationships. Keep standing on God's promises even when you detect no change. You will face doubt and a strong urge to give up, but your assignment is not to retreat, but engage in battle with the full armor of God, so that "you may be able to stand your ground, and after you have done everything, to stand" (Ephesians 6:13).
Copyright © 2008-2015 Renee Beamer
Read more about the writer: Renee Beamer
---
Post Your Comment...
---